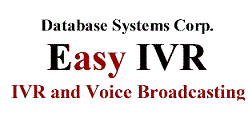 IVR and Voice Broadcasting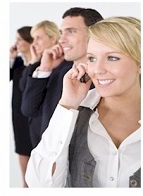 EasyIVR is the voice broadcasting and interactive voice response (IVR) service division of Database Systems Corp. (DSC). Since 1978, DSC has been providing information products and services for the telecommunications industry including call center software and services.
IVR Hosting Service

DSC provides complete IVR hosting and IVR outsourcing at our secure data center. Using our award winning IVR software, we can provide your organization with a highly customized and affordable phone service. Because our experienced staff has developed hundreds of unique applications, there is virtually no answering service application that we cannot perform.

Voice Broadcasting Service

Voice broadcasting is becoming one of the most efficient and economical means of communications today. Our voice broadcast service calls numbers from a computer managed list and plays a pre-recorded message to the call recipient or answering machine. Our call center can place one call or millions of calls. We offer the most comprehensive and flexible programs in the market today including computer initiated dialing using our XML push technology. Large bulk dialing can be performed using our mass calling service.
Contact DSC today for a FREE analysis and quote and to learn more about our voice broadcasting and IVR services.
Phone Systems
Database Systems Corp. provides the PACER digital phone system which includes our award winning IVR software. This system employs industry standard Intel / Dialogic components and can perform simultaneous inbound call answering and outbound voice broadcasting calling campaigns. Starting with a single T1 board, this system starts with 24 lines and can grow to thousands of lines using our networked systems approach.

DSC also provides an economical and expandable analog phone system that can perform both IVR and voice broadcasting. Starting with a minimum of 4 lines, our voice broadcast and IVR system can be totally customized by our professional staff or we can provide you with our comprehensive IVR software development kit. Your IVR applications can be easily ported to our PACER digital phone system when your call volume requires a larger system.


Voice Broadcast Features
Broadcast messages to "live" individuals
Automated computer generated phone calls
Single call broadcast with XML Push
Customized touch phone responses
ACD systems (auto attendant) features
Database access for telephone services
Text To speech and data conversion
Email notification of call results
Remote database access with XML Pull
Remote call transfer through dial out
Multiple IVR hosting centers
Timeout features and call control options
Bulk message blast with low flat rates
Call transfer to live agents
Complete online reporting and call management
Automatic opt out feature through call identification
Leave different message on answer machine
Professional voice over talent for on hold message voice overs
Touch phone response control for both parties
Voice broadcast with Do Not Call checks
Hearing impaired TDD / TTY phone device support
Comprehensive IVR Management Reporting
Online Registration
DSC provides both voice broadcasting systems and outsourced voice broadcast services. The DSC autodialing phones incorporate the latest processors from Intel and are managed using Windows operating systems. DSC also utilizes computer telephony components that control the phone functions.

The DSC voice broadcast system manages phone lists and instructs the phone controller to dial a number. If the call is answered (either by an answering machine or an individual), a pre-recorded phone message is played. If the voice broadcast system detects a no answer condition or busy signal, the message can be rescheduled for delivery later that day or into the following day.

DSC now provides an online signup for both non-profit and business organizations wishing to use our voice broadcasting outsourcing services. Signup is easy and can be completed in just minutes! Our competitive rates are affordable, even for the smallest calling campaign.

Use this form to obtain a quotation and pricing information. When you are ready to start calling, simply provide us with your payment information.

Both emergency and non-emergency voice broadcasting services can be provided by DSC.

To register online, click on the the online registration image or button on the right.



---
CARE (Call Reassurance)
Database Systems Corp. provides phone systems and software that assist communities by automatically calling homebound residents, particularly the elderly, ensuring their well-being. This program is called CARE, or Call Reassurance.
CARE recipients receive a daily call and if our phone system determines that the call is not answered, our CARE program automatically contacts a family member or community worker. CARE systems incorporate both voice broadcasting and IVR technologies.
Besides CARE systems used by communities and service organizations, Database Systems Corp. provides a senior calling service directly to individual citizens. This service calls subscribers to ensure they are OK or to remind them to take their medications.
DSC partners such as senior community centers and law enforcment organizations can provide this daily check up calling service to their communities using our eCARE program. The following individual calling programs can be performed using our daily calling service.
For complete information about our CARE program, please visit the Telephone Reassurance website.
Contact Us Today
Contact Database today for a FREE analysis and quote and to learn more about our computer telephony integration CTI solutions and call center solutions.