<! Main Body of Tech Library Section !>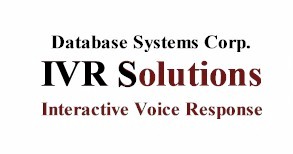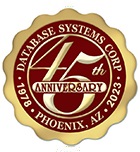 IVR Outsourcing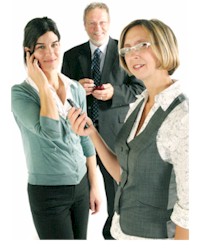 EasyIVR, a service division of Database Systems Corp. (DSC), is a leading provider of IVR outsourcing services. With technology developed by DSC, EasyIVR is ideally positioned to provide comprehensive and affordable call outsourcing services to any size organization.


What is IVR?
IVR is short for Interactive Voice Response. Our phone systems process incoming calls using our "Smart" interactive voice response (IVR) software that answers calls without an operator.
Experienced staff from DSC can deliver comprehensive IVR services quickly -- providing you with a competitive advantage in the marketplace. From external database access to web integration including XML messaging, we can develop a custom application that fits your organization in a short period of time.

Contact Database to learn more about our call center and hosted IVR outsourcing services.
IVR Outsourcing Features
EasyIVR provides the following features and benefits at our interactive voice response call center:
Your Own 800 Number
Optional Professional Voice Prompts
Unlimited Menu Selection By Caller
Simple To Complex Caller Routing
Complex Outside Phone Dialing Rules
750 Minutes Of Call Time Included
Database Access and Update
Website and Server Data Access
Text To Speech Data Conversion
Call Recording and Messaging Service
Online Reporting with Realtime Update
Much More....
Customer Profile - State Of New Jersey

Since June 2003, the New Jersey Motor Vehicle Commission (MVC) has undergone real change, providing an enhanced level of security and customer service at every facility in which New Jersey motorists transact business with the organization. MVC now issues the nation's most secure driver license. New Jersey's Digital Driver License (DDL) has 22 embedded security features. By June 2004, each of MVC's 45 license-issuing agencies will have DDL technology. These reforms, while important for a variety of safety and customer service-related reasons, are only the beginning of what's to come for New Jersey motorists.

DSC provides IVR hosting services to the State of New Jersey Motor Vehicle Commission. At MVC, we have helped registration applicants learn what information is necessary when applying for vehicle and drivers licenses. Because of the complex rules enacted by the state, applicants have been provided an 800 number to call to obtain information necessary for their applications. This service is provided at the Database Systems Corp. call center 24 hours a day, seven days a week.



IVR Voice Recordings

To achieve the maximum results from our hosted IVR services, consider using a professional voice recording service. DSC has contracted with several professional voice talents that you can sample by visiting our IVR recordings web page. This recording service can be provided at affordable rates and puts finishing touch on your call campaign. The voice recordings are produced in minimal time at a professional recording studio.


What We Provide
IVR Outsourcing Service
Cost Effective IVR programs
Inbound IVR Outsourcing
Voice Broadcasting projects
Campaign Development and Design
Online IVR Client Service Center
Toll Free Outsourcing and Hosting
Custom Reporting
IVR Software and Database Integration
Professional Voice Recordings
Quality Transcription Services
Maintenance
IVR Outsourcing Information
Contact Database to learn more about our Interactive Voice Response outsourcing services.