Products / Information
Virtual ACD Systems
IVR Zip Code Locator
IVR Technology Company
Call Routing
Auto Attendant
ACD Software
ACD Systems
Voice Mail System
Voice Mail Software

Answering System for "Live" Answering Services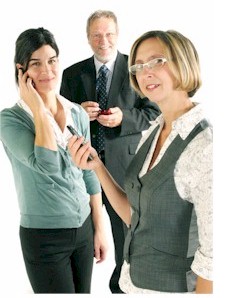 Database Systems Corp. (DSC) offers automatic answering systems and IVR platforms for small to large organizations. Plus DSC provides a complete phone system for "Live" answering services. Our office phone system solutions support both digital and analog phone lines.

Calls are routed to live answering service agents based upon the number dialed by the caller (DNIS). Likewise, calls can be routed based upon the caller's phone number as well. Our answering service software can automatically display a custom message that the agent uses when greeting a caller.

Business toll free phone numbers (generally 800 phone numbers and their equivalent) are very popular for service and sales organizations, allowing customers and prospects to call an organization anywhere in the country. Our business phone systems include the PACER and WIZARD call answering solutions. The PACER series supports digital phone lines and the WIZARD series is our analog phone system that is ideally suited for a small answering service. For a list of some of the features of these phone systems, please visit our Phone System Features webpage.
Route Calls To Local and Remote "Live Agents"
Calls are intelligently routed to live agents based upon any number of criteria. Typically the number dialed by the caller routes the call to the next available agent. A Screen pop occurs on the agent desk top displaying a customized greeting associated with this particular number.



Our answering system can route calls based upon any criteria that is required by your organization or your clients. This includes skills based routing, availability or "personal" agents, etc. Likewise, the information displayed to the answering service representative can be customized. If needed, we can provide a complete CRM application for your agents.

An advanced feature of our answering service system is the ability to route calls to agents that are working from home. This significantly increases the pool of answering service representatives available to hire.
Automatic Phone Answering System
Besides routing calls to live answering service agents, our phone system can automatically answer incoming calls. This feature can be activated by the number dialed by the caller and can be mixed with live answer calls.

With both systems, our interactive voice response (IVR) processes inbound phone calls, plays recorded messages including information extracted from databases and the internet, and potentially routes calls either to your "live" answering service representatives or to an outside extension.



This office phone system acts as an automatic answering system, collecting useful information from a caller before the call is processed or transferred to a live answering service representative. And the IVR system could fulfill the callerís request without a transfer. Our business phone system gives your answering service organization a 24 by 7 capability, providing around-the-clock information to your callers.

By responding to prompts provided by our IVR system, callers can now receive any information you choose to make available. Call centers in particular can become instantly more productive by letting the phone system gather caller information, verify caller identity, and if necessary determine the best service representative to handle this request using our interactive voice response technology.

Other robust features of our office phone system include outbound dialing, remote answering service representatives, voice message broadcasting, and digital call recording.

Contact Database for a FREE analysis and quote and to learn more about our automatic answering systems.
Answering Systems Support 4 - 1000 Phone Lines
DSC offers both analog and digital answering service solutions. Our WIZARD phone system supports as few as 4 analog phone lines and our PACER phone system can handle up to 1000 lines. These systems can be networked to support even more lines.


"Live" Answering Systems
DSC offers an affordable and expandable answering service system that supports 4 to 24 answering service representatives. Database also supports digital call answering software and systems that can support many more phone representatives. Also included is our customized client softphone plus our IVR software for automatic phone answering. You can program your own answering system or we can provide you with a custom answering service application. These applications can be easily ported to our digital T1 IVR system (PACER) when your call volume requires a larger system.

DSC provides an office phone system including our IVR wizard development tool for creating interactive voice response applications. This wizard guides you through each step when defining your IVR applications. Informational phone applications can be developed quickly. Simply record your phone prompts and fill in the blanks. Phone surveys can be put together in a logical and simple fashion.
The Benefits of our Answering Service Systems
Our live answering service systems can enhance your answering service by providing the following:
Extending hours of operation (24 by 7)
Complete 800 business answering services
Automating routine tasks thereby freeing agents to
concentrate on more complex service requests
Speeding response times to callers
Expanding call capacity faster and at a lower cost
Providing multi-lingual support
Reducing the cost of call center agent turnover
Such benefits can show an immediate return on investment and make any call center more profitable.

Answering System Software Features
800 number systems and Toll Free systems
DNIS Controlled
Multiple IVR Scripts
IVR Play Message and Prompt
Interactive Voice Response Phone Key Input
IVR Programming Wizard for Fast IVR Development
IVR Client/Server Architecture
Play Music On Hold
Call Outside Line and Transfer IVR Call
Call Outside Line and Prompt for Input
Connect Caller to Outside party
Record IVR Caller Message and Store
User Navigation and Selection
IVR Voice Mail
Route Caller to Selected IVR Agent Groups
C or C++ IVR library
IVR EZTRAN Flow Control
Database Access and Update
IVR Text To Speech Software (TTS)
Mix IVR Messages and Text
IVR Response Logging and Reports
Business Answering System Information
Contact Database to learn more about our answering systems and call center phone systems.