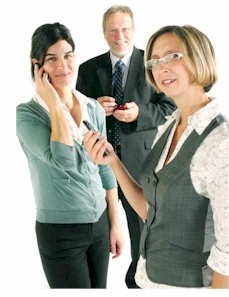 Database Systems Corp. provides the technology necessary to broadcast government sponsored messages and alerts to large groups of individuals, whether in a specific community or in a larger geographic area. With our message broadcasting system, calls can be automatically placed with the same, consistent message. Voice messages can be recorded and saved online. Community lists can be downloaded from the internet into our database - we'll take care of the rest. The calling campaign can be controlled online as well. A message can be played to an individual or left on an answering machine.

Government information dissemination can now be performed using our interactive voice response systems. Using government sponsored 800 numbers, callers have access to any information that is required from the government and our technology displays search results from networked databases as well as from the internet.

Database Systems Corp. provides interactive voice response (IVR) services and Voice Broadcasting services to a wide variety of companies and organizations. EasyIVR.com is our primary website for this service division of DSC.
Government Phone Applications and Features
Information Services
Request For Volunteers
Community Meetings
Answer Machine Messages

Emergency Notifications
Disruption of Services
Community Fund Raising
24 x 7 Answering Service

Community Activities
Voice Mail Messages
Civic Events
Multiple Call Attempts
The following companies and organizations utilize our voice broadcasting services or inbound call center answering services at our outsourcing facility. These companies may also have purchased one or more call center products from DSC.
District Of Columbia - Department of Employment Services
The mission of the Department of Employment Services is to plan, develop and administer employment-related services to all segments of the Washington, DC metropolitan population. DOES utilizes Voice Broadcasting from Database Systems to provide public school students with announcements regarding professional employment opportunities via summer work programs.


Inside Oregon Enterprises
Inside Oregon Enterprises reflects the Oregon Department Of Corrections (ODOC) diverse business interests and pride in Oregon. ODOC provides telecommunications and fulfillment services including call center activities. Database Systems Corp. was chosen to provide call center technology including our PACER phone system with predictive dialer, ivr and acd systems, as well as call recording. ODOC also utilizes our award winning CRM software - Telemation.


New Jersey Department of Community Affairs
Inbound phone application that accepts requests from attorneys and citizens for government information and automatically passes these requests to the appropriate state agency or department. Satisfies the states stringent freedom of information act (FOIC).


New Jersey Motor Vehicle Division
The State of New Jerseys Motor Vehicle Commission registration program requires much more stringent proof of identification when registering vehicles and licenses. New Jersey has published an 800 number for residents to call to obtain the current identification requirements at MVC. The state uses our Interactive Voice Response IVR services and facility to answer resident calls, providing touchphone responses to obtain the requested information.


North County Transit Authority
Affiliated with Orange County, NCTA manages a fleet of mass transit vehicles and maintains routing and scheduling information as well as driver payroll and scheduling systems.


Orange County Transit Authority
Manages fleet of mass transit vehicles and maintains fleet route information and driver schedules. Maintains payroll information and updates.


Parsons Infrastructure & Technology Group, Inc.
Voice broadcast messages to notify residents when forest service controlled burns are to take place. Calls indicate when resident should evacuate the area, where they can stay, etc.


Public Service of New Hampshire (PSNH)
800 number answering service provides business and residential customer information on utility plans. Provides the ability for the caller to speak directly with utility representatives.