Information
Phone Answering
Telephone Answering
Inbound Telemarketing

Website Information
Contact Management Software


<! Main Body of Tech Library Section>

Call Center Outsourcing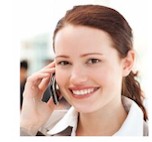 This section of our technical library presents information and documentation relating to call center technology including software and products. Since the Company's inception in 1978, DSC has specialized in the development of communications software and systems. Beginning with our CRM and call center applications, DSC has developed computer telephony integration software and PC based phone systems. These products have been developed to run on a wide variety of telecom computer systems and environments.

Contact DSC today. to learn more about our call center outsourcing services.




5 Simple Steps to Improve And Align Your Service Culture
by Todd Beck
www.achieveglobal.com

Contact centers have many euphemisms for service change initiatives that don't address the core problem: Flavor of the month -- This too shall pass -- Band aid -- and many more.

We love stories of really good or really bad service -- and, especially, of heroic service recovery. But for every legendary story of service recovery, there's always the nagging question of why the service failed in the first place. Did it fail because the agent didn't know the right thing to do? Did the agent really not care about good service? Maybe the agent wasn't able to deliver the expected service because of some resource gap in time, tools or training.

As much as we may honor the home run of extraordinary service recovery, it's the consistent base hits – the day-to-day delivery of stellar customer service – that will ultimately advance the contact center. With this in mind, how do you make this change happen, consistently over time? In short, you have to bring each person along, one at a time. Here are five steps toward reaching that level of performance.
1. Find your champion.
Certain time-tested actions have been proven to build commitment in the contact center and greatly increase the likelihood of success for its service improvement efforts. Not all the actions are "owned" by a person with a consistent title from center to center, so it's vital that one champion – ideally the senior manager in the center – is accountable for directing and coordinating all service improvement efforts. Identifying and enlisting the commitment and support of that person is a top priority.
2. Define service improvement goals.
The first steps toward systemic service change are about defining what needs to be accomplished. Desired results must be tangible, measurable and specific. As with any process, the more questions you ask and the more people you involve from every level of the center, the more successful your outcomes will be.
3. Choose your battles carefully.
Acknowledge that, despite the best efforts of the entire service improvement team, your center may not be able to do it all. So, once you're clear about the results you're seeking, focus your often-limited resources on the actions and processes that most impact the center's success in achieving those results. Don't fall into the trap of setting your goals too low, choosing only those processes in which you can show quick or easy successes, or those you have been most comfortable changing. For example, if you know that the quality of agent response, whether in terms of knowledge, courtesy or problem solving, is a critical success factor, that should be a priority improvement goal. While it might be easier to improve AHT, if that falls lower on your priority list, you must attack the quality issue first.
4. Plan the work, then work the plan.
Once your team has defined the results to achieve, you must create and execute your plan in a logical, focused and realistic way. If you want supervisors and agents to buy in to service improvement, your plan must make sense to them, with clear delineations of responsibility at every level. They will expect the plan to focus on the specific results being championed and avoid peripheral issues. Also they need to have confidence that the planned changes and actions can and will actually happen, with the proper resources dedicated to their success.
5. "Rinse and Repeat" for best results.
The actions that separate a successful change process from a failed one usually come at the very end (or re-start) of the process. Learning from experience, whether at the agent, supervisory or managerial level, is critical as the process is repeated and continually improved. Long-term commitment requires resources, and you'll need to leverage your executive champion's support to manage organizational expectations and secure adequate funding.

Provided by Todd Beck, senior product manager, customer service portfolio, for AchieveGlobal (www.achieveglobal.com), international provider of training and consulting services in customer retention, leadership development and sales effectiveness.

<! End of Main Tech Library Page>

---