<! Main Body of Tech Library Section>

Call Center Outsourcing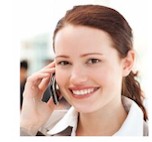 This section of our technical library presents information and documentation relating to call center technology including software and products. Since the Company's inception in 1978, DSC has specialized in the development of communications software and systems. Beginning with our CRM and call center applications, DSC has developed computer telephony integration software and PC based phone systems. These products have been developed to run on a wide variety of telecom computer systems and environments.

Contact DSC today. to learn more about our call center outsourcing services.




8 Tips for the Perfect Outbound Telemarketing Script
by Matt Harless, mharless@phonewareinc.com

The outbound telemarketing script is your manuscript for success on the telephone. Regardless of the products or services you sell, the outbound telemarketing script trains the new employee, refreshes the veteran team member, and turns your prospects into customers. Best of all, it defines your offer and your brand better than any mail piece, advertising campaign or direct response program ever will.

What constitutes a successful outbound telemarketing script? And, what elements go into creating the perfect script? By implementing these eight simple steps for creating outbound telemarketing scripts, your organization can improve their outbound telemarketing results exponentially.
1. Understand the limitations of the profession.
Even the best outbound telemarketing script is based on failure. Success rates are normally anywhere between two and twenty percent. So, know your industry. Be realistic about your expectations. Understand past results.
2. Understand the skill sets of your outbound telemarketing professionals.
The outbound telemarketing script should be written based on the skills and expertise of your staff. Not every employee is the same. So, every script should be different, too. Build the script around your staff. Ask your team to help create the perfect script. After all, it is for them.
3. Create a grid in order to understand your prospects.
Your outbound telemarketing script is written for your prospects. So, create a "needs-based" grid in order to define your prospect base. What motivates your prospects to say "yes"? What are the two or three acceptable end-results from a telemarketing call? How does the script guide prospects to do what they want to do?
4. Ask questions in order to get the prospect to ask questions.
Outbound telemarketing professionals tend to talk about themselves, their products or services and their features and benefits. They also ask questions that are programmed to elicit certain responses. This is bad news. Ask a question and be quiet. Ask a fascinating, thought-provoking question and let the prospect become the expert. Ask questions that spark the prospect to ask questions of you. When they ask questions, you have won.
5. Differentiate your call from other calls they receive every day.
You may feel unique, but only you feel that way. Your outbound telemarketing call is an expert call defined by nobody but yourself. So, differentiate. Prospects say "no" because they see no difference or value between yourself and others calls. Make your call different.
6. Provide the prospect with a reason to act .
The perfect outbound telemarketing script encourages action. You would be surprised to learn that most outbound telemarketing scripts provide little or no reason for the prospect to act. Prospects become customers because they "want" to become customers.
7. Introduce the purpose-process-payoff to the call in the early stages.
Every telemarketing script should have a purpose-process-payoff program attached. "The purpose of my call" clearly states why your call is different and why it is beneficial for the prospect to listen. "The process is simple" defines what goes into the action sequences. How many prospects become customers without believing in their payoff? The answer is none.
8. Remember, the prospect says "no" when they feel they will lose by saying "yes".
Virtually every outbound telemarketing script fails when it does not take into account why the prospect says "no". The prospect objects because they feel they are going to lose. Plain and simple. That is your objection every time. So, address that feeling up-front, and build a script that drills deeper from there.

Provided by: Matt Harless - Vice President of Sales for Phone Ware , San Diego , California . Contact Matt at mharless@phonewareinc.com .

<! End of Main Tech Library Page>
---