Information
Phone Answering
Telephone Answering
Inbound Telemarketing

<! Main Body of Tech Library Section>

Call Center Outsourcing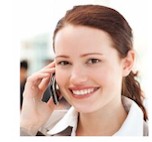 This section of our technical library presents information and documentation relating to call center technology including software and products. Since the Company's inception in 1978, DSC has specialized in the development of communications software and systems. Beginning with our CRM and call center applications, DSC has developed computer telephony integration software and PC based phone systems. These products have been developed to run on a wide variety of telecom computer systems and environments.

Contact DSC today. to learn more about our call center outsourcing services.



---
Top 4 Workforce Cell Phone Etiquette Tips
---


The following is an extract from the article "Top 4 Workforce Cell Phone Etiquette Tips" by Gregory Taillon.

"How many times have you heard someone's cell phone ring at work? In today's wireless society, everyone seems to be connected. But those pesky cell phones can limit productivity. Low cost services and unlimited long-distance entered the marketplace. Now virtually all employees carry cell phones, allowing them to socialize, schedule personal appointments and conduct personal business on company time.

Cell phone etiquette (cell-etiquette) is about common decency and good manners. To prevent your employees from driving customers away with their poor cell-etiquette, consider the following tips for establishing guidelines in your company policy:

Tip #1: Issue Company Cell Phones to Those in Need - Only those employees who need wireless communication with their managers or floor crews should have cell phones. But these cell phones must be company-issued, because allowing a worker to access their cell phone while on the clock, even for business calls, will not suffice. In doing so, you empower the employee to use their personal phone to make calls to friends or family, and then justify them as work-related.

Company pagers are the best option because they usually work when employees are in difficult cell reception areas or inside steel buildings. Pagers are the most effective way of reaching employees in the field or on their off days. They are also smaller and more portable than even the smallest cell phone.

Tip #2: Control Ring Tones - Polyphonic ring tones are another constant irritation, and they also contribute to noise pollution. If your employees must use their phones at work, insist that they be set on vibrate only. People often use their cell phones as fashion statements or attention-getters where the louder the ring tone, the more status a person may have. Establishing a vibrate-only policy will eliminate these noisy distractions.

Tip #3: Forbid Digital Cell Phone Photography at Work - Cell phones now double as digital cameras, and some websites even post photos of explicit subjects. Not only are these photos unflattering, but some are snapped in compromising positions in escalators or stairways. Downloading and sharing these photos on cell phones is becoming more and more popular, almost like a perverse sport. But at-work photo opportunities can be a distraction to everyone in the workplace.

Security issues present another reason cell phone photography should be banned. If an employee photographs a critical location within the company, an outsider may be able to use the information against them. And although digital technology has made eavesdropping on calls more difficult, company business may be compromised if the wrong person hears an employee discussing critical security secrets on their cell phones...."


---


To view the entire article, please visit www.contactprofessional.com. Gregory Taillon is an authority on media and education and author of a new book titled Remote Control Wars: The Media Battle for the Hearts and Minds of Our Youth. The book will be available this fall through Publish America.


---
---