Information
Phone Answering
Telephone Answering
Inbound Telemarketing

<! Main Body of Tech Library Section>

Call Center Outsourcing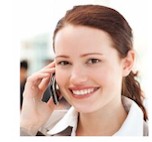 This section of our technical library presents information and documentation relating to call center technology including software and products. Since the Company's inception in 1978, DSC has specialized in the development of communications software and systems. Beginning with our CRM and call center applications, DSC has developed computer telephony integration software and PC based phone systems. These products have been developed to run on a wide variety of telecom computer systems and environments.

Contact DSC today. to learn more about our call center outsourcing services.




Top 4 Trends for 2004: Are You In Sync?
by Fredia Barry
www.ciac-cert.org

Managing a contact center is no easy feat and it's far more difficult today than it was five years ago. Contact center executives today face a myriad of challenges that reflect the complexity of the business environment and the growing importance of the center's ability to contribute to the organization's bottom-line. As we move on to the second half of 2004, contact center executives are assessing their progress against strategic objectives. This is an ideal time to revisit some of the key trends that held center stage coming into the new year.

Trend #1: A Shift from Outsourcing to Rightsourcing

The outsourcing controversy continues. Meanwhile the expanding focus on increasing the strategic value of the contact center is driving a mindset shift from outsourcing to rightsourcing. Rightsourcing is essentially about making strategic or "big picture" decisions that are "right" for our businesses and our customers -decisions that are operationally efficient and effective. There's not a one-size fits all answer for whether outsourcing is or isn't the best solution. Now, more than ever, we must count on those charged with making decisions for our centers to have the business acumen and big picture understanding to effectively present all relevant issues and options to stakeholders and influence decisions that are in the best long-term interest of the organization.

Trend #2: A Balanced Approach to Technology Utilization

Technology is an enabler . It can help us operate our centers better, but it cannot run our centers for us. Too often technology is looked upon as the fix-all solution or often purchased because it's the latest or greatest. Definitely technology is an essential component of every center, but more important is having competent professionals who can balance all the factors necessary to make sound technology decisions. Technology is only as good as our ability to identify the right application for it and effectively implement and utilize it.

Trend #3: Meaningful Metrics

While traditional contact center productivity measures are important, what really matters are the real-world metrics that impact each organization's unique customers, employees, and bottom-line business. Contact center executives must move beyond being consumed with the details of daily operations to see the big picture of how the center contributes to the success of the organization. The responsibility doesn't stop there though – we've got to get the message across to corporate management and back it up with metrics that are linked to business factors that have meaning in the boardroom.

Trend # 4: More Leaders with the "Right Stuff"

The beginning and ending point of any contact center's success is the capability of its leadership team – everything else is secondary. Now more than ever, contact center executives must demonstrate a clear understanding of strategic issues and be able to communicate about the impact of these issues in language that relates to the organization's bottom line. Contact center executives must possess the proficiency to link what's important to the center to what's important to the organization in order to influence corporate objectives. Those who accomplish this will be the leaders of tomorrow's successful centers.
Final Thoughts
Our collective ability to think clearly and expansively will be a deciding factor for the viability of contact centers for the remainder of 2004 and in the years ahead. Big picture thinking and a balanced approach to managing our centers is the winning combination. Let's renew our priority to stay focused on the things that have the greatest positive impact on the success of our organizations. Let's remember to take the time to help others in influential positions, including those above and below us in the organizational hierarchy, to see how the contact center contributes to the big picture. These two key activities, guided by strong leaders, set the stage for the success long into the future.


About the Author
Provided by Fredia Barry, of the Call Center Industry Advisory Council (CIAC) , the worldwide standards and certifying body for customer care and support center professionals. For information on CIAC go to www.ciac-cert.org or email info@ciac-cert.org .

<! End of Main Tech Library Page>
---