Information
Phone Answering
Telephone Answering
Inbound Telemarketing

<! Main Body of Tech Library Section>

Call Center Outsourcing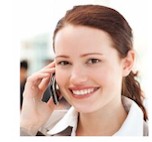 This section of our technical library presents information and documentation relating to call center technology including software and products. Since the Company's inception in 1978, DSC has specialized in the development of communications software and systems. Beginning with our CRM and call center applications, DSC has developed computer telephony integration software and PC based phone systems. These products have been developed to run on a wide variety of telecom computer systems and environments.

Contact DSC today. to learn more about our call center outsourcing services.




Top 10 Reasons for a Balanced Customer Care Solution
by Dennis Ross, General Manager, Convergys Offshore Operations

After making the initial decision to explore the feasibility of outsourcing their customer care operations, many companies are finding that they have several important questions to answer. Should we outsource all of our customer care or keep some in-house? Should we go offshore? What capabilities should we outsource?

It is vitally important that you take these questions into consideration and decide upon a balanced solution that is right for your company's business needs.

A balanced customer care solution is one that utilizes the optimal mix of locations (onshore, nearshore, offshore), sources (in-house, outsourced), capabilities (people, processes, technologies) and services (contact center, back-office, knowledge management) to maximize value and minimize risk. Companies also need to consider the ability of their outsourcing partner to easily grow and change with their dynamic business needs. Increasingly, many companies have adopted a balanced solution to better control cost, quality and management. Here's why:

1. Maximized Value: Organizations achieve operational efficiencies through increased retention rates, reduced average hold times and reduced abandon rates. A balanced customer care solution helps you obtain efficiencies through improved productivity and performance levels.

2. Minimized Risk: A balanced solution spreads programs across multiple locations and, ideally, across multiple continents. By having multiple locations, you ensure regional and global business continuity, and you avoid geographical, political and natural disaster risks that could cause business disruption for an extended period of time.

3. Improved Customer Satisfaction: A balanced solution allows you to maximize customer satisfaction by managing contacts based on customer knowledge. It's imperative that you understand customer preferences and match expectations by routing contacts via the most effective channel (IVR, e-mail, Web, speech technology), based on those preferences.

4. Optimized Contact Channel Utilization: If you've made a significant investment in multiple customer contact channels, you'd want to optimize the utilization of these channels. It's also equally important to integrate multiple contact channels to provide best service to your customers. A balanced customer care solution helps your organization take advantage of the benefits of IVR lines, advanced speech recognition capabilities, web self-care, and offshore, near-shore and in-house operations.

5. To Get Best-of-Breed: A balanced approach gives you the opportunity to select a customer care partner who shares your quality philosophy that offers your customers the best-of- breed capabilities and best practices to improve your operation. A global contact center specialist has access to a worldwide labor pool and experienced management expertise, which will help you maximize your return on investment.

6. Profitable Customer Management: Knowledge-driven customer care increases customer profitability. Organizations estimate a customer's lifetime value using knowledge management expertise and then apply appropriate customer management techniques based on that estimated lifetime value. By leveraging customer knowledge, organizations can optimize their use of all contact management channels, to increase customer satisfaction.

7. Quickened Speed to Market: Speed to market has a significant impact on your competitive advantage , and a balanced solution provides needed flexibility to strengthen that competitive edge. Global contact center specialists offer flexibility in transition, ramp-up, ramp-down, pricing and delivery options, program management, account management and technology deployment - with minimal investment.

8. Improved In-house Performance: With balanced customer care, organizations can improve performance and maximize the productivity of in-house operations. This occurs when healthy competition is created via a balanced approach. Outsourced performance can be benchmarked against the results produced by in-house teams, and necessary adjustments can be made to optimize return on investment.

9. Minimized Backlash: By developing and deploying a balanced customer care strategy, you can minimize employee unrest and customer attrition. Complete offshore outsourcing has drawn much criticism from employees, customers, media and government. By spreading your programs across multiple global locations, you minimize the risk of public criticism.

10. Increased Shareholder Value: With a balanced approach, your organization will have access to business transformation expertise to extract maximum value from your customer care operations, thereby increasing shareholder value. Successful customer care transformation and a balanced solution will maximize value, optimize operational efficiencies, minimize risk and maximize customer satisfaction – all of which results in a higher return on investment. Commentary supplied by Dennis Ross, General Manager, Convergys Offshore Operations.


About the Author
Commentary supplied by Dennis Ross, General Manager, Convergys Offshore Operations.

<! End of Main Tech Library Page>

---