Information
Phone Answering
Telephone Answering
Inbound Telemarketing

<! Main Body of Tech Library Section>

Call Center Outsourcing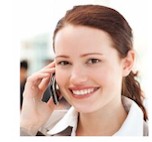 This section of our technical library presents information and documentation relating to call center technology including software and products. Since the Company's inception in 1978, DSC has specialized in the development of communications software and systems. Beginning with our CRM and call center applications, DSC has developed computer telephony integration software and PC based phone systems. These products have been developed to run on a wide variety of telecom computer systems and environments.

Contact DSC today. to learn more about our call center outsourcing services.




Do You Know the 4 Most Avoidable Technology Issues in Your Center?
by Frank Moreno, Empirix. www.empirix.com

Ideally, new technology comes into the contact center, customers are happier, agents are more productive, service levels are met, and operating costs go down. As we all know, this is clearly not the case in most large contact center environments. Often technology that was intended to make things better and advanced, often make things much worse, particularly for the contact center manager, who is tasked with ensuring that agent productivity is high. Fortunately, many of these "glitches" and "hiccups" that wreak havoc on agents can be detected and even avoided.

Here are 4 avoidable call center technology issues that can turn a perfect world into a nightmare for contact center managers…
IVR Menu changes rolled out poorly or wrong – menu changes to IVR systems are common within a contact center. As new services are added or modified, options presented to a caller are changed to direct calls accordingly. Yet, if done improperly, a minor menu change can spell disaster for agents. This occurs many times when multiple IVRs in separate locations are utilized, which are often managed by different groups across the organization.
Slow or inaccurate screen pops – CTI and IVR systems are intended to improve the customer's call experience while automating many of the data collection tasks for the agent. However, i f the customer data does not arrive at the agent simultaneously with the caller or if the data is inaccurate, agents must re-ask customers for information. This eliminates the benefits of an IVR. Agent productivity goes down, as does customer satisfaction while costs go up.
Dropped or misdirected calls – nothing aggravates callers more than being dropped in the middle of a call. Yet this is still a common problem within call centers. This occurs many times with call transferring, but can also result from slow database queries and IVR errors. Nearly as frustrating is when calls are misdirected to an improper menu prompt or to the wrong agent. "Why am I speaking with accounts payable, when I asked for customer support?" Complex routing is becoming commonplace within the contact center, yet the benefits quickly diminish when performance issues occur.
Poor Web site performance – the introduction of customer-facing websites within the contact center promises significant automation and cost savings while improving the productivity of the agents. Increasingly complex transactions can now be executed online as another self-service application. However, when sites are slow or down, customers immediately pick-up the phone. Unplanned waves of increased call volumes will have a negative impact on queue times, service levels and obviously agents.
While these pains are clearly prevalent, how can you as a contact center manager avoid them and ensure that technology is working for you, not against you, particularly when the infrastructure falls under someone else's responsibility? As seen within the enterprise IT world, the move towards IT and business alignment is yielding measurable results. Take this approach within the contact center and recommend a life cycle methodology to ensuring customer quality of experience. Look to leverage automated testing solutions designed specifically for contact infrastructures that test voice applications for performance and quality prior to deployment. These issues can be prevented by enabling operations to proactively identify potential trouble issues and address these in advance of production roll-out.

Additionally, it is equally important to monitor voice applications and the underlying infrastructure in production with appropriate solutions for end-user quality monitoring as well as individual telephony systems. These solutions can not only reduce the mean time to repair issues for the operations teams, they can also provide valuable business metrics and reports that enable you to correlate infrastructure performance with call center objectives. A life cycle approach to ensuring voice application quality and performance through integrated testing and monitoring can help avoid many of the technology pitfalls and help reap the intended productivity, customer satisfaction and cost savings benefits of advanced call center technology investments.


About the Author
This CPWire was supplied by Frank Moreno, Director of Contact Center Product Marketing at Empirix. www.empirix.com

<! End of Main Tech Library Page>

---