Information
Phone Answering
Telephone Answering
Inbound Telemarketing

<! Main Body of Tech Library Section>

Call Center Outsourcing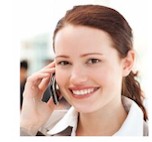 This section of our technical library presents information and documentation relating to call center technology including software and products. Since the Company's inception in 1978, DSC has specialized in the development of communications software and systems. Beginning with our CRM and call center applications, DSC has developed computer telephony integration software and PC based phone systems. These products have been developed to run on a wide variety of telecom computer systems and environments.

Contact DSC today. to learn more about our call center outsourcing services.




4 Ways to Monitor the Pulse of Performance
by Lou Boudreau, Chief Technology Officer for Verint Systems

Business success depends on more than agent activity. It depends on good products, good processes, good people, and an experience that makes your customers want to come back for more. It depends on the efforts of your entire enterprise - not just the agents in your contact center, and an effective recording solution should equip your business to measure and modify performance companywide.

Here are four steps for selecting a recording solution that monitors the pulse of performance across your enterprise.
1. MONITOR THE COMPLETE EXPERIENCE
Your contact center is increasingly the primary means of communicating with customers; it is the heart of your company. Contact center recordings contain valuable insights about how customers regard your products, your people, and your services.

A recording solution that monitors only random interactions captures primarily the average customer interaction. It prevents you from learning from the exceptional customer contact, whether that contact is exceptionally successful or exceptionally poor.

Select a recording solution that captures all of your customer contacts and automatically categorizes them based on your rules. This equips you to learn from every key interaction and track expectations from your customers' points of view.
2. MAKE QUALITY AN ENTERPRISE INITIATIVE
Too often quality is viewed as the imminent domain of the QA department - instead it should be viewed as an enterprise goal, and involve other departments as well. This means when selecting a recording solution you should establish a selection team that includes all departments that rely on your contact center (providing products or services to be sold) and that support your contact center (back office, logistics, finance, operations, etc.). The goal is to ensure that the solution can deliver the samples, reports, trends, and alarms to all of departments that have a stake in the outcome of the quality initiative - a must if you are to improve quality and performance enterprise wide and realize a significant return on investment for your company.
3. SELECT FOR LONG-TERM SUCCESS
Key to connecting with your marketplace is something called 'actionable intelligence' meaning that your recording solution should do more than just capture contacts. It should transform those contacts into intelligence - and deliver that intelligence directly to decision maker desktops via email and personal portals. Actionable intelligence tells you where areas for improvement exist and where revenue opportunities are waiting.
Select a recording solution built on non-proprietary, open standards for ready integration with your existing systems. And make sure that your recording solution stores recordings in standard file formats so that users can access them via Web browser or PC. Leveraging the tools already at hand helps keep Total Cost of Ownership (TCO) under control and provides a greater return on investment in your recording solution.
Look beyond your current needs. Five years ago, your company, your marketplace, and the economy were very different from what they are today. And they are likely to be markedly different five years from now.
4.CONSIDER SERVICE AND SUPPORT
Critical to your decision is selecting a vendor that stands by its products for the life of its products. Products malfunction, systems change, needs evolve. Make sure that your vendor delivers ongoing customer care.
KEEP IN MIND --- CONNECTING THE ENTERPRISE TO THE CUSTOMER
Your contact center interactions are a ready source of intelligence for identifying areas for improvement and opportunity. By making the voice of your customer accessible enterprise wide, your recording solution continually connects your contact center to your company and your company to your customer.

Once organizations become truly customer-centric, the entire enterprise becomes an extended contact center, sharing and collaborating to enhance the customer experience and build customer loyalty.


About the Author
Lou Boudreau, Chief Technology Officer for Verint Systems

<! End of Main Tech Library Page>

---