Information
Phone Answering
Telephone Answering
Inbound Telemarketing

<! Main Body of Tech Library Section>

Call Center Outsourcing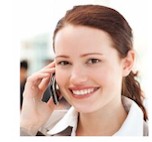 This section of our technical library presents information and documentation relating to call center technology including software and products. Since the Company's inception in 1978, DSC has specialized in the development of communications software and systems. Beginning with our CRM and call center applications, DSC has developed computer telephony integration software and PC based phone systems. These products have been developed to run on a wide variety of telecom computer systems and environments.

Contact DSC today. to learn more about our call center outsourcing services.




Traditional IT Call Center Outsourcers Challenged by Alliances and Self-Service Strategies
Datamonitor - September 2, 2004

Datamonitor detects a rapid and profound transformation in the IT call center services and outsourcing market. The analysts interpret the recent flurry of alliances among IT services provider industry giants, started by HP and BT, as the start of a trend that will impact not only traditional IT call center outsourcers, but also one-stop service provider giants, such as IBM and Accenture.

A new report from Datamonitor finds competition is heating up as outsourcers try to take a bigger slice of the global IT services market. Datamonitor Computerwire values the global IT services market at $600 billion. The report, call centers in the IT Services and Outsourcing Landscape, highlights how big guns such as Accenture and IBM Global Services face stiff competition from alliances of service providers.
The analysts highlight several changes in the market already underway as outsource providers begin dealing with the changes in their business:


Some call center companies have started to move away from being commodity 'bums on seats' businesses by offering a more complex mix of services, in an attempt to take a slice of the overall IT services market globally.


Margins amongst call center outsource providers are being squeezed hard. This is a result in part of the loss of call centers to nearshore countries like Eastern Europe and North Africa, and cheap labor destinations like India.
Firms are increasingly implementing web- and phone-based self-service solutions. This is changing the types of calls reaching call center agents and has the potential to lower call volumes.

Perhaps the biggest change, say the analysts, is the emergence of "transformational outsourcing." According to Datamonitor, enterprises firms are increasingly turning to outsource providers who can transform the actual processes as well as run them, as part of an overall outsourcing deal. Transformational outsourcing goes far beyond the traditional outsourcing of one part of an existing business function.

Accenture and IBM Global Services are typical of the new breed of full service providers (FSPs) that offer a one-stop shop for everything from strategy consultancy, through systems integration to call center and business process outsourcing solutions. However, these IT services industry giants face a new competitive threat in their effort to sweep revenues and market share.

"When BT and HP announced in May 2004 that they would develop shared go-to-market services, including a call center proposition, they started a trend," says Ryan Powell, call center technology analyst with Datamonitor and author of the study.

In recent weeks a number of further alliances/partnerships have been announced between various players in the IT services and outsourcing space. Datamonitor points to examples such as CSC with AON, and EDS with Siebel. The analysts say these alliances aim to bring together various elements of the IT services and outsourcing puzzle to address customers' increasingly complex demands.

While the alliances may shift attention away from smaller IT services call centers, they also put additional pressures on the large services providers themselves. A number of elements of the services that outsource providers, both front-office (call center) and back-office (business process outsourcing), offer do not differ dramatically from one firm to the next.

"It will be crucial therefore for outsource providers to ensure they differentiate their services in innovative ways in order to win new business," concludes Powell.

Datamonitor's report Call Centers in the IT services & outsourcing landscape provides an explanation of how the various components offered by service providers fit together. The report gives comparisons of several different operating models and provides analysis of trends and drivers affecting the demand for outsourcing services. The report is global in coverage and contains vertical splits.



<! End of Main Tech Library Page>

---