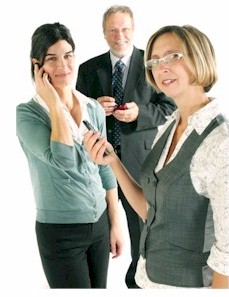 Maintaining contact with members of a church or synagogue is now a much easier task with our church phone announcement services. Church call announcements to all or part of your congregation can be automatically broadcast with the same, consistent message from our automatic message broadcasting system. Messages can be sent immediately to all of your congregation so that important events such as funeral announcements can be broadcast to everyone at once. Simply record your church announcements online and download your list of members who are to receive this message. We'll take care of the rest. You can even schedule the calls yourself.

Database Systems also provides 800 number answering services that let you record your own announcements and events and play these messages to callers from anywhere in the country. Outbound call messages can be played to a member or left on an answering machine. The church member could make selections from a menu or leave a message for the church. If the member needs to talk with a church representative, the message can be programmed to allow a "Press 1...." option and the call will be transferred to one or more designated phone numbers. Here are a few examples of how our automated phone system can benefit your organization.

For a further description of this technology, visit our Church Events Notification web page.

Database Systems Corp. provides interactive voice response (IVR) services and Voice Broadcasting services to a wide variety of companies and organizations. EasyIVR.com is our primary website for this service division of DSC.
Church Phone Applications and Features
Wedding Announcements
Request For Volunteers
Special Church Meetings
Funeral Announcements

Church Services Schedule
Emergency Notifications
Church Fund Raising
24 x 7 Answering Service

Church Activities
Voice Mail Messages
Committee Events
Multiple Call Attempts
The following companies and organizations utilize our voice broadcasting services or inbound call center answering services at our outsourcing facility. These companies may also have purchased one or more call center products from DSC.
Board of Jewish Education, Inc.
Voice broadcasting to answering machines and individuals for alert notifications. Voice broadcast also sent to faculty reminding them to check emails for important messages. Part of their "Rapid Communication Network" program.


B'Nai Yesurun
Voice broadcasting to answering machines and individuals for event notification - specifically death announcements. Voice broadcast also sent to synagogue members for other special meetings and events.


Episcopal Diocese Of Texas
Church customer that has an emergency response plan using our voice broadcasting system. The initial "call out" notifies all of the churches of a disaster or emergency.


Ferguson Memorial Baptist Church
Church customer that manages contact lists and conducts church outreach programs.


First Presbyterian Church
First Presbyterian Church utilizes our voice broadcasting and message delivery phone service to send emergency notifications to its members to announce church meetings, events and special services.


Hebrew Institute Of Riverdale
Synagogue that contacts various members notifying them of funeral announcements, wedding announcements, and miscellaneous events.


The Living Scriptures Inc.
Outbound dialer and contact management system that performs multiple campaigns calling prospective customers for sales of Christian videos and CDs.


Trinity Fellowship Church
Trinity Fellowship Church has contracted DSC to provide voice broadcasting services to its members. Messages are delivered to answering machines and individuals for event notification - specifically death announcements. Voice broadcast also sent to church members for other special meetings and events.


The Wimbley Group, Inc.
800 number answering service to provide callers with information regarding Kellogg's Gospel Sing Off Junior Choir competition.