Products / Information
Reminder Service
Announcement Service
Late Payment Reminder
Telemarketing Services
Message Services
Call Center Outsourcing
Voice Broadcast Software

Reminder Applications
Automated Appointment Reminders
Phone Contests and IVR Political Polls
Reminder Calls

Call Reminder Services
Voice Message Broadcasting Technology
Call Reminder Systems and Service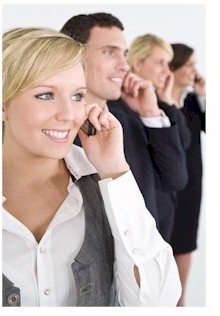 Database Systems Corp. (DSC) has been providing computer technology and services since 1978. Our products include call center phone systems and related software.

To quickly broadcast customer reminder calls and alerts, DSC offers a comprehensive automatic phone service. Pre-recorded messages can be played to either answering machines or to individuals informing them of upcoming conventions, community events, doctor or dental appointments, warranty repair notification, civil alerts, or marketing promotions. Different messages can be played to an answering machine versus an individual.

Simple to complex reminder service scripts can be developed for touchphone response. Calls can be directed to operators that are standing by or can be transferred to outside third parties.

Personalized information from your custom database (such as name, appointment date and time) can be included in daily reminders. In some campaigns, you may only want to leave a message if an answering machine is detected. In other campaigns, different reminder messages can be played based upon contact with an answering machine or a person and based upon the time of day. An individual could be given a message with selection options using our interactive touchphone response system.

Contact DSC to learn more about our phone reminder and alert services.


---

Avaya is a global leader in communication systems, applications and services. They design, build, deploy and manage networks for enterprises. Customers range from small businesses and nonprofit agencies up to more than 90% of the companies in the FORTUNE 500, and the U.S. government. These clients all rely on Avaya for reliable, secure networks that facilitate customer relationships, enhance productivity and maximize profitability.

Avaya has contracted with Database Systems Corp. to send voice messages to some of its customers who have fallen behind in payments. As a result of this late payment reminder, Avaya has realized a measurable increase in collections from these clients and has accomplished this without the added cost of human labor.
---
Call Reminder Service
Our automated voice broadcasting service is more than just simple message delivery. We provide the following features that are not available with most phone reminder service providers:
Online Account Management
Upload Your Own Phone Numbers
Create and Upload Your Own Phone Messages
Interactive Voice Response Scripts
Database Access and Update
Website and Server Data Access
Play different message to individuals or answering machines
Initiate Broadcast Online
Initiate Phone Messaging By Phone
Complex Phone Scripts with "Press Through"
Text To Speech Data Conversion
Timeout features and call control options
Do Not Call checks for bulk message blast campaigns
Single Message broadcast using XML Push
Remote database access with XML Pull
Automatic FTC Opt Out Compliance
Email notification of call results or voicemail
Touchphone response control for both parties
Bulk message blast with low flat rates
Professional voice over talent for on hold message voice overs
Call Recording and Messaging Service
Online Reporting with Realtime Update
Much More....
Phone Systems
DSC now offers an affordable and expandable voice message broadcasting system that is ideally suited for autoreminder alerts. This 4 line VB system includes our VB Wizard software or comes optionally with our comprehensive software development toolkit. You can program your own system or we can provide you with a custom VB application. These applications can be easily ported to our digital T1 IVR system (PACER) when your call volume requires a larger system.

DSC provides VB software including our VB wizard development tool for creating Voice Broadcasting applications. This wizard guides you through each step when defining your VB applications. Informational phone applications can be developed quickly. Simply record your phone prompts and fill in the blanks.
What We Provide
Campaign Development and Design
IVR Phone Application Implementation
Phone Service Hosting
Custom Phone Reporting
Call Messaging Service Software
Automated Phone Services and Systems
Voice Broadcasting Services
Phone Messaging Services
Database Integration
Text To Speech Software Applications
Professional Voice Recordings
Quality Transcription Services
Maintenance Phone Services
Contact Database Systems Corp. Today
Contact Database to learn more about our voice broadcasting services and appointment reminder services.