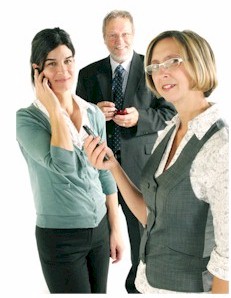 With our call center phone system, we can broadcast your public and private service announcement messages. Pre-recorded messages can be played to either answering machines or to individuals informing them of upcoming conventions, community events, doctor or dental appointments, warranty repair notification, civil alerts, or marketing promotions. Different messages can be played to an answering machine versus an individual. Simple to complex scripts can be developed for touchphone response. Calls can be directed to operators that are standing by or can be transferred to outside third parties.

Personalized information from your custom database (such as name, appointment date and time) can be included in call reminders. In some campaigns, you may only want to leave a message if an answering machine is detected. In other campaigns, different messages can be played based upon contact with an answering machine or a person and based upon the time of day. An individual could be given a message with selection options using our interactive touchphone response system. Calls can be routed to a remote company representative or to a group of service agents. Multiple message campaigns can be performed at the same time, each with its own set of business rules. Our call announcement system can conform to your specific requirements.

For a further description of this technology, visit our Call Reminder Service web page.
Call Reminder Applications
Dental Appointments
Home Repair
Doctor's Appointment
Office Location/Hours

Payment Reminder
Collection Calls

Schedule Appointments
Upcoming Events
Voice Mail Systems
MedAlerts
MedAlerts is a service that uses state of the art technology to call subscribers and remind them to take their medication on time as prescribed by their physician. Through our reminder service, clients are also sent prescription refill reminders utilizing a customized message and method designed for each customer. MedAlerts uses our voice broadcasting and XML Push technology to deliver these reminders.


Mining Gold Corporation
Mining Gold Corporation is a Florida based organization that provides reliable customer information using data mining techniques. Mining Gold Corporation currently utilizes Voice Broadcasting to invite their clients to seminars and company-sponsored events.


Platinum Financial Group
Platinum Financial is a consortium of financial planners and consultants headquartered in San Francisco, California. Platinum Financial utilizes Voice Broadcasting to inform their client base about upcoming events and new business opportunities.


Positive Pain Management
Positive Pain Management is a Texas based company offering worker's compensation assistance to clients experiencing chronic pain. Positive Pain Management currently utilizes the Wizard Voice Broadcasting system to keep clients informed of upcoming events and to generate new business.


Rennie Glen Software, LLC
Rennie Glen Software, LLC consists of a small group of talented developers with years of experience developing software for PDF applications. This organization uses our XML Push Voice Broadcasting services to update its customers of current surfing conditions.


Spectrum Theatre Company Inc.
Spectrum Theatre utilizes our voice broadcasting and messaging service to contact patrons of its theater. Reminder messages are both left on answering machines or delivered to individuals. Patrons are notified of upcoming events and performances.


Trinity Fellowship Church
Trinity Fellowship Church has contracted DSC to provide voice broadcasting services to its members. Messages are delivered to answering machines and individuals for event notification - specifically death announcements. Voice broadcast also sent to church members for other special meetings and events.


Wakebox
The premier provider of student wake-up call services for colleges and universities. Wake box allows users to choose from different music genres and "wacky" sounds to wake up to. Wake Box utilizes voice broadcasting to wake up students at predetermined times.


Wilcox Bros. Lawn Sprinkler
Wilcox Bros. Lawn Sprinkler has been around for over 15 years striving to provide its customers with the best quality in residential irrigation. Wilcox Bros. Lawn Sprinkler is currently utilizing Voice Broadcasting to remind their customer to renew services and to provide details regarding upcoming promotions.


Page [1] [2] [3]