Products / Information
XML Phone Messaging
Message Broadcast
Reminder Service
Call Center Outsourcing
Toll Free Phone Service
Inbound Telemarketing
Answering Systems
Phone Answering Software

Late Payment Information
Past Due Payments
Phone Collections
Automated Appointment Reminders


Late Payment Reminder Service and Systems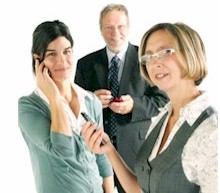 Database Systems Corp. (DSC) is a leading provider of call center products and reminder software including voice broadcasting solutions. DSC provides both phone systems and outsourcing services.

With technology from DSC, we can help improve the productivity of your collections department. Our automatic phone dialing system can call your past due accounts and play a pre-recorded message informing the individual of the late payment.

This message may contain information unique to each call recipient and what action the individual needs to perform.

Contact DSC to learn more about our late payment reminder service and systems.
Types Of Payment Reminders
Automatic Reminders - No Agents Required - Our bill reminder service can play different messages based upon the delinquent amount and/or how long the amount has been overdue. If multiple calls are required, the phone system can likewise play different messages. When contact is made with an individual, your message may simply provide instructions on how to repay the delinquent amount. This is all possible because of the capabilities built into our "Smart" auto dialer phone system.


Automatic Reminders With Agents - Additionally, an option can be provided to contact one of your collection agents by pressing a touchphone response, in which case our service will transfer the call to one of your collection agents.

Now when your collection agent speaks with an individual with a past due account, the purpose of the call has already been identified and the agent can spend more time arriving at a settlement for late payment accounts.

No longer will debt collectors spend hours dialing numbers, dealing with busy signals, and repeating routine introductions and messages. Your calls will be highly productive because routine functions are off loaded to your phone system. Fewer collection agents can process more calls.

Routine calls can be eliminated completely when the debtor follows the instructions you provide in your phone message. Your debt collectors can spend their time handling more serious and complex debt collection and past due account calls.
---
Customer Profile - Avaya

Avaya is a global leader in communication systems, applications and services. They design, build, deploy and manage networks for enterprises. Customers range from small businesses and nonprofit agencies up to more than 90% of the companies in the FORTUNE 500, and the U.S. government. These clients all rely on Avaya for reliable, secure networks that facilitate customer relationships, enhance productivity and maximize profitability.

Avaya contracted with Database Systems Corp. to send voice messages to some of its customers who have fallen behind in payments. As a result of this late payment reminder, Avaya has realized a measurable increase in collections from these clients and has accomplished this without the added cost of human labor.
---
Types of Debt Collections and Late Due Reminder Services
Voice Broadcasting Late Payment Dialer - This is a method of calling where the phone system dials from a list of past due accounts and plays a pre-recorded message either to an individual or to an answering machine. A collection agent is not involved. This technique could be useful as a first pass attempt to collect overdue accounts. The message could be simply a reminder with instructions on how to bring the account to balance. Multiple calls by our debt collection dialer can be made to the same debtor with different messages based upon the amount and extent of delinquency and whether the account responded to prior messages.


Voice Broadcasting and Touchphone Response - This method expands the prior call broadcasting technique. The debt collection autodialer plays a message that gives the debtor options from which to select. Using touchphone responses such as "Press 1 for...", choices could include methods of payment or perhaps the option of speaking with one of your representatives. A different message can be left on an answering machine.



Automatic Phone Dialing - This is a traditional method of calling where our debt collection dialer calls a number from a phone list when a collection agent is available to take a call. When the number is dialed, the phone system transfers the call to the agent. This method simply relieves your collection agent from the tedium of manually dialing lots of numbers. This type of calling is appropriate when the past due account is not responding to prior correspondence or calls and a personal interaction is required.



Predictive Dialing - Predictive dialing is very similar to automatic dialing, except the phone system dials several numbers ahead to reduce the amount of wait time between calls that your collection agents handle. Our predictive dialer greatly increases your collection department productivity and can lead to call rate increases of up to 100%.



Database Systems can provide any type of calling program required by your organization and can even blend several types to determine what works best in your specific collections department.
Late Payment Service Features
Campaign Development and Design
IVR Phone Application Implementation
Phone Service Hosting
Custom Phone Reporting
Call Messaging Service Software
IVR Programming with Database Integration
Automated Phone Services and Systems
Voice Broadcasting Services
Phone Messaging Services
Text To Speech Software Applications
Professional Voice Recordings
Quality Transcription Services
Maintenance Phone Services
Professional Voice Prompts For Late Payments

To achieve the maximum results from your phone calling programs, consider using our professional voice over talent services. We have contracted with several professional voice over specialists that you can sample by visiting our Voiceover Talent and Voiceovers web page. These services can be provided to you at affordable prices and can put a finishing touch on your call campaign. The voice recordings can be produced in minimal time at a professional recording studio.
Payment Reminder Dialer and Phone System Benefits
Message Escalation Based On Prior Calls and Debt
Payment Reminders and Over Due Account Reminders
Greater Call Volume and Contacts using Debt Collection Dialer
Maximized Debt Collection Call Productivity
Consistent Collection Agency Messages
Detailed Debt Information Included in Messages
Increased Debtor Information Management
Work At Home Debt Collector Service Agent Option
Increased Debt Collection Call Success
Past Due Account Reminders
Enhanced Cost Savings at Collection Agencies!
Improved Collection Agency Control
Efficient Use of Resources
Expanded Information Capability
Contact DSC Today
Contact Database to learn more about our late payment reminder phone service products.