IVR Products
Interactive Voice Response
IVR System
IVR Outsourcing
IVR Hosting
IVR Development
IVR Management
IVR Programming
IVR Best Practices
Hosted IVR
IVR Services
Answering System

IVR Applications
Clinical Trials
Order Entry
Credit Card Processing
Order Status
Voice Mail
Inventory Confirmation
Customer Surveys
Employee Surveys
Market Research
Message Services
Employee Testing
Account Status
Lead Generation
Contests
Opinion Polls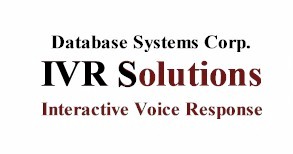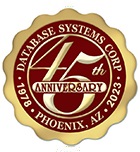 IVR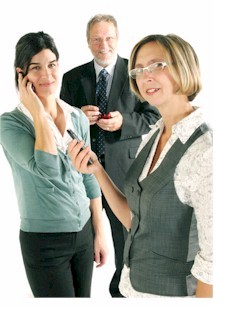 IVR (Interactive Voice Response) is a computerized system that allows a person on the telephone to select an option from a voice menu and interact with a computer system.

An IVR system plays pre-recorded voice messages to which a person responds by pressing a number on a telephone keypad to select an option presented in a voice prompt.

Database Systems Corp. (DSC) offers turnkey IVR systems and services as a feature of its call center technology products. These phone answering solutions support both digital and analog phone lines.

Our IVR solution can provide callers with information extracted from local and remote databases and from the internet. Calls can be routed to either phone agents working locally or from a remote location including a home.

Calls can likewise be transfered to outside phone extensions. DSC has developed this award winning product to enhance our phone system's current robust features of predictive dialing, ACD (automatic call distribution), voice broadcasting, and digital call recording.

Contact DSC today to learn more about our IVR technology and development services.


---
Customer Profile - Medtronic

"Medtronic is the world leader in medical technology providing lifelong solutions for people with chronic disease. Medtronic offers products, therapies and services that enhance or extend the lives of millions of people. Each year, 5 million patients benefit from Medtronic's technology which is used to treat conditions such as diabetes, heart disease, neurological disorders, and vascular illnesses." - www.medtronic

Medtronic selected Database Systems Corp. to provide IVR services and development services. Medtronic provides automatic employee training and testing over the phone using a toll free number hosted at our call center.

Medtronic employees enter an employee identification number on the phone keypad and listen to the current week's medical process or procedure. The employee then answers several questions to ensure that the training and information is properly understood. This procedure is performed automatically over the phone using touch phone key responses.



---
IVR Software Features
Our IVR Software features a rich library of routines that connect our computer systems with our advanced call center phone systems. These routines are used by our professional programming staff to develop virtually any type of phone campaign your organization requires. If you have programmers on staff and wish to develop your own applications, this library is available to you as well.


Visual Basic interface
EZTRAN Flow Control
Client/Server Architecture
DNIS Controlled
Voice Mail IVR
Multiple Scripts
Play Message and Prompt
Play Music On Hold
Mix Messages and Text
Call Outside Line and Transfer Call
Call Outside Line and Prompt for Input
Connect Caller to Outside party
Record Caller Message and Store
C or C++ library
User Navigation and Selection
Interactive Voice Response Phone Key Input
Route Caller to Selected Agent Groups
Database Access and Update
Software Programming Wizard for Fast Development
Text To Speech Software (TTS)
Response Logging and Reports
Call Center Simulation Models
To assist our hosted IVR and system clients with estimating the resources required to perform both inbound and outbound campaigns, Database Systems Corp. provides several simulation models. These models accept calling campaign parameters such as anticipated call volume, list size and message lengths and estimates the resources required to process these campaigns.

Our IVR simulation program is a resource calculator. This model calculates resource requirements for an inbound phone campaign. It estimates the number of lines required to handle peak load processing of these calls. This model assumes that calls are evenly distributed during the peak period.

To obtain a FREE simulation model run of your specific IVR phone application, please call or contact Database Systems Corp. today.
IVR Information
Contact Database to learn more about our IVR Interactive Voice Response Systems.