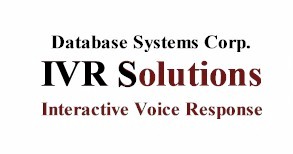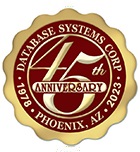 IVR Solutions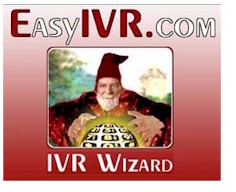 Database Systems Corp. is a leading provider of call center technology including IVR phone systems and auto dialer software.

DSC provides (IVRS) Interactive Voice Response systems including our wizard IVR development tool for creating phone answering applications. This wizard guides you through each step when defining your custom interactive voice response applications. Informational phone applications can be developed quickly. Simply record your phone prompts and fill in the blanks. Telephone surveys can be put together in a logical and simple fashion.

For more complex IVR applications, DSC provides a complete IVR Software Development Toolkit that allows programmers to create complex IVR applications from LINUX, Unix or Windows servers that control the IVR phone system. This "Open" approach to interactive voice response (IVR) development provides maximum flexibility when creating phone applications.

Contact Database today to learn more about our Interactive Voice Response Systems.
Let Our Wizard Be Your Guide
The IVR Wizard guides you through a step by step process to develop your interactive voice response application. You tell the wizard what you wish the phone system to do whenever a caller presses any key or set of keys. Callers can be prompted for surveys, responding to each question by pressing a key (or keys) on a touch phone. Call responses can be recorded and saved. The caller can be transferred to another phone system or to a group of operators standing by. By simply filling in information collected by our Wizard, your phone system application can be developed quickly and tested in an orderly and logical fashion.
Define Phone Key Responses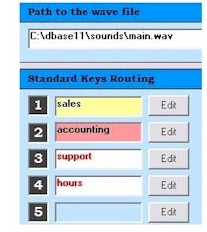 By simply filling in the blanks, you can create IVR phone applications is just minutes. Call routing for simple scripts and surveys can now be created and maintained in a simple and visual manner.

Maintaining existing Interactive Voice Response applications now can be managed by clerical and administrative staff, rather than by your telecommunications or phone system consultants and programmers.

Our Interactive Voice Response Solution creates a simple, portable script that can be transferred to any WIZARD or PACER IVR system. Thus your IVR software investment is not lost as your organization grows from a small analog IVR phone system to the larger digital PACER series. Flexibility and growth - keys to business success.
Interactive Voice Response Development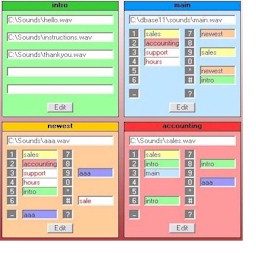 Our IVR software provides the developer with a complete visual approach to defining phone applications. Developers see the application from a project perspective, viewing the high level objects and components as they are defined and created. A logical step by step approach can be employed allowing the developer to see the entire project visually on one screen.

Each object in the IVR application can then be selected and further defined. Object properties can be named and modified. Development in this manner provides a structured and self documenting process.

Interactive voice response technology is provided by Database Systems Corp. for both phone systems as well as outsourced IVR services.
IVR Software Features
The following are just a few of the DSC interactive voice response software features:
IVR Client/Server Architecture
Digital T1 800 Number Support
Analog Phone Line Support
Linux, Unix, and Windows API libraries
DNIS Controlled
Multiple Concurrent IVR Scripts
IVR Play Message and Prompt
Interactive Voice Response Phone Key Input
Play Music On Hold
Call Outside Line and Transfer IVR Call
Call Outside Line and Prompt for Input
Connect Caller to Outside party
Record IVR Caller Message and Store
User Navigation and Selection
IVR Voice Mail
Route Caller to Selected IVR Agent Groups
C or C++ IVR library
IVR EZTRAN Flow Control
Database Access and Update
IVR Text To Speech Software (TTS)
Mix IVR Messages and Text
IVR Response Logging and Reports
Interactive Voice Response Systems
Contact Database to learn more about our IVR Software and interactive voice response systems.