Information
ACD
ACD Software
ACD Systems
Virtual ACD Systems
IVRS Software & Services
Medication Reminders For The Elderly
Phone Messaging Service

Website Information
ACD Applications
Call Router System


<! Main Body of Tech Library Section>

EasyIVR Tech Library



ACD Automatic Call Distribution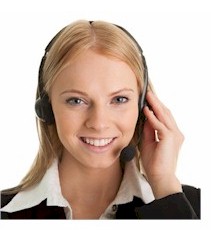 This section of our technical library presents information and documentation relating to ACD Software and products. Automatic call distribution systems are the heart of inbound call centers. ACD systems are call routing utilities for incoming calls and can be even used to route calls originated by our predictive dialer to the next available agent. Our PACER and Wizard phone systems comes with a complete automatic call distribution system for call routing.

The PACER and Wizard ACD system and automatic call distributor can route calls based on the dialed phone number (DNIS) and the time of day. Additionally, the PACER IVR system can intelligently route calls using complex conditional logic.


<! ******************* Main Body ********************************* !>
Virtual call center to the rescue
The New York State Workers' Compensation Board wins User Excellence Award runner-up for going virtual and greatly enhancing customer service.

By Toni Kistner
Network World, 12/22/03

One of the first calls employees injured on the job make is to the state workers' compensation board to initiate benefits claims for coverage of medical bills and replacement of lost wages. But New York workers making that call before 2001 were likely to suffer insult on top of injury: Customer service was abysmal.

Even though the New York State Workers' Compensation Board (WCB) had digitized all its paper files, customer service was a mess. Each office had its own setup - some a few dedicated lines, others a Centrex system, still others gear from Lucent or Nortel. No more than three customer service representatives staffed each office, regardless of incoming call volume. In some offices, call volume was light and reps didn't have enough to do. In others, calls streamed in nonstop. "A significant number of calls got busy signals, and callers faced long wait times," says John McDermott, IS director for the WCB. The board receives approximately 1 million calls per year from injured workers and other stakeholders in the workers' compensation system.

Virtual call center technology, still nascent in 2000 when the WCB began investigating fixes for its customer service problem, seemed a viable option. The WCB's earlier decision to eliminate paper files turned out to be a boon. "If our case files hadn't been computerized, we couldn't have [pursued a virtual call center]. This means everybody can look at all the case files, regardless of location," says Joanne Conrad, assistant director of claims operations at WCB, noting that all claim-related documents, including medical forms and letters, are scanned into an electronic folder.

The WCB found the virtual call center idea attractive compared with the more traditional approach of building a centralized call center, which would have required construction funding and relocating or laying off dozens of reps, then hiring and training new reps in the area. A virtual call center, on the other hand, would let the WCB tie its district and satellite offices into a centralized phone system and let its existing staff of reps work as a single unit. They would take calls based on availability and appropriate skills, not geographic location, thereby evenly distributing call volume and allowing more consistent customer service. And the cost, at approximately $900,000 for hardware, software and consulting services, would be significantly less than a project involving new construction.

The New York WCB earns 2003 User Excellence Award runner-up distinction for embracing emerging virtual call center technology - and a new way of working - while potentially saving millions of dollars.
Rollout under duress
Although the agency clearly understood the business case and benefits of a virtual call center, some feared the reps and their managers would have trouble adjusting to such a radical new way of working. Those concerns became moot on Sept. 11, 2001. The terrorist attacks disabled the WCB's district offices in New York City, forcing McDermott and his team to forward calls to outlying offices. Overnight, his organization was faced with rolling out the virtual call center system to district and satellite offices as quickly as possible and processing more than 9,000 workers' compensation claims related to the attacks.

To handle that crisis, the WCB quickly leased an Aspect Communications' automatic call distribution (ACD) server and installed it at the data center in Albany, and deployed Aspect WinSet software on the reps' computers. At the same time, it changed (and forwarded) the local phone numbers of each district and satellite office to a single toll-free number. Since then, McDermott's team has added offices to the virtual call center one at a time, with one office bouncing calls to another until the last of the 11 districts and 30 satellite offices came online in September 2003. The WCB currently receives between 50,000 and 60,000 calls per month through the virtual call center; call-handling is going so well that the board recently brought two additional departments onto the system, he says.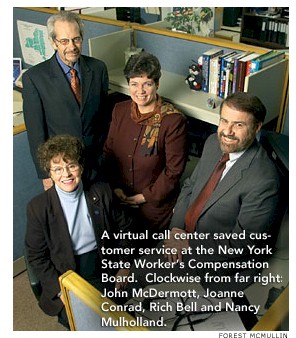 When reps log on to their computers in the morning, they enter their phone numbers into the WinSet application. WinSet talks to the ACD system, letting it know when reps are available to take calls at what numbers, when reps are on their phones and when they are in wrap-up mode, handling paperwork after call completion. The ACD distributes incoming calls to the offices based on availability or customer service rep skills. For example, calls from Spanish speakers are routed to the district offices in New York City.

The call center manager can view and monitor all call activity. Reps manage all calls via their workstations; the analog phone simply carries voice traffic.
Operational gains
The virtual call center benefits are numerous. For callers, busy signals and long wait times are gone, as 98% of calls are now answered within 30 seconds, McDermott says. For reps, burnout from long hours and verbal abuse from irate callers have dissipated. For the state, the virtual call center has meant increased interaction with constituents without an increase in staff - "extremely important" given the state's hiring freeze, McDermott says.

Beyond getting the phones answered, the WCB's quality of customer service is improving, too. "Our responses are becoming more consistent," McDermott says. "When one person calls the Buffalo office and another calls one in New York City, we're now more likely to give them the same answer. Before, the data ranged because every district had its own. We didn't have FAQs or the ability to monitor phone calls to better manage interaction with claimants. Now we do."

The new system also is helping the WCB improve internal processes, including how reps and case managers interact. Now, reps can field routine questions that used to go to case managers, forwarding only the most appropriate calls to them. Case managers, in turn, can concentrate on claim resolution.

With the virtual call center fully deployed, the WCB can take customer service to the next level, McDermott says. "We have the ability to tap into resources, to open more channels to our customers and claimants. We're working now on a knowledge database to help answer calls, and I'd like to see us coordinate the phone with the Web," he says. "In many ways the state is behind, but on the technology side, we're on the leading edge of things."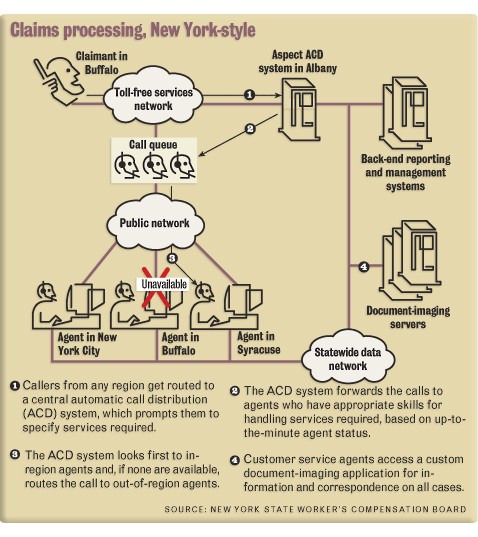 <! ************************ End of Main Tech Library Page ******************************* !>





---