<! Main Body of Tech Library Section>

Call Center Services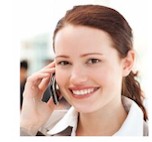 Database Systems Corp. provides a complete library of articles and guides relating to its call center products and services.

This section of our technical library presents information and documentation relating to Call Center technology including software and products. Since the Company's inception in 1978, DSC has specialized in the development of communications software and systems. Beginning with our CRM and call center applications, DSC has developed computer telephony integration software and PC based phone systems.

Contact DSC today. to learn more about our call center outsourcing services.


---
Organizations Embracing Converged Voice and Data Applications
The following is an extract from an article maintained on the website www.comptia.org:

Organizations are embracing converged voice and data applications to reduce the cost of their internal and external communications systems; streamline management of voice and data networks; and improve productivity throughout their operations, according to new research released today by CompTIA, the Computing Technology Industry Association.

More than one-half (52.1 percent) of organizations participating in the study said they currently use one or more converged applications. In organizations of over 1,000 users that figure rises to 73 percent.

Fax servers and web conferencing solutions are the most frequently deployed converged applications in use today, followed by unified messaging, internet protocol (IP) phones, call center applications, soft phones, and voice-over-IP application servers.

In addition to the organizations using converged applications today, 7.6 percent of responding companies said they are currently in the process of deploying one or more converged applications; 9.7 percent are budgeting for and evaluating converged applications; and 30.6 percent are planning to evaluate converged applications in the next 12 months.

"Efficiency, cost-containment and network integration are the key buying triggers for converged applications and services," said Edward Migut, director, CompTIA Convergence Group. "Organizations believe that converged applications will provide them with enormous flexibility to manage and administer voice and data networks together through familiar interfaces; and add features and functionality at the server and desktop level."

By a wide margin (81.5 percent), reducing cost is the most important buying factor for organizations that currently use or are evaluating the purchase of converged applications, the CompTIA study found. Return on investment is another key driver for many organizations (77.5 percent), followed by easier administration (75.5 percent).

"This clearly indicates that corporate buyers are no longer content simply to spend money on a product that's better than last year's model," said Alan Borck, president of ARC Communications Ltd. of Piscataway, N.J., a member of the CompTIA board of directors and chairman of the association's Convergence Group. "Buyers must be able to demonstrate to executive management that a purchase will either lead to cost savings, or deliver productivity gains with a short-term - often six months or less- payback on the investment."

Organizations believe that the deployment of converged applications will deliver benefits throughout their operations, with the most significant productivity gains occurring in sales and marketing (46 percent), internal communications (40 percent), call center/customer service operations (39 percent), and external communications (36 percent).

A summary of the convergence study is available on the CompTIA web site at:
http://www.comptia.org/members/corp/files/summary/4186_rev1.pdf.
About CompTIA
CompTIA is a global trade association representing the business interests of the information technology industry. For more than 22 years CompTIA has provided research, networking and partnering opportunities to its 20,000 members in 102 countries. The association is involved in developing standards and best practices, and influencing the political, economic and educational arenas that impact IT worldwide. More information is at www.comptia.org.

<! End of Main Tech Library Page>

---