Information
Virtual ACD Software
Voice Mail Broadcasting
Delivery Confirmation / Verification Service
Phone Answering Software
Outbound Telemarketing Services
Voice Broadcast Software
Voice Mail Service
Voice Mail System
Voice Mail Software
Business Phone Services

Website Information
Political Auto Dialing
Telephone Reminders
Appointment Reminders
Business Phone System
Automatic Phone Dialer
Telemarketing Autodialers


<! Main Body of Tech Library Section>

Voice Broadcasting Auto Dialers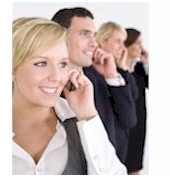 Using our PACER and WIZARD phone systems, we can broadcast voice messages and service announcements to your clients and community. Phone call messages can be automatically generated using our XML Push technology.

Our phone Message Service can place one call or millions of calls. Pre-recorded messages can be played to either individuals and answering machines or just to individuals. Different messages can be played to an answering machine versus an individual.

Contact DSC today. to learn more about our voice broadcasting service and auto dialer phone systems.



---


<! ************ Start of Main Tech Library Page ***********************! >
Ex-mayor using phone campaign
Chris Ramirez
The Arizona Republic

She hopes to dial up a big win!

Mayoral hopeful Cynthia Dunham isn't relying only on her door-knocking skills to get votes.

She's also working the phones.

Dunham is reaching out and touching voters through a phone-based campaigning system. Even a few residents with unlisted phone numbers have gotten calls. advertisement

Dunham is hoping to regain the post she lost in 2001 to Mayor Steve Berman. Her phone message promotes her claim that Gilbert public safety needs to be beefed up and she urges voters to turn out for the March 8 primary.

Dunham said she obtained the numbers for the dialer from Maricopa County, which asks for voters' phone numbers when they register.

Dunham said the auto dialer system is one of several things she's using to get the word out. She also is getting help from volunteers - who she says number in "the hundreds" - but said the phone message system is vital to her strategy.

"There's a lot of unawareness out there about this election," Dunham said. "Some people have told me, 'I just voted for George Bush a couple months ago. What do you mean I have to vote again?'

"Anything I can do to get in front of voters . . . I've got to do it."

Berman, in an interview Tuesday, accused Dunham of painting a bleak and inaccurate picture of the town's public safety infrastructure "to scare people into voting for her."

"No place has zero crime. There's crime in Disneyland, for goodness' sake," Berman said. "We have the lowest crime rate in Maricopa County. When you say things like 'Gilbert isn't safe,' what does that do for business?

"It doesn't matter that she attacks me, but she's attacking the town we live in."



<! End of Main Tech Library Page>


---


Contact DSC to learn more about our IVR services and IVR software solutions.


---