Delivery Confirmation and Verification Phone Systems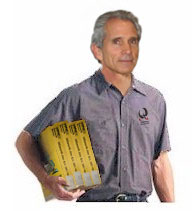 Automatically call households to confirm the delivery of your products or services using our message broadcasting systems.

Database Systems Corp. (DSC) provides automatic message broadcasting phone systems and services that confirm the delivery of products to a geographic area. This is particularly useful for delivery of products such as phone books and hand delivered notices and marketing materials.

Our delivery confirmation systems can contact your entire delivery area by phone or we can contact a certain percentage of each delivery area to statistically verify that the delivered products arrive on schedule as intended.

This service saves you time and money by automatically contacting your delivered base of households, simultaneously contacting hundreds to thousands of households.

Messages can be delivered to live answers or to answering machines with a requested call back if the household did or did not receive the delivered item.

Contact Database for a FREE analysis and quote and to learn more about our message broadcasting services and systems for delivery confirmation.
Customer Profile

Founded in 1930, Yellow Book USA is the oldest and largest independent yellow pages publisher in America, with more than 500 directories serving consumers across 42 states and the District of Columbia.

"At Yellow Book USA, our core values drive everything we do. We believe that if you can help enough other people get what they want, you will get what you want. This holds true for the way we approach our customers, as well as the way we treat our valued Yellow Book team members."

A Yellow Books USA contractor has acquired one of our Delivery Confirmation phone systems and uses this voice messaging system to contact households in specific delivery routes. It only samples a few homes by calling residents to verify that its books have been delivered as scheduled.
Monitor Your Results Real-Time
As part of our delivery confirmation system, Database Systems Corp. provides real-time monitoring as the phone campaign progressively calls your clients. Problem areas can be immediately recognized in both digital and graphical form.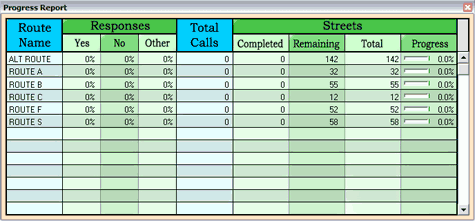 Each route is monitored as calls are made to households within each assigned route. When the designated number of verified deliveries has been met, the calling campaign will immediately cease for homes within this specific route.
Manage Your Routes and Phone Lists
Our delivery notification phone system and service is easy to manage. Using our Delivery List Manager, routes can be added, monitored and exported by your administrator.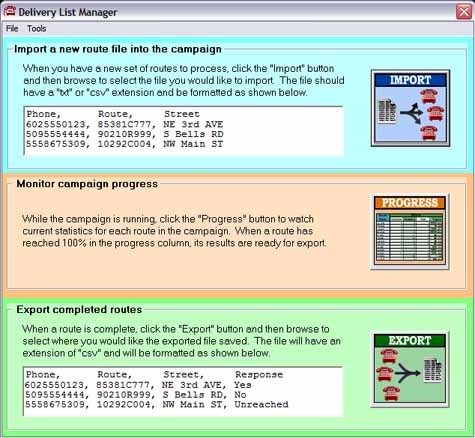 Route Management

Using our online list manager, new routes can be added to our system easily. Route information contains the household phone number, assigned route, and address information. This data can be easily imported into our phone system using this online utility.

Call Monitoring

As demonstrated above, our delivery confirmation phone systems and service can provide you with real time monitoring capability. Results appear as calls are made by our phone system.

Data Export

Should you need to use the results of this calling campaign in your delivery applications, we have provided a simple export feature that downloads the results of your calling campaign into an external file. This file contains the input route information with the call result appended to each item.
Professional Message Broadcasting Service
DSC offers complete message broadcasting systems and services for traditional voice message delivery as well as hearing impaired notification. If you need to get a project or campaign started immediately, we can also provide your organization voice broadcast outsourcing at our own call center. PLUS DSC offers you our bulk dialing service that lets you broadcast your message to millions of households in a very short window of time for just pennies a call. This is ideal for political calls and community or customer notifications.

The following comprehensive features of our message broadcast service put us head and shoulders above the competition:
Broadcast messages to either individuals or
answering machines with different messages.
Remote database access with XML Pull
Automatic FTC Do Not Call Compliance
Call transfer to live agents with intelligent
call routing
Remote call transfer through dial out
Timeout features and call control options
Do Not Call checks for bulk message blast campaigns
Hearing impaired TDD / TTY phone device support
Voice blast messages to millions of households
Computer generated calls for alerts and automatic
event notifications such as system failures
Single Message broadcast using XML Push
Customized touchphone responses
Database access and update
Text To Speech Data Conversions
Email notification of call results or voicemail
Touchphone response control for both parties
Bulk message blast with low flat rates
Comprehensive online reporting and call management
Professional voice over talent for on hold message voice overs
Online Message Broadcasting Reports
A key feature of our Message Broadcast System is the ability to generate real time reports and graphs. This important measuring system helps you observe and control the performance of your message broadcasting system with clear and meaningful displays. Graphs and charts of operational statistics let you measure the effectiveness of each message campaign. The information contained in each of these reports can be downloaded into a spreadsheet format for individually customized reporting. A sample of the reporting capability of our Message System can be seen by clicking on the graphic to your right.
The Benefits of Message Broadcasting
Interactive Message Broadcast systems can reduce customer service costs and enhance your organization or business by:
Providing high volume contacts and notifications
Expanding hours of operation
Automating routine calls thereby freeing employees to
concentrate on more complex duties
Speeding response times to message recipients
Expanding call capacity faster and at a lower cost
Providing multi-lingual support
Reducing the cost of employee or call center agent turnover
Message broadcasting benefits can make any calling center more efficient and productive.


Message Broadcasting Applications
These are just a few applications for Interactive Message Broadcasting systems. For a more complete listing, refer to our VB Applications page.
Delivery Notification
Company updates
Membership renewals
Consumer information
Customer Satisfaction Surveys
Employee Benefit Call Surveys
Market Research Surveys
Locator Services
Customer Service
Literature Fulfillment
Credit Card Processing
Order Status
Voice Mail Software
Inventory Confirmation
Subscription renewals
Customer preferences data
Petitions and citizen polling
Event invitations
Special offers & incentives
Warrantee renewals
New service offerings
Account Status
Lead Generation & Capture
Contests and IVR Opinion Polls
Product Information
Contact Database to learn more about our voice broadcasting systems and services.