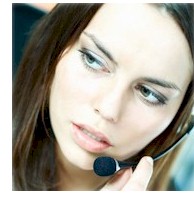 With technology from Database Systems Corp., we can develop your telephone survey applications using our interactive voice response IVR solutions. Automatic surveys can be initiated by outbound phone calls or can be a response to callers. Using our PACER phone system with the Smart Message Dialer feature, we can call your survey prospects and play a highly focused and custom greeting. We then can give your survey audience the option to take your survey or even talk with a representative, leave a voice message, hear additional information, or simply decline to participate in the survey. The survey can accept touchphone response or can record each question response for later analysis.

Outbound calls can be automatically placed to contact call survey candidates based upon demographic information. A message can be played to prospect or left on an answering machine with instructions on how and where to respond to a survey. Survey respondents can make selections from scripts using touchphone response or they can leave recorded responses to each question. The message could also be simply an explanation of the survey with the option to "Press Through" to a live survey taker for more complex surveys. Here are a few examples of how our automated phone system can benefit your phone survey and market research programs.

For a further description of this technology, visit our Phone Survey Services web page.

Database Systems Corp. provides interactive voice response (IVR) services and Voice Broadcasting services to a wide variety of companies and organizations. EasyIVR.com is our primary website for this service division of DSC.
Phone Survey Applications and Features
Employee Feedback
Political Polling
Maintenance Feedback

Market Research
Viewer Opinion Poll
Consumer Preference

Touchphone Responses
Recorded Responses
Complex Branching
Immediate Feedback
The following companies and organizations utilize our voice broadcasting services or inbound call center answering services at our outsourcing facility. These companies may also have purchased one or more call center products from DSC.
<! a HREF="" > Civil Broadcast Technologies, LLC
Civil Broadcast Technologies is a privately held company founded in 2004. Civil Broadcast Technologies is headquartered in Fountain Hills, Arizona. Civil Broadcast Technologies designs and markets message broadcast and Interactive Voice Response solutions for a wide variety of industries and government organizations. Civil Broadcast Technologies currently utilizes Voice Broadcasting and Interactive Voice Response.


<! a HREF="" > Heritage Security Service
Heritage Security Service provides investigative services. Whether civil or criminal investigative services, Heritage provides the expertise to get the information. Heritage provides professional reports and research. Heritage employs IVR to screen applicants for the employment of security guards in different California offices. The IVR script was developed to perform a phone survey for job applicants. The IVR asks questions to see if the applicant can qualify for a 15 minute interview.


<! a HREF="" > The Jackson Organization
The Jackson Organization is a full service research and development firm. Their custom research provides clients with results and action plans that address customer satisfaction, employee satisfaction and brand research. The Jackson Organization utilizes our IVR call center for automated phone scripts with some of their employee satisfaction clients. Employees are called quarterly to respond to an employee satisfaction survey. The IVR script asks employees 13 different questions regarding work related issues.


<! a HREF="" > National Medical Health Card Systems, Inc.
National Medical Health Card Systems, Inc., is an established leader in the pharmacy management field and has been processing prescription data since 1981. NMHC currently utilizes Interactive Voice Response and our telephone survey software to poll their current client base. Survey responses are sent to NMHC via the Internet in a real-time atmosphere.


<! a HREF="" > Progressive Impressions International
Progressive Impressions International utilizes interactive voice response technology to gather data for customer surveys. Customers enter a unique identifier in order to select one of eight different surveys. Custom reports have been developed to further analyze collected data.


<! a HREF="" > Uniprise
Uniprise, a division of United Health Group, provides a full range of employer business services to meet the complex needs of national employers and health plans. Uniprise currently utilizes Interactive Voice Response to gather market information from their field sales force. All feedback is collected and transmitted to Uniprise in a real-time environment.




---