Information
TTY / TDD Hearing Impaired
Virtual ACD Software
Voice Mail Broadcasting
Delivery Confirmation / Verification Service
Phone Answering Software
Outbound Telemarketing Services
Voice Broadcast Software
Voice Mail Service
Voice Mail System
Voice Mail Software
Business Phone Services

Website Information
Hearing Impaired
TTY / TDD Phone Services
Telephone Reminders
Appointment Reminders
Business Phone System
Automatic Phone Dialer
Telemarketing Autodialers


<! Main Body of Tech Library Section>

Voice Broadcasting Auto Dialers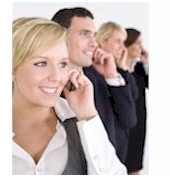 Using our PACER and WIZARD phone systems, we can broadcast voice messages and service announcements to your clients and community. Phone call messages can be automatically generated using our XML Push technology.

Our voice broadcasting service can place one call or millions of calls. Pre-recorded messages can be played to either individuals and answering machines or just to individuals. Different messages can be played to an answering machine versus an individual.

Contact DSC today. to learn more about our voice broadcasting service and auto dialer phone systems.



---


<! ************ Start of Main Tech Library Page ***********************! >
Using a Telecommunication Device (TDD) or a Text Telephone (TTY)
www.uchsc.edu

Using a Telecommunication Device (TDD) or a Text Telephone (TTY) For People Who are Deaf or Hearing Impaired

This pamphlet describes how to handle TTY calls and gives a list of TTY abbreviations and syntax often used by persons with speech and hearing impairments.

If your TTY phone is also used for voice calls, be sure the person who answers your phone by voice knows how to recognize and answer a TTY call. Usually a TTY call can be identified by a voice announcer saying, "this is a TTY call," or a high-pitched, electronic, beeping sound. However, some TTY's do not have voice announcers. Some do not make the beeping sound, or the person calling may forget to tap the space bar to produce it. Therefore, if you hear no voice, assume it is a TTY call.

TTY's should be placed near a telephone so there is minimal delay in answering TTY calls. Further, this phone should be accessible to and usable by persons with disabilities, including those who use wheelchairs.
Receiving and Concluding A TTY Call
Place the phone receiver in the receiver cradle of your TTY adapter. (For correct receiver placement, note picture, notch, or the word "cord/") Turn your TTY on.

The person who answers the call is the first to type. Type your agency name and your name. Then type "GA."

"GA" means go ahead and type. This is the signal for the other person to begin typing. "HD" means hold. This is the signal that the person typing must stop for a minute, but he/she will be back. In fact, do not leave the phone unless you first type "HD." "SK" means stop keying. This is how you show that the conversation is ended and that you will hang up. It is polite to type good-bye, thank you for calling, or some other closing remark before you type "SK."
Some sample opening and closing messages are:
Hello, Access Board, this is Jane Smith, may I help u? GA

Dept. Of Justice, Ms. Smith here. May I help u? GA

Good AM, this is Ms. Smith at the Dept. Of Agriculture. GA

Thank u for calling, bye to SK or GA

Have a good day. GA to SK

Because of the amount of time it takes to send and receive messages, it's important to remember that short words and sentences are desired by both parties (see list of common TTY terminology on back page).

Please Note:

With TTY calls you will not be able to interrupt when the other person is typing.

Sometimes you may get a garbled message in all numbers or mixed numbers and letters. You should strike the space bar and see if the message clears up. If not, when the person stops typing, you should say, "Message all garbled, please repeat." If the garbled messages continue, this may mean that one of the TTY's is not working properly or that you have a bad connection. In this case you should say something like, "Let's hang up and you call me back or I'll call you back."
Making A TTY Call
Place the phone receiver securely in the TTY receiver cradle and turn on your TTY. Make sure you have a dial tone by checking for a steady light on the TTY status indicator.

Dial the number and watch the status indicator light to see if the dialed number is ringing. The ring will make a long slow flash or two short flashes with a pause in between. If the line is busy, you will see short, continuous flashes on your indicator light. When the phone is answered, you will see an irregular light signal as the phone is picked up and placed in the cradle. If you are calling a combination TTY and voice number, and do not have a voice announcer on your TTY, you should tap the space bar several times to help the person on the other end identify this as a TTY call.

Please Note:

If your call is not answered via TTY after 10 to 15 seconds, you should again tap the space bar to let the person know that it is a TTY call. If you still receive no answer, this could mean one of several things. You may have dialed an incorrect number, or your call did not go through. A signal on your monitor light that someone is speaking may mean you have reached a recorded message.
Additional Information
If you make a mistake in spelling, you can either type "xxx" and then retype the correct spelling or use the Back Space key to delete the misspelled word(s).

To type numbers on some TTY's you may have to use the Shift key. Consult your TTY manual for specific operating instructions.

The message of some TTY callers may appear to be in nonstandard English. Please do not mistake this as a lack of intelligence on the part of the caller. Instead, it may be due to differences between hearing and deaf cultures or the use of TTY terminology. Extend the same patience and courtesy to TTY callers as you do to all others.

Afternoon/Evening - PM

Although - THO

Are - R

Because - CUZ

Center - CTR

Could - Cud

Go ahead

(your turn to type) - GA

Hold - HD

Meeting - MTG

Morning - AM

Number - NBR

Oh, I see - OIC

Operator -OPR

Pause (thinking) -HMMM

Please - PLS

Questions - Q

See you later - CUL

Should - SHUD

Stop keying (end of conversation) - SK

To show appreciation - SMILE

Tomorrow - TMR

Would -WUD

You - U

Your - UR
Resources
Assistive Communication Center
7346 S Alton Way #E
Englewood, CO 80112
303/290-6227 (Voice)
303/290-0405 (Fax)


Center on Deafness
1900 Grant St., #1010
Denver, CO 80203
303/839-8022 (Voice/TTY)


The Colorado Assistive Technology Project
1245 E. Colfax Ave., Suite 200
Denver, CO 80218
303/315-1280
303/837-8964 TTY
303/827-1208 Fax
800/255-3477 within Colorado


Northern Colorado Center on Deafness
1024 9th
Greeley, CO 80631
970/352-8682 (Voice/TTY)


Relay Colorado
800/659-2656 (TTY)
800/659-3656(Voice)
Relays conversation if one party does not have access to a TTY.


<! End of Main Tech Library Page>


---


Contact DSC to learn more about our IVR services and IVR software solutions.


---