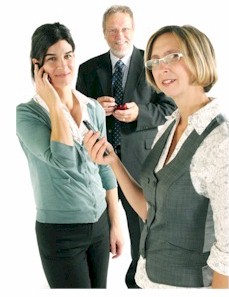 Health care organizations, hospitals, doctor's offices and dental practices can improve productivity through technology from Database Systems Corp. Our automated phone system can handle incoming calls from patients and insured individuals and provide timely and accurate information to the caller. Callers can check health care programs and rates and request policy information. Existing policy holders can enter a claim number or policy account number to obtain billing and claims information. The call can also be routed to the proper organization to handle the caller's requirements.

IVR systems and service have proven to be invaluable tools for clinical trials. The use of Clinical IVR data collection eliminates bias and maintains consistent patient survey results. Other healthcare and medical applications for our technology can be viewed in our Healthcare Phone Systems website.

Outbound call campaigns can also be launched automatically. Doctor or dentist appointment reminders can be provided to the patient. Messages can be played to individuals or answering machines. If the patient needs to talk with a member of your staff, the message can be programmed to allow a "Press 1...." option and the call will be transferred to one or more designated phone numbers. Calls can also be automatically placed to perform prescription refill reminders. Here are a few examples of how our automated phone system can benefit your health organization.

Database Systems Corp. provides interactive voice response (IVR) services and Voice Broadcasting services to a wide variety of companies and organizations. EasyIVR.com is our primary website for this service division of DSC.
Health Care Phone Applications
Medical Alerts
Patient Surveys
Claims and Billing
Office Location/Hours

Clinical Trials
Inventory Reports

Appointment Reminders
Lab Results
Annual Checkup Calls
Voice Mail Systems
The following companies and organizations utilize our voice broadcasting services or inbound call center answering services at our outsourcing facility. These companies may also have purchased one or more call center products from DSC.
Adams County Memorial Hospital
The Adams County Memorial Hospital is an 86 bed, acute care facility located in Decatur, Indiana. The hospital, which is county owned and operated, was dedicated as a memorial to the Veterans of World War I in July 1923. ACMH has been in continuous operation since its dedication. The hospital utilizes our voice broadcasting system with touch phone response to notify its employees and staff of emergency situations. When individuals are contacted, they are required to acknowledge the call through touch phone responses. If an answering machine is detected, a detailed message is left on the machine.


Cardinal Health
Cardinal Health enables providers, pharmacists, and manufacturers to become best in class in quality, efficiency, and effectiveness. Database Systems Corp. provides the IT management division of Cardinal Health with an emergency voice broadcast service allowing for the team member called to provide a yes/no response with respect to conference call and meeting availability. The application also includes real-time reporting with status update.


Cardiovascular Research Foundation
CRF is a leading developer of many of the most innovative and life-saving devices, techniques and therapies used in cardiology and vascular medicine today. CRF uses our IVR services to record voice over descriptions for slide presentations.


Excellence In Execution
EIE is a marketing company that utilizes our IVR services. Company representatives visit CVS pharmacies and report account activity by phone including service date, inventory, returns, planogram specs, etc.


Family Care
Family Care provides membership to a group of physicians and helps its clients obtain services from this membership group. Family Care utilizes our inbound call answering service and IVR facilities to accept phone calls from its prospective clients. Enrollment information is collected and database information is passed to member physicians. Clients can gain access to the latest status of their applications.


Healthcare Communications Group
Marketing company that calls asthma sufferers offering informational studies and medication to qualified candidates. If the call recipient is interested in the study, the call can be transferred to a call center for further qualification.


The Jackson Organization
The Jackson Organization is a full service research and development firm dedicated fully to health care. The central purpose of their specialized, responsive research is making the discoveries that lead to total quality care and competitive advantage. The Jackson Organization utilizes our IVR call center for automated phone scripts. Hospital employees from specific hospitals are called quarterly respond to an employee satisfaction survey. The IVR script asks employees 13 different questions regarding hospital and work related issues.


MedAlerts
MedAlerts is a service that uses state of the art technology to call subscribers and remind them to take their medications on time as prescribed by their physician. Through our reminder service, clients are also notified to refill their prescriptions utilizing a customized message and method designed for each customer. MedAlerts uses our voice broadcasting and XML Push technology to deliver these reminders.


Medical Benefits Group
This company broadcasts messages to potential health care clients offering them health coverage. Message is geared toward individuals who have been previously declined by other insurance groups. Option provided to talk with one of their representatives.


<! a HREF="" > Medtronic
Medtronic is a world leader in medical technology providing lifelong solutions for people with chronic disease. Medtronic currently utilizes Interactive Voice Response to provide clients the ability to listen and respond to 2-3 minutes of recorded content from Physicians and RSC discussions. All information is accumulated in a .csv format and transmitted to the client on a weekly basis.


Senior Division USA
800 number answering service that prompts callers and collects prospect information for long term health care plans.


<! a HREF="" > Uniprise
Uniprise, a division of United Health Group, provides a full range of employer business services to meet the complex needs of national employers and health plans. Uniprise currently utilizes Interactive Voice Response to gather market information from their field sales force. All feedback is collected and transmitted to Uniprise in a real-time environment.