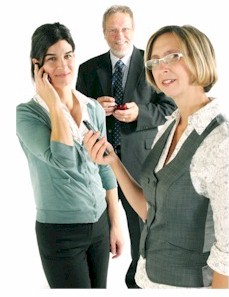 An intelligent phone system can greatly improve the productivity of any Human Resources department. Inbound phone calls can be processed efficiently, greatly improving the quality and quantity of service that is provided to your employees. Basic information dissemination is an easy function for a well designed system that expands the service provided by your department without additional people. Employee information can be extracted from your personnel databases and provided to your employees without human intervention.

Outbound calls can be automatically placed to remind employees of upcoming events, telephone surveys, interviews, appointments, and annual reviews. A message can be played to your employee or left on an answering machine. The employee could make selections from a menu or leave a message for your department. If the employee needs to talk with a member of your staff, the message can be programmed to allow a "Press 1...." option and the call will be transferred to one or more designated phone numbers. Here are a few examples of how our automated phone system can benefit your Human Resources department.

For a further description of this technology, visit our Human Resources Phone Services web page.

Database Systems Corp. provides interactive voice response (IVR) services and Voice Broadcasting services to a wide variety of companies and organizations. EasyIVR.com is our primary website for this service division of DSC.
Human Resources Phone Applications
401K Updates and Info
Employee Surveys
Employment Applications
Appointment Scheduling

Training Courses
Stock Purchase Plans
Personnel Auditing

Benefits and Pensions
Payroll Inquiries
Emergency Notify
Voice Mail Systems
The following companies and organizations utilize our voice broadcasting services or inbound call center answering services at our outsourcing facility. These companies may also have purchased one or more call center products from DSC.
Bobcat
Bobcat produces construction equipment for landscaping, agriculture, building construction, and government operations. They employ our Voice Broadcasting services to assist their manufacturing operations in scheduling work shifts for its 800+ workforce.


District Of Columbia - Department of Employment Services
The mission of the Department of Employment Services is to plan, develop and administer employment-related services to all segments of the Washington, DC metropolitan population. DOES utilizes Voice Broadcasting from Database Systems to provide public school students with announcements regarding professional employment opportunities via summer work programs.


Heritage Security Service
Heritage Security Service provides investigative services. Whether civil or criminal investigative services, Heritage provides the expertise to get the information. Heritage provides professional reports and research. Heritage employs IVR to screen applicants for the employment of security guards in different California offices. The IVR script was developed to perform a phone survey for job applicants. The IVR asks questions to see if the applicant can qualify for a 15 minute interview.


Hometown Staffing
Hometown Staffing is a multi-purpose recruiting firm providing local jobs for local people in southern Connecticut. Hometown Staffing utilizes our voice broadcasting facilities at our outsourcing call center to perform outbound marketing calling campaigns.


The Jackson Organization
The Jackson Organization is a full service research and development firm dedicated fully to health care. The central purpose of their specialized, responsive research is making the discoveries that lead to total quality care and competitive advantage. The Jackson Organization utilizes our IVR call center for automated phone scripts. Hospital employees from specific hospitals are called quarterly respond to an employee satisfaction survey. The IVR script asks employees 13 different questions regarding hospital and work related issues.


Logical Staffing Solutions
Logical Staffing Solutions was founded in 2002 to create a logical solution for managing and modernizing the relationship between hospitals and staffing agencies. The system is industry specific and designed by a team of leading professionals who have both staffing experience from the perspective of the hospital as well as the agency. Logical Staffing Solutions supports its clients from offices in St. Louis and Atlanta. Logical Staffing Solutions utilizes our voice broadcasting services and XML Push feature to contact employees with job notifications. Calls are placed to individuals or answering machines with the option for the employee to respond to the call with a "Press Through", speaking directly with a company representative.


MarketSource Sales Services, LLC
Market Source LLC is an integrated market services company, specializing in sales, marketing and technology solutions. Market Source utilizes Interactive Voice Response technology as a virtual punch clock. IVR allows for itís many employees to simply call a phone number in order to select the location and time they are starting and ending a shift.


North County Transit Authority
Affiliated with Orange County. Manages fleet of mass transit vehicles and maintains routing and scheduling information as well as driver payroll and scheduling systems.


Orange County Transit Authority
Maintains driver payroll information and manages driver routes and scheduling. Manages fleet of mass transit vehicles.


Pioneer Companies, LLC.
Pioneer Companies, LLC. is a leading producer and marketer of chlorine, caustic soda, hydrochloric acid, bleach and related products used for water treatment, plastics, pulp and paper, detergents, agricultural chemicals, pharmaceuticals and medical disinfectants. One of its affiliate organizations, KIK Inc. utilizes our interactive voice response IVR system for processing phone calls from employees who wish to register grievances anonymously. Calls are registered, the caller is given a reference number and the grievance is automatically emailed to the HRD department.