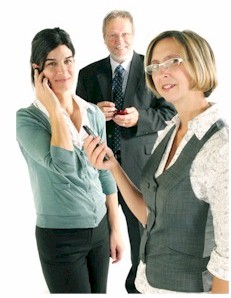 Managing real estate sales and property management can be performed more efficiently and effectively with technology from Database Systems Corp. Our advanced phone system lets you accept 800 number phone calls from anywhere and provide the caller with useful information. Automatic calls can be initiated by our dialer contacting real estate prospects with information regarding new properties and rentals. Vendors and maintenance organizations can be dispatched using our outbound phone system as well. A message can be played to an individual or left on an answering machine.

Likewise, inbound 800 numbers can be published allowing prospects to call for property information. Calls can be routed to the appropriate parties or the information can be provided entirely by the phone system. Property management groups can use this service for maintenance and repairs, and coordinated emergency service dispatching.

For a further description of this technology, visit our Real Estate Phone Applications web page.
Real Estate Phone Applications and Features
Real Estate Prospecting
Mortgage Rate Quotes
Property Management
Answering Machine

New Listing Contacts
Rental Maintenance
Property Availability
Rental Collections

Appointment Reminders
Showing Appointments
Office Locations and Hours
1st Advantage Properties
First Advantage Properties is a Minnesota based company offering financial services to residential property owners. First Advantage Properties utilizes Voice Broadcasting to inform homeowners about real estate related products and services.


Bayhill Home Owners Association
The Bayhill subdivision was started in 1999 and is currently finishing up with phase 3. The Ownership of the Bayhill Homeowner's Association changed hands in April 2002. Bayhill utilizes our voice broadcasting services and facility to contact members of special events, meetings, emergency alerts, etc.


Condo Association of John Hancock
Property Management group that supports a large high rise complex in downtown Chicago. Association automatically calls all of its tenants in the event of an emergency such as a power outage, utility blackout, or a routine scheduled outage for any of its services.


Connemara Condominium Association
The Connemara Community has 138 Condominiums with 2/2 Bedroom Unit, Six Units Per Floor, Swimming Pool, Sauna, Tennis Courts, Covered Parking, On-site Management, and Social Activity Room. The association uses our Condominium Notification calling services and facility to provide emergency voice messages to residents, delivering calls to answering machines and tenants. Phone calls may be activated by association officers via the internet or by calling an 800 number.


Cutting Edge Realty
Cutting Edge Realty is a Massachusetts based company helping homeowners list and sell their homes via the Internet. Cutting Edge Realty utilizes DSC's Voice Broadcast service to provide details of their unique marketing plans that benefit "For Sale By Owner" listings


Eastman Community Association
Located just two hours from Boston, Eastman is an exceptional residential community. Eastman offers 3,600 spacious acres of woodlands surrounding a secluded, two-mile lake. Eastman Community Association utilizes our voice broadcasting services to contact property owners in the event of emergencies, special events, or general information dissemination.


KB Home
KB Home has specialized in building homes designed for entry-level and first-time trade-up home buyers. KB Home maintains operational divisions in Arizona, California, Colorado, Florida, Georgia, Nevada, New Mexico, North Carolina, Texas, and France. KB Home is utilizing our voice broadcasting for marketing and sales to update prospects regarding new sub-division information.


Real Estate Marketing Partners
Real Estate Marketing Partners utilizes our IVR call center to accept 800 number phone calls from prospective real estate buyers to obtain mortgage information or select property data including home specifications. Callers have the option to "Press Through" to talk with a real estate agent. If no agent is available the caller has the option to leave a message and this message will automatically be emailed to the agent. System is set up for multiple real estate agents and properties.