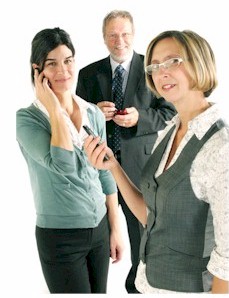 Automatically send calls from your computer system using our XML push software. Alerts can be automatically broadcast to systems administrators or to an entire department based upon an external event such as a power failure or system failure. Other applications may be as simple as wakeup calls or weather alerts that are triggered automatically from your own computer systems or websites.

We also support XML Pull and Web Information Access logic that enables our PACER phone system to make external requests for information via the internet. Using this technique, callers can be given information maintained anywhere on the web. Using our Text To Speech application software, text information can be retrieved via discreet messages to other web sites (or servers) and this information converted into a phone message that is automatically played to the caller. Virtually any type of information can now be relayed to a caller using our phone system.

Using standard XML protocol, your applications can transmit messages to our phone systems to perform the required phone messaging tasks. This could including simply sending a single message to one phone number, several phone numbers, or to an entire list of numbers. The message can be sent in the form of a wav file or a text file that is automatically converted using our text to speech software. Several voice wav files can be designated in the XML push message, giving you maximum flexibility.

For a further description of this technology, visit our XML Messaging Services web page.

Database Systems Corp. provides interactive voice response (IVR) services and Voice Broadcasting reminder services to a wide variety of companies and organizations. EasyIVR.com is our primary website for this service division of DSC.
XML Push Phone Applications and Features
Client/Server Architecture
Automatic Messaging Service
Touchphone Call Response
24 x 7 Messaging Service
Multiple Phone Numbers
External Database Lookup
Multiple messages per XML

Call Transfer Option
Customized XML message
XML Standard Messages
Appointment Reminders
Severe Weather Alerts
Web Access and Retrieval
Utility Outage Alerts
The following companies and organizations utilize our voice broadcasting services or inbound call center answering services at our outsourcing facility. These companies may also have purchased one or more call center products from DSC.
AT&T Wireless Network Control Center
AT&T Wireless (NYSE: AWE) is a leading provider of advanced wireless voice and data services for consumers and businesses. Operating one of the largest digital wireless networks in North America and the fastest nationwide wireless data network in the United States, AT&T Wireless provides its customers with high-quality mobile wireless communications service in the U.S. and internationally.

AT&T WNCC uses our voice broadcasting center with XML push to notify internal personnel whenever a network outage occurs such as its routers and general cellular infrastructure. AT&T Wireless personnel receive up to three different notifications during any given failure. These notices are triggered by a unit failure and may also include interim updates as well as a notice when the unit returns to service. AT&T personnel create dynamic messages which are converted to a voice message using our text to speech program. The message identifies the specific region where the unit outage occurred along with a list of who to call.


Brainfuse Tutorial Online
Brainfuse provides live, one-to-one tutoring over the Internet. Students in grades 3-college receive instant access to carefully-selected tutors for various subjects including math, science, language arts and test preparation. Brainfuse works closely with school districts and other institutions to customize learning solutions and raise the performance of students on state assessment exams. Brainfuse uses voice broadcasting to remind students and instructors of online tutoring sessions using our XML Push phone messaging service.


Bringmeinfo Systems
Provides personalized alerts for conditions that are important to each of its individual clients such as when it's snowing in Vail - making for great skiing. The client chooses the alert condition - and when it happens, a phone call takes place to notify client. Messages are automatically sent to our phone service using XML Push feature.


Lensdirect.com
Lensdirect.com is one of the nations largest providers of contact lenses and accessories. Lensdirect.com utilizes XML push technology to call optometrists to verify prescriptions using text to speech technology. Doctors are presented with the option to confirm receipt of the message with immediate notification being forwarded to Lensdirect.com.


Logical Staffing Solutions
Logical Staffing Solutions was founded in 2002 to create a logical solution for managing and modernizing the relationship between hospitals and staffing agencies. The system is industry specific and designed by a team of leading professionals who have both staffing experience from the perspective of the hospital as well as the agency. Logical Staffing Solutions supports its clients from offices in St. Louis and Atlanta. Logical Staffing Solutions utilizes our voice broadcasting services and XML Push feature to contact employees with job notifications. Calls are placed to individuals or answering machines with the option for the employee to respond to the call with a "Press Through", speaking directly with a company representative.


MedAlerts
MedAlerts is a service that uses state of the art technology to call subscribers and remind them to take their medication on time as prescribed by their physician. Through our medication reminder service, clients are also notified to refill their prescriptions utilizing a customized message and method designed for each customer. MedAlerts uses our voice broadcasting and XML Push technology to deliver these reminders.


Rennie Glen Software, LLC
Rennie Glen Software, LLC consists of a small group of talented developers with years of experience developing software for PDF applications. This organization uses our XML Push Voice Broadcasting services to update its customers of current surfing conditions.


Rights Marketing
Rights Marketing manages an Optin program allowing visitors to its web site to register and be paid while listening to advertisements from various companies. Rights Marketing utilizes our voice broadcasting and XML Push technology and services to accept information regarding the optin user including name, program to be presented, and phone number to call. We place this call to the user who listens to the advertisement and is presented with the option to talk with a live agent using touch phone responses.