Products / Information
Virtual ACD Systems
XML Phone Messaging
Message Broadcast
Answering Systems
Phone Answering Systems
IVR Management
IVR Solutions
Outbound Telemarketing Services
Call Center Outsourcing
IVR Development
Inbound Telemarketing
Call Center Demonstrations
IVR and Voice Broadcasting Technology
EasyIVR Call Center Demonstration
EasyIVR is the service division of Database Systems Corp. (DSC). DSC has created three product and service demonstrations. These demos are designed to work on any modern PC using a Windows operating system. They are ideally suited for call center managers, telemarketing supervisors, consultants, webmasters, and IT professionals. These presentations may be downloaded or may also be obtained directly from DSC on one CD (Domestic Only).

Contact Database to learn more about our interactive voice response and voice broadcasting services and products.
---
Telemation

Telemation CRM software is designed for call centers that have unique and dynamic requirements. This award-winning package supports inbound, outbound, blended, and predictive dialing campaigns. Features four CRM demos, contact management features, development presentation, and Remote Agent overview.
DSC Phone Systems

PACER or WIZARD call center phone system including predictive dialing, ACD, IVR, and call recording. Phone system features are described with two customer demonstrations plus an overview of predictive dialing. Also includes CTI Softphone and API demonstration, Remote Agent tutorial, and "Smart" predictive dialer presentation.
WOW - Window On the Web

An award-winning call center software toolkit that allows programmers to create Windows programs. Applications can be developed for execution on Linux, Unix, or NT servers, and communicate with a Windows PC over a LAN or Internet. Presentation includes WOW overview, development process, a multi-media demo, plus Remote Agent tutorial.
---
Please contact DSC for more information or to receive a CD demonstration (Domestic Only).
---
Phone Answering Services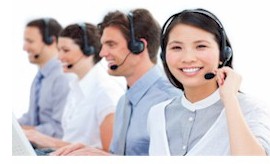 At EasyIVR, we offer complete automatic phone answering servcies and outbound message phone services. Our inbound call center answering service processes phone calls using our interactive voice response (IVR) system that answers calls without an operator.

Organizations looking to reduce costs and to improve customer service can now contract their inbound 800 phone service and outbound voice messaging programs at our automated call center. As designers of call answering systems and Telephone Answering Service software, DSC is uniquely positioned to manage your call answering service and 800 number service campaigns saving your organization both time and money.

We can deliver comprehensive 800 number service quickly -- providing you with a competitive advantage in the marketplace. From external database access to web integration including XML messaging, DSC can provide very custom phone applications. Plus you will find our 800 phone service to be quite affordable.

Contact us at Call Database to learn more about our automated answering services and message broadcast services.