Products / Information
Interactive Voice Response
IVR Outsourcing
Call Center Outsourcing
Reminder Service
Announcement Service
Late Payment Reminder
Bill Pay Service
IVR Management
IVR Best Practices
TDD / TTY Phone Messaging
Telephone Answering Service
Call Routing
Auto Attendant
ACD Software
ACD
Contact Center Outsourcing

IVR Applications
Customer Satisfaction Surveys
Employee Benefit Call Surveys
Market Research Surveys
IVR Polls
Message and Recording Services
Locator Services
Customer Service
Literature Fulfillment
Employee Testing and Evaluation
Order Entry and IVR Programming
Credit Card Processing
Order Status
Voice Mail
Clinical IVR Surveys
Automated Political Calls
Inventory Confirmation
Account Status
Lead Generation & Capture
Phone Contests and IVR Political Polls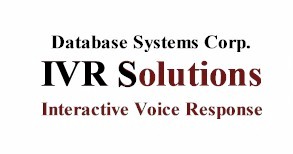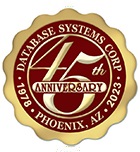 IVR Solutions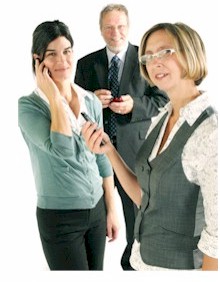 Database Systems Corp. (DSC) is a leading provider of call center technology and automatic phone answering systems and software including IVR solutions.

DSC offers complete IVR Systems for small to large organizations. Our IVR solutions are Intel based computer phone systems that support both digital (PACER) and analog (WIZARD) phone lines.

Our IVR solution includes both software and phone systems. DSC provides a PACER phone system that supports digital phone lines and our WIZARD series of phone systems that support analog lines.

An Interactive Voice Response (IVR) processes inbound phone calls, plays recorded messages including information extracted from databases and the internet, and potentially routes calls to either inhouse service agents or transfers the caller to an outside extension. It enhances our phone system's current robust features of predictive dialing, ACD, and digital call recording.

This complete call processing IVR solution gives your organization a 24 by 7 phone answering capability, providing around-the-clock information to your callers.

Contact Database to learn more about our IVR systems and custom IVR software solutions.


---
IVR Client - Go To Traffic School

"Go To Traffic School is the Internet's most popular online traffic school course. We have online traffic school programs for ticket dismissal, insurance reduction, safe driver points, and fleet driver safety programs.

This program is best suited for those who have received a traffic ticket and would like to take traffic school online so that the traffic ticket does not appear on their record, those who would like to lower their insurance premiums, and those who need to take a driver safety course for their work. ." - www.gototrafficschool.com

GoToTrafficSchool.com utilizes our digital IVR solution to provide automated phone surveys for their students. Student enrollees can complete their driving school tests online or over the phone.
---
IVR Benefits and Features
Interactive Voice Response systems can reduce customer service costs and enhance a call center by:
Complete toll free call answering service
Provides 24 by 7 information
Automates routine tasks
Frees agents to focus on complex service requests
Speeds caller response times
Expands call capacity at a lower cost
Provides multi-language support
Reduces the cost of agent turnover
Such benefits can show an immediate return on investment and make any call processing operation more productive.

IVR Software Features
IVR Client/Server Architecture
800 number toll free systems
DNIS Controlled
Record IVR Caller Message and Store
IVR Development Wizard
User Navigation and Selection
IVR Voice Mail
Route Caller to Selected IVR Agent Groups
C or C++ IVR library
Multiple IVR Scripts
IVR Play Message and Prompt
Interactive Voice Response Phone Key Input
Play Music On Hold
Call Outside Line and Transfer IVR Call
Call Outside Line and Prompt for Input
Connect Caller to Outside party
Database Access and Update
IVR Text To Speech Software (TTS)
Mix IVR Messages and Text
IVR Response Logging and Reports
IVR Solution Information
Contact Database to learn more about our IVR Solution including our IVR systems and IVR software solutions.