Products / Information

IVRS
Telemarketing Services
VUI Voice User Interface
Message Services
Call Center Outsourcing
Toll Free Phone Service
Inbound Telemarketing
Voice Broadcast Software
Voice Mail Service
Voice Mail System
Voice Mail Software


<! *******************MAIN BODY OF PAGE*******************************>

Telecommunications Services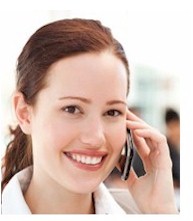 Database Systems Corp. (DSC) offers complete inbound and outbound telcom phone services. Our inbound telecommunications services process phone calls using our interactive voice response (IVR) system that answers calls without an operator. Our outbound telecom services include voice broadcasting that allows you to send simultaneous messages to customers, clients, or employees without the need for human operators.

If your organization is looking to reduce costs and to improve service, you can now contract our inbound telecommunications service and outbound voice messaging programs at our automated telecom facility. As designers of call center systems and phone answering software, DSC is uniquely positioned to manage your call answering campaigns saving your organization both time and money. Because our call center outsourcing software was created in-house, we can deliver comprehensive automatic call center outsourcing quickly -- providing you with a competitive advantage in the marketplace. From external database access to web integration including XML messaging, DSC can provide very custom phone applications. Plus you will find our call center outsourcing service to be quite affordable.

Telecom Voice Broadcasting Service
Our telecommunications services are more than just simple message delivery services. We provide the following features that are not available with telecom service providers:
Online Account Management
Upload Your Own Phone Numbers
Create and Upload Your Own Phone Messages
Play different message to individuals or answering machines
Initiate Broadcast Online
Automatic Call Center Services
Initiate Phone Messaging By Phone
Complex Phone Scripts with "Press Through"
Interactive Voice Response Scripts
Database Access and Update
Website and Server Data Access
Text To Speech Data Conversion
Remote database access with XML Pull
Automatic FTC Do Not Call Compliance
Timeout features and call control options
Do Not Call checks for bulk message blast campaigns
Single Message broadcast using XML Push
Email notification of call results or voicemail
Touchphone response control for both parties
Bulk message blast with low flat rates
Professional voice over talent for on hold message voice overs
Call Recording and Messaging Service
Online Reporting with Realtime Update
Much More....
Call today to learn more about these telecommunications services that are affordable to virtually any business or organization that requires professional 24 hour phone message delivery services.
Telecommunications Answering Service
Our automated telecom service is more than just an answering service. We provide the following extensive call answering features:
Your Own 800 Number
Calls Answered By Our Phone Systems
Optional Professional Voice Prompts
Unlimited Menu Selection By Caller
Simple To Complex Caller Routing
Complex Outside Phone Dialing Rules
750 Minutes Of Call Time Included
Database Access and Update
Website and Server Data Access
Text To Speech Data Conversion
Call Recording and Messaging Service
Online Reporting with Realtime Update
Much More....
Call today to learn more about this full featured service that is affordable to virtually any business or organization that requires professional 24 hour answering services.







Avaya is a global leader in communication systems, applications and services. They design, build, deploy and manage networks for enterprises. Customers range from small businesses and nonprofit agencies up to more than 90% of the companies in the FORTUNE 500, and the U.S. government. These clients all rely on Avaya for reliable, secure networks that facilitate customer relationships, enhance productivity and maximize profitability.

Avaya has contracted with Database Systems Corp. to send send reminders to some of its customers who have fallen behind in payments. As a result of this late payment reminder, Avaya has realized a measurable increase in collections from these clients and has accomplished this without the added cost of human labor.
Telecommunications Systems
DSC now offers an affordable and expandable IVR and Voice Broadcasting analog phone system. This 4 line phone system includes our IVR Wizard software or comes optionally with our comprehensive software development toolkit. You can program your own system or we can provide you with a custom IVR or voice broadcasting application. These call center services can be easily ported to our digital T1 phone system (PACER) when your call volume requires a larger system.

DSC provides voice broadcast and IVR software including our IVR wizard development tool for creating interactive voice response applications. This wizard guides you through each step when defining your IVR applications. Informational phone applications can be developed quickly. Simply record your phone prompts and fill in the blanks. Phone surveys can be put together in a logical and simple fashion.



Automatic "Opt Out" Features and FTC Compliance
More than just "Do Not Call" list verification. Like some dialers, we fully support a Do Not Call list check prior to calling your phone lists. However, another important FTC regulation is all but ignored by most predictive dialers.



Because of the new FTC regulations, it is now more important than ever that your telecommunications dialer gives call recipients the option to be removed from your calling lists. Our voice broadcasting phone dialer has an automatic "Opt Out" option that lets the recipient simply "Press 1...." and the dialed phone number will automatically be placed in a Do Not Call list maintained in the PACER and WIZARD dialer. Subsequent phone lists will be checked against this DNC file.

Additionally, the FTC requires a caller ID be provided with all telemarketing related calls. This number can be answered automatically by our integrated Opt Out program and the caller can remove the phone number by simply entering it on the touchphone keypad. This totally automatic "Opt Out" process requires no human intervention and satisfies the new FTC rules.
What We Provide
Inbound Telecommunications Services and Systems
800 Answering Service with 800 Phone Service
Voice Broadcasting Services
Phone Answering Services
Campaign Development and Design
IVR Phone Application Implementation
Phone Service Hosting
Custom Phone Reporting
Call Answering Service Software
800 Service with Database Integration
Text To Speech Software Applications
Professional Voice Recordings
Quality Transcription Services
Maintenance Phone Services
Professional Voice Recording

To achieve the maximum results from your call answering service and voice broadcasting phone programs, consider using our professional voice recording services. We have contracted with several professional voice talents that you can sample by visiting our Voiceover Talent and Voiceovers web page. These services can be provided to you at affordable prices and can put a finishing touch on your call campaign. The voice recordings can be produced in minimal time at a professional recording studio.


Communications Services and Applications
Customer Surveys & Loyalty Programs
Market Research
Payroll Services
800 Service Voice Mail
Claims Reporting
Account Status
Locator Services
Shipment Tracking
Employee Testing/Studies
Emergency Notification
Credit Collections
Mortgage Marketing
Charitable Contributions

Invoice Payment
Lead Generation
Satisfaction Surveys
Voice Mail and Call Back Systems
Product Ordering and Fulfillment
Inventory Services
Message and Recording Service
Sweepstakes and Contests
Calling Card Services
Fund Raising Projects
Political Advertising
Appointment Reminders
Severe Weather Warnings

Contact Database to learn more about our telecom services and telecommunications phone services.


<! ******************END OF MAIN**************************************>