Products / Information
Inbound Call Centers
Telephone Answering Service
Call Routing
Auto Attendant
ACD Software
ACD Systems
IVR Solutions
IVR Service
IVRS
Contact Center Outsourcing
Toll Free Phone Service
IVR Systems
IVR Management
Message Services
Telemarketing Service

Locator Information
Business Locator
Nearest Location Zip Code
Store Locator
Office Locator
Address Locator
Vending Locator
Business Locations
Office Locations
Store Locations
Vending Locations
Address Locations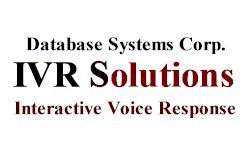 IVR Zip Code Locator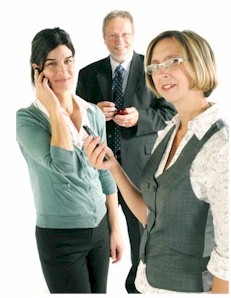 One of the most common uses of our automatic phone answering service is providing callers with information regarding store or business locations. Government office locations and hours of operation are also easily provided to a caller automatically, without requiring the intervention of an operator. This saves your organization time and money and provides information and instructions to your clients and members in a timely manner. Plus the instructions can be provided in multi-lingual form.

Companies and organizations with multiple service or business locations can now offer clients a toll free phone service to assist them in locating the closest store or service center. Software from Database Systems Corp. (DSC) can prompt callers with voice messages and determine the closest store or business to the caller. Callers simply enter a zip code using the touch phone keypad. Our locator software will find the nearest office, store or service center to the caller and play a message with the address, location and/or driving instructions.

Businesses and organizations looking to reduce costs and to improve customer service can now contract their office locator phone campaigns at our automated call center. As designers of Interactive Voice Response IVR systems and IVR software, DSC is uniquely positioned to manage your store locator service saving your organization both time and money. Because our IVR outsourcing system was created in-house, we can deliver comprehensive automatic call answering services quickly -- providing you with a competitive advantage in the marketplace. Plus you will find our inbound telemarketing services are very affordable.


To view how other businesses and organizations are using this store locator service, please visit our Phone Locator Application web page.

Contact Database for a FREE analysis and quote and to learn more about our IVR zip code locator service.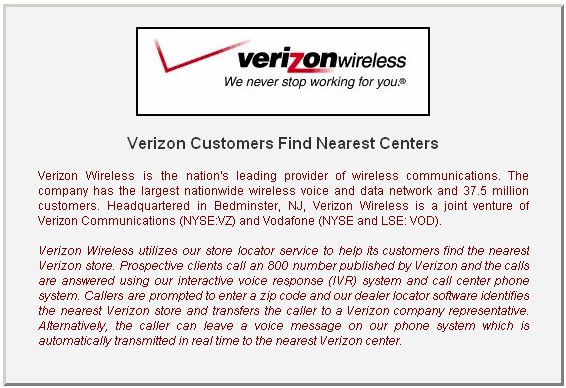 Try Before You Buy
And now DSC offers you a "Try before you Buy" option. Let us create and manage your business and store locator campaigns, and eventually you can acquire your own business locator system from us with your specific locator application already developed, tested, and operational. These locator phone systems are competitively priced along with our IVR services.
Toll Free Phone Answering Systems and Service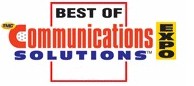 Our award winning IVR system and PACER phone system may be purchased, or we can provide your organization store and business locator phone service at our own automatic call center. This "Try before you buy" option lets you test market any Toll Free Service campaign quickly, and if successful, you can very easily bring this locator phone application inhouse. This also is a very cost effective alternative to acquiring your own IVR system, if the call volume and activity does not warrant the expense of a new phone installation.

The Benefits of Automated Locator Phone Service
Our automatic business and store locator service can reduce customer service costs and enhance your operation by:
Providing complete 800 toll free service
Producing accurate location information
Extending hours of operation (24 by 7)
Automating routine tasks thereby freeing employees to
concentrate on more complex service requests
Speeding response times to callers
Expanding call capacity faster and at a lower cost
Providing multi-lingual support
Such benefits can show an immediate return on investment and make any organization more productive.

XML Pull Remote Data Access
The PACER IVR phone system supports XML Messaging applications. Locator phone applications running on our system can request information over the internet from both websites and other application servers. Data can be received and converted to a voice message using our text to speech application software. Thus you can provide any information your callers require - not just store locations and times of operation.
Nearest Store Location Applications
These are just a few applications for our store locator system:
Nearest Store Locations
Closest Business Location
Dealer Locate Service
Driving Instructions
Vending Locator Services
Call Pass Through
Remote Database Access
Store Inventory Of Products
Order Status
Order Pickup Information
Inventory Confirmation
Account Status
Professional Voice Recording

To achieve the maximum results from your business and store locator phone system, consider using our professional voice recording services. We have contracted with several professional voice talents that you can sample by visiting our Voiceovers and Voiceover Talent web page. These services can be provided to you at affordable prices and can put a finishing touch on your call campaign. The voice recordings can be produced in minimal time at a professional recording studio.


IVR Product Information
Contact Database to learn more about our IVR zip code locator phone service.