Directories
Voice Services
Call Services
Phone Services

Call Services Directory
Call Center Services
Conference Call Services
Call Answering Services
Customer Call Centers
Contact Center Outsourcing
Contact Center Consultants

Call Services Products
Contact Center Outsourcing
Call Center Outsourcing
IVR Outsourcing
XML Phone Message
Reminder Service
Announcement Service
Telemarketing Services
Message Service
Inbound Outbound Telemarketing
IVRS

Call Services Provider - 24-7 INtouch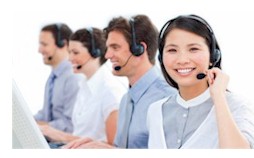 24-7 INtouch provides call services and is not affiliated with Database Systems Corp.

About Database Systems Corp. (DSC) DSC provides call center technology and software. Our expertise is in the telecommunications and computer telephony arena. Our products include predictive dialers, IVR interactive voice response systems, ACD automatic call distribution, phone call recording and monitoring solutions, voice message broadcasting systems and http://www.voice-broadcasting-solutions.com/voice-broadcast-services.htm">voice broadcast services.

Database has a comprehensive inbound and outbound call center that lets our clients outsource their phone applications without the added expense of equipment and phone lines. Our phone systems support long distance T1 phone lines as well as analog phone lines. Database also provides a complete suite of CRM Software and CTI software solutions.

Please Note The following organization provides call answering services and products. Information presented on this page was either provided by the company or found on the company's website. Database Systems Corp. does not endorse these services nor warrant the accuracy of this information. For current information, please visit the company's website listed below.


---
HOME / Resources / Call Services


---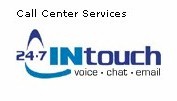 24-7 INtouch
Messaging services are cost effective ways for businesses to handle after hour calls or when staff are unavailable. One third of callers to your business will not leave a message if the call is answered by a voice mail.

An answering service is more than just someone answering your calls, to your customer, we are your business. Our professional staff will insure your callers are greeted by a courteous and helpful voice and will insure you receive accurate messages in a timely manner.


---
Company Profile Information
Organization:



Corporate Headquarters 24-7 INtouch
335 Maxwell Crescent
Regina, Saskatchewan
S4N 5X9
Canada


Telephone: 1-800.530.1121

Website: www.24-7intouch.com

Contact: info@24-7intouch.com
Additional Company Information
Company Profile
During the 35 years 24-7 INtouch has been in the communications industry, we have witnessed a revolution. Businesses no longer communicate only through the telephone. Today's customer does not just want multiple points of contact (voice, chat, email) around the clock - they expect it!

24-7 INtouch has responded to this demand by developing a multi channel communication solution that will give you an advantage over your competition. By providing toll free telephone support, live chat, and email management solutions, we can help you with anything from leveraging your marketing campaign to increasing online customer support. Since we understand the importance of each point of contact made with your customers, our professional call center agents undergo an extensive training process and a Sales and Customer Service Certification Course to ensure they understand your business and can drive campaign objectives. The end result is running a more efficient, reliable, and profitable business, while making your life a lot easier.

24-7 INtouch is a leading edge communications solutions provider, headquartered in Regina, Saskatchewan, Canada. By integrating our call center services, application-hosting services, web development/support and electronic business platforms, we are able to build customized solutions that suit our clients specific needs.

24-7 INtouch's competitive advantage is delivering a comprehensive suite of voice, live chat, and email solutions faster, and at a lower cost than traditional approaches. Choose 24-7INtouch, and make your possibilities limitless!




---
Product Information
Contact Database to learn more about our call center products including our interactive voice response and voice broadcasting services.