Directories
Voice Services
Call Services
Phone Services

Call Services Directory
Call Center Services
Conference Call Services
Call Answering Services
Customer Call Centers
Contact Center Outsourcing
Contact Center Consultants

Voice Products
Contact Center Outsourcing
Call Center Outsourcing
Hosted IVR
IVR Outsourcing
XML Phone Message
Reminder Service
Announcement Service
Telemarketing Services
Message Service
Inbound Outbound Telemarketing
IVRS

Website Information
Conference Call Services
Phone Answering Services
Outbound Calling Services
Contact Center Phone Service
Contact Center Outsourcing


Conference Call Services Directory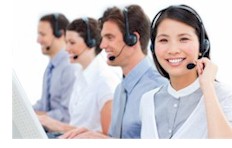 Are you looking for conference call services?

Database Systems Corp. (DSC) provides call center technology including phone systems and call center software. EasyIVR is our service division providing Interactive Voice Response and Voice Broadcasting phone services.

The following is a list of organizations that according to their website descriptions provide conference services that are complementary to our product offerings.

Database Systems Corp. does not promote or endorse any company on this list.

If your organization provides conference call services and if you would like your website included in this directory, please use our Submit Call Services Website form. It's FREE and simple to add your website.

PLEASE NOTE Information presented on this page was provided by each company or found on the website listed with this company. Database Systems Corp. does not warrant the accuracy of this information. For current information, please visit the website listed with each organization.


---
Conference Call Service Providers
Conference Call Service Websites (alphabetically)
AccessLine Communications Corp. - www.officedepot.telecomsvc.com

Get full-featured conference calling at better rates than other conferencing service providers. Instant access, toll-free dial in and always-on features make it easy for you to host conference calls anytime, anywhere. Whether you use conferencing a little or a lot, pay only for minutes used with our low flat per-minute, per-participant rate.



American International Telephonics - www.aitelephone.com

Established in 1996, American International Telephonics offers a wide variety of telecommunication services to customers located in virtually all countries.

AIT assists thousands of clients worldwide in reducing telecommunication costs by providing innovative, cost effective solutions. Each service offers a specialized answer to a specific communications requirement.



Budget Conferencing - www.budgetconferencing.com

As one of America's leading providers of conferencing services, Budget Conferencing is devoted exclusively to the delivery of high quality, low cost conferencing solutions.

Budget Conferencing currently provides service to thousands of companies including Fortune 500 Companies, Federal, State & Municipal Governments, Educational Institutions, National Non-Profit Organizations, Publicly Traded & Private Corporations and Presidential Candidates.



ConferenceCall.com - www.conferencecall.com

ConferenceCall.com is the conferencing calling service with a fair-priced solution for you. From small-scale reservationless conference calls to complex calls with thousands of people, we provide a full variety of value-added and convenient conference calling services to meet your needs. Meet on a moment's notice, with recording, online call management and web conferencing available at your fingertips.



Conferencing.net - www.conferencing.net

Our service is simple to use. As the call Leader, all you need to do is dial in the number we will provide you with upon account activation, and enter your passcode and Leader PIN. This will initiate the conference call. Your participants need only to dial the same toll-free number and enter the passcode to enter the conference. Call Leaders have functions available only to them, which can be accessed using their touch tone phones.



CorporateConferenceCalls.com - www.corporateconferencecalls.com

CorporateConferenceCalls.com provides you with Complete Control Conferencing. From instant meetings, to large scale events, the included features give you the power to host any type of conference anytime. Start a call instantly without reservations even if you have 50 or more people on the call!



ECI Conference Call Services, LLC - www.calleci.com

ECI, a leading provider of Audio, Web and Event conferencing services is redefining how your business can improve communications, creativity, and costs by using our simple, leading-edge conferencing services.

With Reservationless Audio, easy-to-use Web Conferencing, and world-class Event calls, ECI makes conferencing powerfully simple.



FreeConference.com - www.freeconference.com

FreeConference.com is a service available to everyone, 24 hours a day. We provide a secure and private venue for you to meet by telephone with your customers, relatives or colleagues - at their convenience - without the necessity of traveling to a central location.



Global Conference Call, Inc. - www.globalconferencecall.com

How are we different? Unlike most conference call companies, Global allows users to dial direct to our teleconference equipment using your own long distance carrier. Our Platinum, Gold and Silver programs provide our customers with full featured permanent PIN codes allowing conferencing anytime without making a reservation. International participants are no problem. By using our direct dial access programs, the true cost of conference calling is just pennies per minute.



InterCall - www.intercall.com

Reservationless-PlusSM and Reservationless-Express give you on-demand conferencing allowing you to initiate a conference 24 hours a day, 7 days a week – without the need to make a reservation or rely on an Operator. Holding a conference is as simple as dialing a permanent number and entering a conference code.

Select from a full-featured Reservationless-Plus platform or stick with the simplicity of our Express platform. Either way, conference calling just got easier.



LiveOffice Teleconferencing - www.imconferencing.com

LiveOffice Teleconferencing provides easy-to-use, toll-free conference calling. Call us today at 800.251.3863 and host a conference call almost immediately with multiple colleagues and clients over the telephone quickly. LiveOffice is a leading provider of online meeting and conferencing services including web conferencing, teleconferencing, conference calling, toll-free conferencing and video conferencing services for every size business from sole proprietor to the enterprise.



Pincity - www.pincity.com

Pincity's iConference puts expert teleconference systems within reach and makes accessing features quick and easy. Conduct business at your convenience from any location with the support of stable and proven international conference call technology. Services include easy-to-use online account setup, real-time usage detail, a call reservation platform, address book access, and more—all the teleconference account management features you'd expect from a major vendor, but available at a significant discount!



Raindance - www.raindance.com

A Full Line of Remote Meeting Services for a Variety of Remote Meeting Needs - Raindance offers a range of conferencing services to meet your needs - from hosting an effortless audio conference to leading an ad hoc online meeting to conducting an informative web seminar with thousands of participants. Choose the solution that meets the requirements of your next remote meeting or event.



SaveOnConferences.com - www.saveonconferences.com

Quality. Reliability. Ease of use. Service. These are the characteristics of a successful conference call ... and you shouldn't have to pay high prices to get them. SaveOnConferences.com is your source for audio and web conferencing.

To prove it, you can now try our services for FREE. When you sign up, you will get your first 60 minutes of conference calls absolutely FREE!



SmartConferenceNow - www.smartconferencenow.com

With the launch of AccessLine's SmartBusiness division, we've scaled our award-winning technologies to meet the needs of entrepreneurial-minded small businesses. With the feedback of our thousands of clients, we've developed and packaged the features growing businesses need, priced to fit most any small business budget.

Whether you're an executive who travels frequently, a busy salesman trying to juggle office, home and cell phones, or an office manager seeking a single vendor to provide an integrated communications solution, AccessLine's SmartBusiness suite is for you.



Unlimited Conferencing - www.unlimitedconferencing.com

Unlimited Conferencing offers a complete range of services to address all of your conferencing needs

Our services include state of the art features at incredibly low prices, without sacrificing quality, performance or security. Our conferencing services and pricing plans are designed to suit your needs, whether you are a small business that does only a few conferences a month or a large corporation that does hundreds of conferences a month.



---
Product Information
Contact Database to learn more about our call center products including our interactive voice response and voice broadcasting services.