<! Main Body of Tech Library Section>

Phone Customer Service
Customer Service is vital to maintaining successful business relationships. Providing accurate and timely information in a professional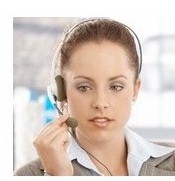 manner is the key to any call center operation. Our customer service software and phone system was built on this foundation. But the flexibility to change is just as important in this dynamic business environment. DSC call center software was designed with this concept from the very beginning. That is why call center managers, with unique and changing requirements, have chosen and continue to use our customer service software as their solution. And our contact management phone service is ideally suited for call center service bureaus. When you need to quickly implement a new program or change existing campaigns, our products are the customer service solutions of choice.

The following article relates to customer service techniques and suggestions, especially those articles relating to customer service by phone.



---


<! Start of Main Tech Library Page>
What Are the Issues to Be Aware of When Implementing Proactive Customer Service?
Response by James Mitchell, senior vice president and CTO, Concerto Software

Seven issues to consider when initiating a proactive care campaign.

Proactive customer care turns outbound calling--traditionally used for telemarketing and debt collections--on its head, and leverages technology like the predictive dialer for customer service campaigns. These campaigns address anticipated customer needs, and in doing so have the power to significantly aid customer retention and loyalty. However, in many ways, proactive care is an alien concept to contact centers accustomed to collections and sales initiatives. Following are seven issues to consider when initiating a proactive care campaign:

1. Proactive care must support strategic business goals. Technology is a business tool, not a panacea. Deploying a predictive dialer for proactive customer care will work best when the campaign bolsters a broader business vision, such as creating a customer-centric enterprise. Therefore, it's important to have buy-in on your proactive customer care program from the boardroom executives responsible for dictating business strategy.

2. Observe customer behavior and buying patterns, and tailor campaigns to fit the needs or interests of customers. Tracking and analyzing customer history to identify behavioral trends can help distinguish areas that are fertile ground for a proactive campaign. For example, some power companies attempt to notify their always-pay-on-time customers of a planned power outage so as to cause minimal inconvenience. Similarly, power companies may implement a proactive care campaign after an unplanned power outage to let their top customers know when power will be restored. Some may even offer the option of scheduling a wakeup call.

3. Consider the lifetime value of customers when determining targets for a proactive campaign. In a perfect world contact center managers would have unlimited budgets to carry out their campaigns. In the real world there are budget constraints and campaigns have to be carefully tailored. For proactive customer care, it often makes sense to home in on demographics that will contribute the most value to your organization over time. For example, some companies segment lists by age and target the 25-34-year-old bracket under the premise that these customers will purchase products and services years into the future.

4. Do-Not-Call regulations are a call to action. Many customers are bothered by old-school telemarketing calls and to stay in business outbound call centers must adapt to customer preferences. Proactive customer care campaigns can help mitigate the impact of DNC regulations. If a company has a prior business relationship with a customer, companies can continue to reach out to these customers to retain them and build loyalty. For instance, businesses can deploy outbound calling solutions to welcome new customers, provide the latest status on outstanding payments, announce special offers, acknowledge payments received, and check on unusually large expenditures for security reasons. However, the lesson learned with the new laws is that consumers are irritated by too many calls, so companies need to be careful not to inundate customers with their outreach.

5. Proactive customer care is uncharted territory for many organizations. Think beyond the boundaries of typical calling campaigns to develop creative methods for approaching your customers. The rules of proactive customer care are very different from other types of outbound contact. Proactive care is most effective when it works at the crossroads of service and sales, but it's best to tone down the sales push and accentuate the service angle. For example, appliance repair companies can proactively place a follow-up call after a repair job to ensure the work was completed properly, and take that opportunity to assess if there is any further need for their services.

6. There are ebbs and flows in customers' inbound inquires. Leverage blending to achieve balance between inbound and outbound service. For companies that have implemented call-blending technology (software that allows contact center agents to easily switch between inbound and outbound campaigns), proactive customer care provides an effective complement to inbound service. During lulls in incoming call volume, the system can automatically switch agents from the ACD to the predictive dialer based on business rules in order to reach out and service customers. This smoothes out the peaks and valleys of inbound service, reducing agents' idle time and increasing contact center productivity.

7. Providing outbound customer service can be a foreign experience to your agents. Prepare them for a proactive campaign with training and tips. Chances are your outbound agents will be accustomed to soliciting customers, and your inbound agents will ordinarily react to customers' inquiries, not take the initiative to reach out to them. Therefore, don't assume that agents have the skills or comfort level to handle a proactive care call. Provide ample training opportunities for them, and write a tight script to lead them through the initial calls to ensure the highest rate of success. <! End of Main Tech Library Page>



---