Directories
Voice Services
Call Services
Phone Services

Call Services Directory
Call Center Services
Conference Call Services
Call Answering Services
Customer Call Centers
Contact Center Outsourcing
Contact Center Consultants

Call Services Products
Contact Center Outsourcing
Call Center Outsourcing
Hosted IVR
IVR Outsourcing
XML Phone Message
Reminder Service
Announcement Service
Telemarketing Services
Message Service
Inbound Outbound Telemarketing
IVRS

Call Services Provider - Airpage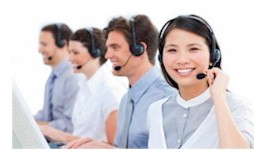 Airpage provides call services and is not affiliated with Database Systems Corp.

About Database Systems Corp. (DSC) DSC provides call center technology and software. Our expertise is in the telecommunications and computer telephony arena. Our products include predictive dialers, IVR interactive voice response systems, ACD automatic call distribution, phone call recording and monitoring solutions, voice message broadcasting systems and http://www.voice-broadcasting-solutions.com/voice-broadcast-services.htm">voice broadcast services.

Database has a comprehensive inbound and outbound call center that lets our clients outsource their phone applications without the added expense of equipment and phone lines. Our phone systems support long distance T1 phone lines as well as analog phone lines. Database also provides a complete suite of CRM Software and CTI software solutions.

Please Note The following organization provides call answering services and products. Information presented on this page was either provided by the company or found on the company's website. Database Systems Corp. does not endorse these services nor warrant the accuracy of this information. For current information, please visit the company's website listed below.


---
HOME / Resources / Call Services


---

Airpage
We offer other customized services telemarketing services such as customer service, quality control, literature requests, call-center overflow and order fulfillment.

Because of our state-of-the-art technology and our commitment to effective and efficient customer service, you can depend on us to handle all your communications needs in the most advanced and expedient manner available.

We can provide the services to meet your special needs.


---
Company Profile Information
Organization:



Airpage
110 East Lyndale
Helena, MT 59601


Telephone: (800)977-7627

Website: www.airpage.net

Contact: InfoRequest@Airpage.net
Additional Company Information
Mission Statement
Provide superior communications solutions for businesses and individual consumers. Expand our clients' business by providing services not available from other communications companies. Maintain a friendly, creative work environment which is attractive to dedicated, professional people. By doing so, Airpage will continue to grow and be profitable. This growth will provide a return for our investors and leading edge technology to insure the continuous accessibility of our clients' products, information and services.




---
Product Information
Contact Database to learn more about our call center products including our interactive voice response and voice broadcasting services.