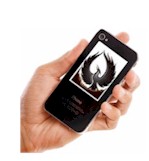 IVR Solutions
This section of our technical library presents information and documentation relating to IVR Suppliers and custom IVR software and products. Business phone systems and toll free answering systems (generally 800 numbers and their equivalent) are very popular for service and sales organizations, allowing customers and prospects to call your organization anywhere in the country. The PACER and WIZARD IVR System is just one of many DSC call center phone system features..

What is Interactive Voice Response?. An Interactive Voice Response (IVR) processes inbound phone calls, plays recorded messages including information extracted from databases and the internet, and potentially routes calls to either inhouse service agents or transfers the caller to an outside extension.

Contact DSC today. to learn more about our IVR services and IVR application development software. <! *************************** Main Article ******************************************* !>
IVR and Speech Recognition
During two separate week-long periods in July and August, Empirix used its Hammer IT call generator at its headquarters to evaluate stock-trading IVR systems at nine leading brokerages: Ameritrade, American Express Brokerage, Credit Suisse First Boston, E*trade, Fidelity, Morgan Stanley Dean Witter, Quick and Reilly, Charles Schwab and TD Waterhouse. (Empirix offers the off-site use of this system through a round-the-clock service, Hammer Call Patrol).

For each call, the Hammer system simulated a customer who entered an account number, keyed in a password and tried to buy one share of IBM at the market price. The Hammer system recorded the calls, but it cancelled orders before it confirmed them to prevent actual trades from occurring.

Empirix announced the results of the study in a report this fall (see graph).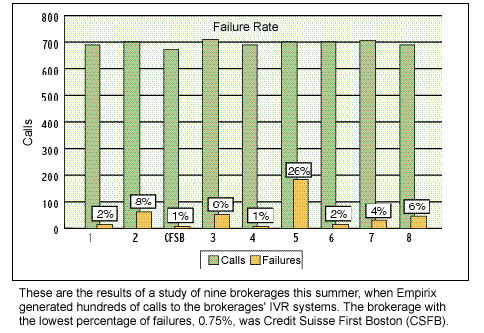 During the third week of July, the Hammer system averaged nearly 700 calls to each brokerage, and it emulated an infrequent customer by recording entire prompts.

A second phase of the study took place in the first week in August. During this time, the Hammer system averaged about 150 calls per brokerage. It emulated an experienced customer by recording only the first four seconds of each prompt before attempting to select items from IVR menus. Some brokerages' IVR menus did not let the Hammer system bypass a few of their prompts.

At the brokerage with the highest percentage of errors, the Hammer system encountered problems with the IVR system in one in four calls. Error rates among the remaining brokerages were far lower. Overall, the average error rate for all nine brokerages was around 5%. Credit Suisse First Boston's rate of 0.75% was the lowest.

Four of the nine brokerages had higher percentages of errors when stock markets were open than when they were closed. On average, 4.5% of calls to brokerages' IVR systems failed during market hours. The highest percentage for an individual brokerage when markets were open was 10.8% and the lowest was 0.8%. When markets closed, failure rates hovered around 5%, with the exception of one brokerage, where one in three calls to its IVR system failed after hours.

The most common errors throughout the study involved prompts; they accounted for nearly half of the errors among all nine brokerages. Some prompts announced that systems were down when they weren't. Or they played messages like "Error 3615" with no clarification.

Other systems played prompts that didn't relate to the selections from the IVR menus. One brokerage's IVR system, for example, played a prompt in Spanish when a caller should have expected it in English. Among errors, Empirix also included prompts that matched up with choices from IVR menus but came out garbled.

Next in frequency were timeouts, which accounted for close to 40% of errors. Timeouts were instances where the Hammer system waited more than 90 seconds for prompts or heard nothing from the IVR system for more than a minute.

Problems with carriers were the third leading cause, although they were far less frequent than timeouts or errors with prompts. The brokerages' IVR systems typically picked up calls within the first ring.

Three brokerages experienced delays between six and 17 seconds in connecting to IVR systems. Pieter Boelhouwer, director of hosted services for Empirix's contact center test group, says that the brokerage with the 17-second delay discovered that the source of the problem was with a carrier. That brokerage worked out a credit with the carrier totaling $500,000 in annual savings.

Database lookups often caused timeouts and delays. On average, the combined time for database lookups on account numbers and passwords exceeded seven seconds.

The Hammer system reported more problems with passwords than with account numbers. Except for two brokerages, response times after the Hammer system entered account numbers varied little during the study, ranging between about one and four seconds. But one brokerage's IVR system took between three and 11 seconds alone to acknowledge passwords. Such a wait is often unacceptable, Boelhouwer says, because callers usually try to reach agents if delays with prompts are more than ten seconds.

Cumulative delays, even if imperceptible, led to much deviation in call lengths among brokerages. That was especially true when the Hammer system recorded prompts from start to finish. In this case, the average call length for all brokerages was 185.2 seconds. The brokerage with the shortest calls averaged 129.6 seconds and the brokerage with the longest calls averaged 244.5 seconds. Call lengths for two of the brokerages fluctuated by 50 seconds or more during the same day.

During the phase of the study when the Hammer system recorded only the start of each prompt, call lengths among all brokerages varied by between 60 and 160 seconds. Empirix noted in its report that the brokerage whose calls were longest when the Hammer system heard entire prompts had among the shortest calls -- falling from an average of 250 to 65 seconds -- when it played only the start of prompts. Empirix's report offered one possible cause: that brokerage's IVR menu or prompts were too long.

Tracking the source of and responsibility for errors, whether from databases or IVR systems, can seem challenging. Boelhouwer explains that unless a company is a service bureau, it usually employs different people to be in charge of databases and the IVR systems that look up information from these databases. But, he points out, even if the people are different, they often have a supervisor in common. And more importantly, their domains intersect.

"It's the same back end reporting on these things," he says.


---




Page [1] [2] [3] [4] [5]

<! **************** End of Main Tech Library Page ******************************** !>



---

Contact DSC today. to learn more about our IVR services and IVR application development software.


---