Information
Toll Free Services
Telephone Answering Service
Call Routing
Auto Attendant
800 Number Services
Voice Messaging Systems
Call Recording Systems
Voice Mail Message
IVRS Software & Services
IVR Customer Satisfaction Surveys
Telemarketing Services
Inbound Call Center Services
IVR Hosting
Business Phone Services

Website Information
IVRS
IVR Software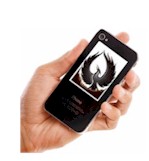 IVR Solutions
This section of our technical library presents information and documentation relating to IVR Development and custom IVR software and products. Business phone systems and toll free answering systems (generally 800 numbers and their equivalent) are very popular for service and sales organizations, allowing customers and prospects to call your organization anywhere in the country. The PACER and WIZARD IVR System is just one of many DSC call center phone system features..

What is IVR Software?. An Interactive Voice Response (IVR) processes inbound phone calls, plays recorded messages including information extracted from databases and the internet, and potentially routes calls to either inhouse service agents or transfers the caller to an outside extension.

Contact DSC today. to learn more about our IVR services and IVR application development software. <! ***************** Main Body of Tech Library Section ****************************>
Do IVRs Help Locate Nearby Retailers? Not Often
by Moira Dorsey with Bruce D. Temkin, Michelle Amato

We evaluated the usability of 15 of the largest US retailers' IVR systems. The goal: find the location and hours for a nearby store. We discovered that only six of the retailers had findable toll-free numbers -- and their IVRs were difficult to use.

Our research shows that nearly 45% of all remote customer interactions start in interactive voice response (IVR) systems. But this self-service phone channel provides dismal results -- only 18% of firms believe that these systems consistently meet customers' needs. To better understand that state of IVR interactions, we applied Forrester's scenario-based usability approach, starting with a simple test: how easy it is to use top retailers' IVR systems to find store locations and hours. The evaluation uncovered that:
Only six of 15 retailers have findable 800 numbers. Our woman on the road, without a phone book or Web connection, would have to call toll-free directory assistance to find a retailer's 800 number -- so we did, too. Of the 15 top retailers, four companies didn't even have a toll-free listing. Five others may have had listings, but after trying the first six listings from directory assistance, we assumed that our busy shopper would give up. So kudos to the final six retailers for just having an easy-to-find phone number that leads to an IVR-based store locator.


Costco's IVR tops the list. Costco's store locator provided the information needed, both location and store-specific hours, for the nearest store. It also went one step further -- giving basic directions from the nearest highway and providing visual cues to bring the caller into the parking lot. The result: Out of a maximum possible score of 18, the retailer's IVR received an impressive +11 (see Figure 1).


Best Buy's locator couldn't locate a store. Best Buy's IVR received a dismal -4, the lowest score of the bunch. The biggest problem: The store locator would not work for any ZIP code we tried -- even ZIP codes for actual locations. The IVR also provided virtually no safety net. In the process of trying to enter new ZIP codes, if the user didn't act quickly enough, the system simply hung up. And there was no obvious any way to access a live agent from anywhere within the IVR.


Error recovery: the most room for improvement. Across the six IVRs, the biggest problem that we found was with handling errors (see Figure 2). While some systems attempted to inform users of their mistakes, it was done inconsistently and often with unhelpful system-speak, such as, "You have made an invalid entry." We also found systems that simply replayed menus without informing users that they had made a mistake at all. Even worse, some systems hung up after the user made more than two or three mistakes instead of transferring the user to a much-needed rep.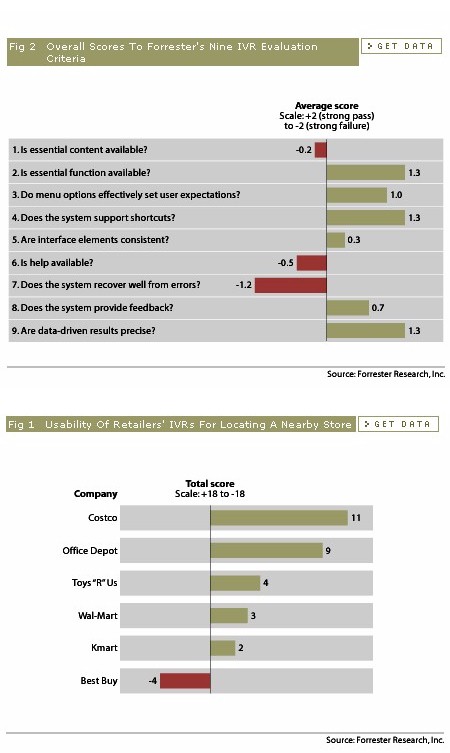 <! End of Main Tech Library Page>



---

Contact DSC today. to learn more about our IVR services and IVR application development software.


---