Information
IVR Zip Code Locator
IVR Technology Company
Interactive Voice Response System
IVRS
IVR Customer Satisfaction Surveys
Delivery Confirmation / Verification Service
Virtual ACD Software
Answering Systems
Phone Answering Software
Telemarketing Services
IVR Management
Toll Free Services
Telephone Answering Service
Call Routing
Auto Attendant
800 Number Services
Inbound Call Center Services
Business Phone Services

Website Information
IVRS
IVR Software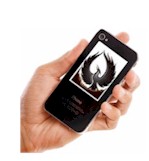 IVR Solutions
This section of our technical library presents information and documentation relating to IVR Development and custom IVR software and products. Business phone systems and toll free answering systems (generally 800 numbers and their equivalent) are very popular for service and sales organizations, allowing customers and prospects to call your organization anywhere in the country. The PACER and WIZARD IVR System is just one of many DSC call center phone system features..

What Is IVR?. An Interactive Voice Response (IVR) processes inbound phone calls, plays recorded messages including information extracted from databases and the internet, and potentially routes calls to either inhouse service agents or transfers the caller to an outside extension.

Contact DSC today. to learn more about our IVR services and IVR application development software. <! *************************** Main Article ******************************************* !>
IVR Market Still Shaking Off its Y2K Hangover

Global Information, Inc.

The US Interactive Voice Response (IVR) market had its third down year in a row, losing over 12% in US port sales. According to In-Stat/MDR, this market was down again partly due to the lagging Y2K hangover, but primarily because of the continuing slow economy. However, the high-tech market research firm believes that the market will improve modestly during 2003, with larger gains coming in 2004 and beyond.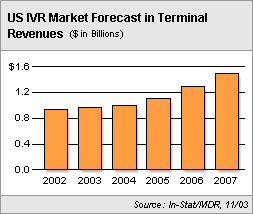 "The timing of the economic downturn could not have been any worse for the IVR market," says Norm Bogen, a Director with In-Stat/MDR. "Many companies replaced their IVR systems due to Y2K upgrades, rather than waiting for a few more years to do so, diminishing sales through 2002." In addition, across the economy, especially the high tech and telecom sectors, sales have been down. Capital expenditures have been almost non-existent for many companies, and have been drastically reduced in most others.

In-Stat/MDR believes that Y2K upgrades will have little or no effect on the IVR market from 2003 forward. However, while many positive signs indicate that things have turned around, overall growth in the short-term will probably be moderate. New technologies, such as VXML and SALT, will help fuel the market by providing opportunities for new players to enter the market and provide new functionality that will cause new customers to implement IVR solutions. While premise IVR system sales will grow again in 2003, they will be outpaced by hosted solutions, which will grow at a faster pace through 2007.

In-Stat/MDR has also found that:
Although the market was down more in 2002 than in 2001, three vendors were able to achieve gains in the tough economy. With sales of 7,685 ports, Syntellect exceeded 2001 numbers by 18.5%. The gain is primarily attributable to strong add-on ports sales.
Interactive Intelligence is fairly new to the IVR market and beat 2001 sales of 2,972 ports by 15.2%. It should be noted that these were for standalone IVR sales only. They would have done even better had we been able to accurately account for IVR ports included in Automatic Call Distributor (ACD) system sales.
Nortel beat their 2001 numbers by 4.7%, with sales of 67,178 ports. This is quite good in the down economy.
The report, IVR Market Still Shaking Off its Y2K Hangover provides a comprehensive overview of the Interactive Voice Response market.


---


Global Information Inc.(GII) - specializing in market research provision for the telecom and IT industries, GII offers expert independent recommendations of publications from over 100 of the globe's leading market research firms. With offices in the US, Singapore and Japan, GII serves telecom and IT industry professionals around the clock, and provides support in English, Spanish, Korean, Chinese and Japanese.

For more information on this report please contact an account executive via e-mail info@gii.co.jp or telephone one of GII's international offices:
http://www.gii.co.jp/contact_en.shtml <! **************** End of Main Tech Library Page ******************************** !>



---

Contact DSC today. to learn more about our IVR services and IVR application development software.


---