<! Main Body of Tech Library Section>

Retail Sales By Phone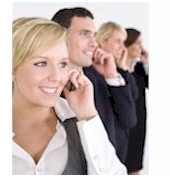 Accepting phone orders for goods and services has been a traditional business function for a number of years. The intelligent routing of calls to the appropriate sales person is a simple task for our call center phone system. But our Retail Sales Phone Technology goes far beyond connecting prospective customers to sales representatives. Information can be collected from the caller prior to connecting to your sales agents. In fact, the entire order process can be programmed without the customer talking with a sales person. Product availability, pricing, and order status information can all be given to the customer using simple touch phone responses.

The following articles are related to retail sales techniques and suggestions, especially those articles relating to sales by phone.



---


<! Start of Main Tech Library Page> <! End of Main Tech Library Page>


---
A "Smart" Approach To Selling By Phone

Most outbound calling campaigns that use autodialers experience a low response rate from called individuals. Your sales agents are talking more on the phone but experiencing a high level of frustration because of such a low interest level. Our retail phone sales system, with its outbound IVR feature, can help qualify leads by not only detecting an individual on the line, but by playing a pre-recorded message up front. This message can be a consistent, high quality introduction to your company, products or service. Through interactive touchphone selection, your customer or prospect can now choose from various options. One choice may be to talk with your sales representative, leave a voice message, request another call back time, or simply express no interest. Calls that are passed to your agents are far more qualified and the probability of a successful call with this individual has increased dramatically. Since the phone system is doing the introductory qualification, you will need fewer agents to handle these calls. Your sales agents will no longer be repeating over and over the same introduction - now they will be talking with an interested and qualified party.
Types of Outbound Selling Campaigns
Automatic Phone Dialing - This traditional method of calling dials a number from a phone list when one of your agents is available to take a call. When the number is dialed, the phone system transfers the call to the agent. This method relieves your agents from the tedium of manually dialing phone numbers and paces their workflow. This type of calling is appropriate when your outbound campaign needs more personal interaction or when performing business to business dialing.



Voice Message Broadcasting - This is another method of calling where the phone system dials from a list and plays a pre-recorded message either to an individual or to an answering machine. An agent is not required. This technique could be useful when you wish to inform a potential customer of an upcoming event, or to provide instructions on how to contact you.



Message Broadcasting and Touchphone Response - This method expands the prior message broadcasting technique by playing a message that gives the potential customer options from which to select. Using touchphone responses such as "Press 1 for...", options could include obtaining additional information, being removed from the call list, methods of obtaining your product or service, leaving a voice message, or speaking with an agent. A different message can be left on an answering machine.



Predictive Dialing and Retail Selling - Predictive dialing is very similar to automatic dialing, except the phone system dials several numbers ahead to reduce the amount of wait time between calls that your agents handle. This greatly increases your agent productivity, but may lead to dropped calls when the predictive dialing system contacts an individual when no sales representative is available.



"Smart" Predictive Dialing - This type of calling campaign blends Message Broadcasting with Predictive Dialing and can produce very productive results. Messages are played to potential customers, and if the individual expresses an interest in your product or service, the call can be transferred immediately to one of your agents. A separate phone message can be left on an answering machine. Dropped calls are virtually eliminated with this method of predictive dialing.



---
---