Information
Virtual ACD Software
IVR Zip Code Locator
IVR Vendors
Answering Systems
IVR Solutions
IVR Service
IVR
IVR Systems
IVR Development Systems
IVR Programming
IVR Customer Satisfaction Surveys
Toll Free Services
Telephone Answering Service
800 Number Services
Voice Messaging Systems

Website Information
IVRS
IVR Software
Hosted IVR
IVR Hosting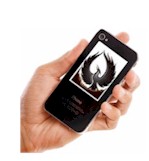 Custom IVR Applications
This section of our technical library presents information and documentation relating to IVR Development and custom IVR software and products. Business phone systems and toll free answering systems (generally 800 numbers and their equivalent) are very popular for service and sales organizations, allowing customers and prospects to call your organization anywhere in the country. The PACER and WIZARD IVR System is just one of many DSC call center phone system features..

What Is IVR?. An Interactive Voice Response (IVR) processes inbound phone calls, plays recorded messages including information extracted from databases and the internet, and potentially routes calls to either inhouse service agents or transfers the caller to an outside extension.

Contact DSC today. to learn more about our IVR services and IVR application development software. <! *************************** Main Article ******************************************* !>
Correlating IVR Performance and Customer Satisfaction

By Erik Delorey, Application Management Consultant, Empirix

Empirix, a provider of voice application test and monitoring solutions, conducted a benchmark study of three industries and found that poor IVR self-service applications correlate with low customer satisfaction.

Increased competition, deregulation and rising customer acquisition costs highlight the importance of both high-quality customer service and effective management of operating costs. To achieve both, most leading companies are deploying interactive voice response (IVR) and natural speech self-service options.

They are wise to make such investments. A recent Purdue University study revealed that 92% of US consumers form their image of a company based on their experience using the company's call center. More strikingly, the study found that 63% of consumers stop using a company's products based on a negative call center experience. That number rises to 100% for consumers between ages 18 and 25.

But while automating voice applications can significantly reduce costs and improve customer Quality of Experience, poorly designed self-service applications may achieve the opposite effect. According to the Boston-based consultancy Yankee Group, "If self-service is not done right, the results can be worse than not doing it at all. Failure can result in increased call volumes, dissatisfied customers and defections." Poor application design can also increase agent turnover, as customers take out their frustrations on harried agents.

To correlate voice self-service application performance with customer satisfaction, Empirix conducted a benchmark study on the performance of IVR applications in three industries: financial services, utilities and wireless. We then plotted industry-wide customer satisfaction data from a Purdue University study against the IVR performance data.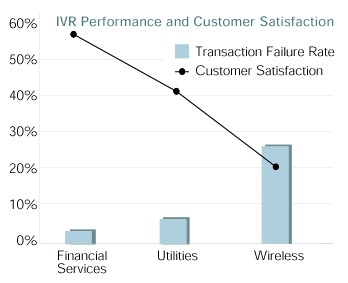 Our conclusion: The relationship is inversely proportional (see Chart 1). Industries with high failure rates for self-service applications also have lower customer satisfaction ratings. (Of course, factors other than self-service application performance affect customer satisfaction. But self-service is an important and often overlooked element of Quality of Experience, accounting for more than 50% of total customer service transactions in most industries.)

Despite the high costs of poor self-service apps, most companies do little to gain insight into their performance. Consider the utility industry. As part of the benchmark study referenced above, Empirix simulated thousands of identical account balance self-service transactions at five leading utilities.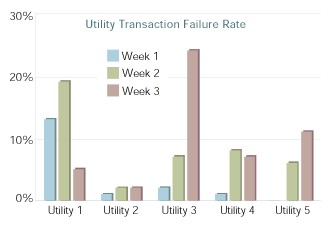 The data in Chart 2 demonstrates that application performance varied widely among the five utilities. Significantly, performance also varied from week-to-week within each company. Only Utility 2 exhibited a consistently low failure rate - and consistency is crucial.


---


To learn more about the study, please go to www.empirix.com. Authored by Erik Delorey, Application Management Consultant, Empirix. <! **************** End of Main Tech Library Page ******************************** !>


---