Information
Virtual ACD Software
IVR Zip Code Locator
IVR Vendors
Answering Systems
IVR Solutions
IVR Service
IVR
IVR Systems
IVR Development Systems
IVR Programming
Interactive Voice Response Solution
IVR Customer Satisfaction Surveys
Toll Free Services
Telephone Answering Service
800 Number Services
Voice Messaging Systems

Website Information
IVRS
IVR Software
Telephone Surveys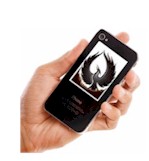 IVR Technology Company
This section of our technical library presents information and documentation relating to IVR Development and custom IVR software and products. Business phone systems and toll free answering systems (generally 800 numbers and their equivalent) are very popular for service and sales organizations, allowing customers and prospects to call your organization anywhere in the country. The PACER and WIZARD IVR System is just one of many DSC call center phone system features..

What Is IVR?. An Interactive Voice Response (IVR) processes inbound phone calls, plays recorded messages including information extracted from databases and the internet, and potentially routes calls to either inhouse service agents or transfers the caller to an outside extension.

Contact DSC today. to learn more about our IVR services and IVR application development software. <! *************************** Main Article ******************************************* !>


---
Interactive Voice Response Systems
Interactive Voice Response System (IVRS) is the generic term given to applications that integrates a Company's/ Organization's telephone and computer system to become a voice computer that transforms the caller's telephone into a terminal capable of directly accessing information and services. Interactive Voice Response (IVR) systems allow the publishing of corporate database information through an interface familiar to everyone, the phone. It is a database interface technology, combining computer telephony hardware (a PC or server with telephony interface cards) and software. It allows a person to ask questions and provide answers by pressing keys on their touchtone phone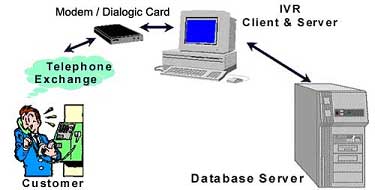 Interactive Voice Response System (IVRS ) for tele-enquiries
To put it in a nutshell, Interactive Voice Response System is a runtime application is the state-ofart communication system that facilitates 24-hours-a-day, 365-days-a-year communication between Service Provider and its customers. Customers can make call over a telephone line, and the Service provider can provide information over the same telephone line. With IVR, the simple telephone instrument becomes a powerful input/output device through which all kinds of transactions can be performed with assured security and data integrity.

IVR application development tool used for creating of any kind IVR applications. TeleServer/R is based on the familiar IBM Compatible PC with telephonic interface card inside. It is connected to one or more lines coming from the local telephone exchange (PSTN). Therefore, when a customer dials up the TeleServer from a telephone instrument, TeleServer greets the caller and provides information by giving the options to dial the digits or get help menu.

An Interactive Voice Response (IVR) processes inbound phone calls, plays recorded messages including information extracted from databases and the internet, and potentially routes calls to either inhouse service agents or transfers the caller to an outside extension. It enhances our phone system's current robust features of predictive dialing, ACD, and digital call recording.

This 800 number system and business phone system acts as an automatic answering service, front ending your phone, collecting useful information from a caller before the call is processed or transferred to an agent. And the IVR system could fulfill the caller's request without a transfer. Our IVR software solution gives your organization a 24 by 7 capability, providing around-the-clock information to your callers.

By responding to prompts provided by our IVR system, callers can now receive any information you choose to make available. Call centers in particular can become instantly more productive by letting the phone system gather caller information, verify caller identity, and if necessary determine the best service representative to handle this request using interactive voice response technology.
Text To Speech Applications
IVR system front ends your phone system and collects data from a caller, providing useful information back to this individual. Voice Broadcasting system calls individuals, playing a message that may contain information stored in a database. The IVR and Voice Broadcast systems could fulfill this call function on its own or transfer the call to one of your agents. Likewise it can dial an outside phone number, transferring the call to a third party. This is all made possible by Text-To- Speech software capability that extracts variable information from a database (or from the Web) and converts it to audible speech.
The Benefits of an IVR Text-To-Speech System
IVR systems with text to speech software can enhance a call center by:
Automating routine tasks thereby freeing agents to concentrate on more complex service requests
Speeding response times to callers
Expanding call capacity faster and at a lower cost
Reducing the cost of call center agent turnover
Uses
Financial Industry

Tele Banking Solutions
Stock Trading/Stock Quotes
Mutual Funds
Credit Cards

Health Care Industry

Patient-centered outcomes assessment/ Diagnostic instruments
Functional status and satisfaction screening
Appointments with Doctors

Call Center

Call center employee screening
Client survey/questionnaire administration
<! **************** End of Main Tech Library Page ******************************** !>



---

Contact DSC today. to learn more about our IVR services and IVR application development software.


---