<! Main Body of Tech Library Section>

Voice Broadcasting Auto Dialers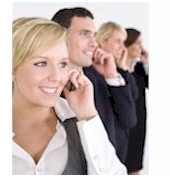 Using our PACER and WIZARD phone systems, we can broadcast voice messages and service announcements to your clients and community. Phone call messages can be automatically generated using our XML Push technology.

Our phone message service can place one call or millions of calls. Pre-recorded messages can be played to either individuals and answering machines or just to individuals. Different messages can be played to an answering machine versus an individual.

Contact DSC today. to learn more about our voice broadcasting service and auto dialer phone systems.



---


<! Start of Main Tech Library Page>
Consultant Q&A: trends in political telephone services - Strategy & Tactics Political Telephone Services
by: Mary Clare Jalonick
Campaigns & Elections, August, 2002
Page 1 of 2
TO GET A HANDLE ON RECENT trends in political telephone services, Campaigns & Elections submitted questions to consultants Wayne Blanchard, Jeff Butzke, Linda Cherry and John Jameson. Here are their responses:

C&E: What are the latest trends in using the telephone for political campaigns?

JAMESON: Campaigns are using a bigger share of their budgets on phones. As the cost of phones relative to television has decreased, and mailboxes and television airtime have become more crowded, the use of telephones as a persuasion tool (as opposed to turnout) is increasing.

CHERRY: After a possible over-reliance on automated calls, I am seeing a movement back to the tried and true programs of ID, Advocacy and GOTV calls -- although most campaigns never gave this up. Polling also appears to be increasing.

BUTZKE: Phones are being used to identify voters by issue and by characteristics that will allow the campaign to deliver targeted messages to identified households. They're using phones to respond quickly to attacks and to reinforce direct mail, television and radio messages.

BLANCRARD: Over the past few campaign seasons there has been a shift to technology and finding ways to contact voters through multiple communication mediums. Specifically, I see four areas of change.

First, in automated calls, we have seen a huge growth in the use of digitally recorded message delivery. Many new firms have entered this arena as a direct result of available technology and with little or no experience in voter contact techniques. A campaign must be careful when choosing a service provider to ensure the calls are actually made and undertaken during legal calling hours.

Second, blended calls are being used by some campaigns. Our firm began offering this service in 2000 and we're finding a greater interest this year. The blended call can be used during the persuasion and GOTV calling phases where a live agent delivers a message to live respondents and a digitally recorded message is delivered to answering devices. This enables the campaign to more fully penetrate voter files and to facilitate greater turnout at the polls.

Third, there is a greater use of Interactive Voice Response (IVR) technology for doing surveys. Some campaigns are using it as a voter identification process where the voter keys a response via telephone to specific questions asked of them. As voice recognition technology improves, it will begin to play a larger role in voter communications.

And lastly, we have developed an ID/ Solicitation program where we provide an identification phase call and solicit interested voters to pledge small contributions to a campaign. The fundraising component helps pay for the ID calls.

C&E: How are caller IDs, the increase in commercial telemarketing, cell phones, and answering machines impacting the ability to do calling in political campaigns?

CHERRY: Incessant commercial telemarketing means refusal rates are increasing in most areas of the country. I'm amazed by the number of voters still willing to participate. The refusal rates we see range from under 10 percent to 40 percent depending on the area, type of election, which voters are targeted, proximity to the election, and several other factors. The higher their propensity to vote, the more likely the voter will answer survey questions. Unaffiliated or Independent voters are less likely to participate. Campaigns that can make their calls early definitely have an advantage as they avoid the "clutter" around election time. The increase in caller ID and answering machines allows you to leave messages at the end of a project to maximize list penetration.

BUTZKE: These challenges have been met by combining automated and live calling. Contact rates have not been affected when a message can be delivered to a live pickup or answering device.

BLANCHARD: Voters are willing to hear about elections and about competing candidates. I see answering machines and caller ID as advantages. A message can be recorded on an answering device for multiple people in a voting household to hear. Caller ID has an advantage because it's another way to market the candidate's name.

C&E: There seems to be more emphasis now than in years past on mobilizing voters and turning them out on election day. Is this changing the way phones are used in campaigns?

JAMESON: Turnout has been dropping since it reached its zenith in 1966. Campaigns are going retro to counter this, and starting to speak one on one with voters. Telephones are the only tool that can personally engage large portions of voters.

CHERRY: The "Dr. Pepper" of phoning at 10, 2 and 4 is gaining popularity again. Many of our clients make the standard GOTV calls the day before the election but may phone three times or more on Election Day. More sophisticated methods of transferring data means more productive calls to those not yet voting.

BUTZKE: Phones have the unique ability to talk directly to your voter. You can vary the message and track the effects of the change by the length of time that a voter listens to your call.

BLANCHARD: We've always promoted this process to campaigns so I don't see this as a major shift from the past. In fact, we believe this is how campaigns are won.

C&E: Is the use of automated, recorded phone messages increasing? if so, why and where?

BLANCHARD: Yes, and we offer this as an in-house service as well. Automated calls typically are used during GOTV phases. They also can be used during the persuasion phase where you need to deliver a persuasive message from the candidate or a celebrity of their choice. Over time, there will be some refinements in technology with automated calls. Calls will become more theatrical with sound and background music, quality will improve, and they will become more personalized. Calls may be delivered over the Internet, too. Having said that, a live call is more personal and allows for interaction with the voter.

JAMESON: There has been such an increase in recorded calls that after 2002, voters simply are going to become less responsive to recorded messages. Campaigns will redirect that money to live calls, or to mail, or other media.




Page [1] [2]
---
---