Information
Phone Broadcast | Telephone Broadcasting
Phone Blast
IVR Server Platforms
Message Service and Systems
Phone Services
IVR Hosting
Voice Broadcast System
Voice Mail Broadcasting
Mass Phone Calls
Alert Reminders
Telecommunications Service
Voice Broadcast Software
Voice Mail Service
Voice Mail System
Voice Mail Software
Inbound Call Center Services
IVRS Software & Services
Outbound Telemarketing Services
Phone Answering Systems

<! Main Body of Tech Library Section>

Voice Broadcasting Auto Dialers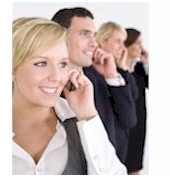 Using our PACER and WIZARD voice broadcasting auto dialers, we can broadcast voice messages and service announcements to your clients and community. Phone call messages can be automatically generated using our XML Push technology.

Our phone message and voice broadcast service can place one call or millions of calls. Pre-recorded messages can be played to either individuals and answering machines or just to individuals. Different messages can be played to an answering machine versus an individual.

Contact DSC today. to learn more about our voice broadcasting service and auto dialer phone systems.



---


<! Start of Main Tech Library Page>
Consultant Q&A: trends in political telephone services - Strategy & Tactics Political Telephone Services
by: Mary Clare Jalonick
Campaigns & Elections, August, 2002
Page 2 of 2
CHERRY: There is certainly a place for these calls, but we are seeing more clients who want a mix of live and automated instead of solely relying on just automated calls. You obviously need live calls to have interaction with your voters and capture useful data.

BUTZKE: Automated calling the most efficient way for a candidate to make his or her way into a household. With recorded messages, a candidate can hear the message before it's delivered and knows what it'll sound like to the voter.

C&E: Are more smaller campaigns turning to professional phone centers, or are they still relying mostly on volunteer calling?

JAMESON: It's not unusual to see campaigns with universes under 10,000 voters doing paid calling.

CHERRY: With each election cycle, the number of volunteers willing to call continues to decline. A professionally executed phone program often can have a greater impact on the outcome in a down ballot race than in state-wide and national races Poor quality calls are more detrimental in a local race than a larger race.

BUTZKE: Smaller campaigns are turning to professional telemarketing consultants to handle a majority of their calling. The active volunteer base should be used more on door-to-door efforts to maximize the campaign's potential.

BLANCHARD: Smaller campaigns will turn to professional telephone centers once they understand how available we are, how much more valuable the volunteers are in the field and if their fundraising proves fruitful. Many small campaigns are forced to use volunteer telephone banks to a large degree.

C&E: Are there effective ways to integrate the Internet and e-mail into a phone effort?

CHERRY: We have done a number of phone projects recently where one of the questions requested the voter's e-mail address so the office holder, candidate or committee could follow-up with more information.

BUTZKE: Campaigns build their lists by asking fore-mail addresses from supporters identified on phones. Campaigns can also drive traffic to their Web sites by mentioning them on their recorded calls.

BLANCHARD: Time will tell to what degree however. We believe in communicating to voters in the medium that they prefer. Why not communicate via e-mail if access to them is easy and less costly? Campaigns should include a blended approach using telephone, mail, and e-mail driving as many voters to their Web site as possible.

C&E: Are the costs of using phones in campaigns going up or down, and why?

JAMESON: The cost of live calls dropped over the past decade because of technological efficiencies. But as it becomes harder to reach voters - it's not unusual for us to call a household a dozen times before we reach someone - the costs will inch back up.

CHERRY: If you look at the cost of delivering a message that the voter listens to, or obtaining useable data from an ID call, costs are mildly increasing. Campaigns should look at the back end cost, not just the front end per call cost. You get what you pay for and voters are much more likely to stay on the line when the phoner is well trained and speaks well, free of accents.

BLANCHARD: A telemarketing mentality about the use of telephones in campaigns makes it more difficult for quality providers. Our services are not to be considered a commodity. Discounting prices can only affect quality in one way, and that's downward.

BUTZKE: In relation to the escalating costs of paid advertising, the costs ofphone programs are becoming more attractive.


Page [1] [2]
---


John Jameson, president, Winning Connections, Democrat

Linda Cherry, president, Cherry Communications, Republican

Jeff Butzke, managing partner, Advantage, Inc., Republican

Wayne Blanchard, president, The Clinton Group, Democrat

Mary Clare Jalonick is a political reporter for Congressional Quarterly Inc.

<! End of Main Tech Library Page>


---