Information
Voice Broadcast System
Voice Mail Broadcasting
Mass Phone Calls
Alert Reminders
Outbound Telemarketing Services
Phone Broadcast | Telephone Broadcasting
Phone Blast
IVR Server Platforms
Message Service and Systems
Telecommunications Service
Voice Broadcast Software
Voice Mail Service
Voice Mail System
Voice Mail Software
Phone Tree Messaging Service
Voice Messaging System
Opt Out Fax and Call Lists

<! Main Body of Tech Library Section>

Voice Broadcasting Auto Dialers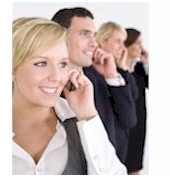 Using our PACER and WIZARD phone systems, we can broadcast voice messages and service announcements to your clients and community. Phone call messages can be automatically generated using our XML Push technology.

Our phone message service can place one call or millions of calls. Pre-recorded messages can be played to either individuals and answering machines or just to individuals. Different messages can be played to an answering machine versus an individual.

Contact DSC today. to learn more about our voice broadcasting service and auto dialer phone systems.



---


<! Start of Main Tech Library Page>
Company collects bad checks for 1,500 area businesses
By KAREL SOVAK, Correspondent ksovak@ndweb.com

When a check "bounces," how high does it go?

If it's up to Jeff Stremick or Sue Burger, co-owners of CheckRite, their office is as far as it should go. The franchise has been in Minot since 1978 and has seen an increase in the number of merchants that utilize their services. Stremick said the benefits to the merchant are many.

"We collect the bad checks for free," Stremick said. "State law, first of all, prohibits the writing of bad checks, but it also provides a fee to allow a collection agency to recover those funds for the merchant. The merchant doesn't have to deal with those collection efforts and gets their amount of the purchase. It saves them the time and expense of doing it themselves."

Stremick said that CheckRite serves a nine-county area. Stremick and Burger, along with Sheldon Gudmonson, purchased the franchise from the original owners in 1990 and also purchased an additional service, called CheckGard, in 1997.

The business has grown from the nearly 300 business accounts in 1990 to more than 1,500 merchants today.

"Part of that growth was from our purchase (of CheckGard) and there are still a lot more businesses that could use our services," Stremick said. "A lot of them just aren't aware of how easy it is to get started. In the smaller communities, it may just be that they know everyone and don't want to turn those checks over. I have signed up people and they end up saying, 'Why didn't I do that years ago?' It's really a very simple process."

Stremick said that the sign up takes two forms and just a few minutes. One form goes to the bank, which authorizes the checks to be sent to CheckRite. The other has the firm's name and address and contact person.

Stremick added that any checks that have non-sufficient funds to pay the merchant, come through CheckRite and are added to a computer database. The computer then generates a letter to the merchant, advising them of the amount and who wrote the bad check, and another letter goes to the offender.

"We send them each a letter and we notify the check writer they have two to three days to call us," Stremick said. "After that time, we call them to remind them of the bad check and that generally gets them to come in and pay it. They have 60 days to pay it before it is sent to the states attorney for prosecution. Only about 10 percent are turned over to them."

Stremick said about 90 percent of the bad checks require a phone call after the initial letter. He added that about 30 or 40 percent come in right after that phone call reminder. The balance of bad checks takes anywhere from a few more days to weeks.

Dana Lach, co-owner of Sheer Success, said that CheckRite has been very beneficial to her business since they signed on with the company in 1999.

"Fortunately, we haven't had to use it very often, but we're glad we have it in place," Lach said. "Before CheckRite, we had trouble with an account and it just made the collection process so much harder, especially when dealing with a client. That's the reason we went with them. It takes the pressure off of us."

Stremick said that another benefit for the merchants is savings to the consumer. A report cited by the Association of Credit and Collection Professionals shows that collection agencies such as CheckRite save the average American family of four more than $330 per year.

"Businesses don't have to write off bad debt, so that saves the consumer by the merchants not having to raise their prices," Stremick said. "Like shoplifting, that bad debt would have to be made up in some manner to help pay for those writing bad checks. In 2002, the Federal Reserve estimated that between $19 billion and $20 billion in bad checks were written. In the same year, the collection industry collected more than $30 billion in bad debt. It really helps the merchant's bottom line."

The ACA report shows that healthcare agencies alone had to write off more than 5 percent of their accounts as bad debt.

The ACA also reports that more than 6,500 collection agencies service an estimated $135 billion in delinquent consumer debt. That was nearly double from the $73 billion outstanding in 1990. Not all of that is in the form of bad checks, but it's an alarming number in which merchants have to be concerned.

Stremick said that is one reason why some businesses use the verification system that is made available for a nominal fee. The verification system allows merchants to see if the check writer has an outstanding bad checks or a negative credit.

"The system doesn't invade a consumer's account, it only verifies any history of collections," Stremick said. "Some of the merchants own the machines, others just rent them. We do have a system that gets rid of the paper checks all together, with everything going through electronically. Usually when a merchant sees the cost, they stay with the conventional system. They may be use to paying for that cost with credit cards, but not with checks."

Stremick said that Old Navy is an example of a company that uses that electronic method.

Stremick said he sees the check writing business going by the wayside, but just not yet. He said that is one of the advantages of working with a national franchise.

"The paper check industry is declining," Stremick said. "I see that there will be more point-of-sale collection of information, much like the credit cards and ATMs use. You can't overdraw those accounts, or use them without funds. That doesn't mean there won't be a need for our services. That's the great thing about working with CheckRite, they are on top of the changing trends."

Indeed, the Federal Reserve System backs up Stremick's claim of declining check use in the United States. The fed shows that check writing decreased in total volume since 2001. The report also shows that check volume through the federal automated clearing house increased by 16.7 percent.

"Our new system will enable us to pay back the merchants by ACH, so we won't need to print or send checks," Stremick said. "We will be able to ACH a person's account that wants to pay that way, and they won't need to send us a money order through the mail. We will image every check that comes into our office, and the merchant and check writer will get an image included on their notices. We can even e-mail the merchant's notice immediately. They won't have to wait for that in the mail."

Stremick added that merchants will also have access to their accounts via the Internet and will be able to check the status of the checks.

"We will have dialers for them so they don't need to even dial the phone ­ the computer will do it all for them."

Another ACA report gives credence to Stremick's philosophy that there will always be a need for the collection service industry. The report shows that consumers and businesses still pay nearly $48 trillion in retail purchases, from nearly 50 billion checks annually.

ACA also cites that the six paper-based systems ­ cash, checks, money orders, travelers checks, food stamps and official checks accounted for $3.3 trillion of personal consumption expenditures.

Along with those staggering numbers, the Bureau of Labor Statistics estimates that the collection industry will increase 21 to 30 percent by 2010 and that the average collection firm employee numbers have risen to an average of 19 collectors and 10 other full-time staff.

CheckRite in Minot has also shown that increased trend in employment, going from the two full-time staff in 1990, to its current number of 12 employees.

<! End of Main Tech Library Page>
---