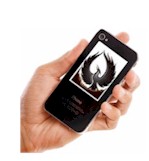 IVR Solutions
This section of our technical library presents information and documentation relating to IVR Development and custom IVR software and products. Business phone systems and toll free answering systems (generally 800 numbers and their equivalent) are very popular for service and sales organizations, allowing customers and prospects to call your organization anywhere in the country. The PACER and WIZARD IVR System is just one of many DSC call center phone system features..

What is IVR Software?. An Interactive Voice Response (Interactive Voice Response (IVR)IVR) processes inbound phone calls, plays recorded messages including information extracted from databases and the internet, and potentially routes calls to either inhouse service agents or transfers the caller to an outside extension.

Contact DSC today. to learn more about our IVR services and IVR application development software. <! Main Body of Tech Library Section>
Colin Hatfield asks if it can it be successfully implemented?
Interactive Voice Response (IVR) has now become commonplace and there are growing numbers of success stories. For example, QVC the home shopping channel is now handling over 38% of all incoming calls using automated call handling technology across all age groups. At Nat West, automation is proving to be quicker than talking to an operator with users reporting that the service feels more confidential.
However, we have all experienced IVRs that are, in the least, frustrating, and at most, unusable. We tend to judge organisations on the way that they handle our calls and whether this be a good or bad experience. If IVR makes the calling experience easier, quicker and more effective than waiting for a live operator, it can claim to be a success. But all too often these systems fail because of other pressures on the call centre.
There are several major questions that potential users need to address when considering an IVR implementation. When should IVR be used? What are the benefits of IVR? How do you ensure user acceptance? How do you successfully setup an IVR?
IVR Applications
To determine whether IVR can be successfully, the first step is to establish incoming call volumes and the reasons for the calls. IVR is effective at handling frequent, high volume calls with transactional call characteristics. For example, it could be used within a financial institution that offers a variety of different products to route calls to the group that deals with the relevant product. It can also be useful as a means of offering simple transactions, such as obtaining an account balance over the phone. However, where the call types are complex or relationship based where advice needs to be given, IVR is inappropriate.
Figure 1.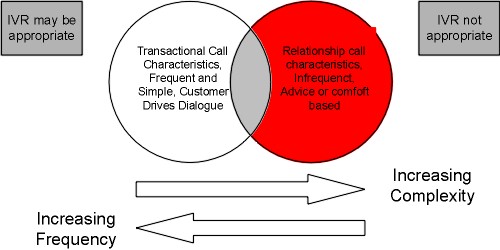 Benefits of IVR
An effective IVR implementation can offer many benefits in the call centre environment, the main one of which is to release latent capacity within the call centre. When simple transactional calls such as account balances are handled by IVR, the total number of calls into a call centre is reduced.

IVR can be used to gather preliminary information from callers, which can then be presented to an agent screen when the call is connected. This reduces the amount of information that the agent needs to gather and thus reduces the call duration. In addition, by informing the agent of the route the caller has taken through the IVR, the agent can more easily establish the reason for calls, which also helps make calls shorter.

A key benefit of IVR is that it is allows skill based routing to be introduced enabling callers to be routed directly to the most appropriate agent to take the call. This reduces call transfer times and agents are free to take more calls thereby increasing call centre capacity. This is enhanced still further by routing appropriate calls to multi-skilled agents to handle the more complex transactions. However, it is essential that the segregation of agents into skill groups be business driven.

Reduced costs and improved service levels naturally result from these benefits either in the form of reducing the number of agents needed to handle the calls to the same level of service, or in the form of additional call centre capacity or increased service levels.

User Acceptance
Experience has shown that most important point to consider when it comes to IVR is that of user acceptance. However, through our expertise and experience of working with clients to establish and refine their IVR systems, Catalyst has established the following best practice guidelines.

The only way to achieve a goal of user acceptance is by ensuring that users are in control with each menu having no more than four options - with the most frequent options being first in the list. User actions should be acknowledged, and they should be able to navigate simply through the menu structure including the ability to key ahead to quickly navigate through the IVR when they become are familiar with its operation. Mistakes should be blamed on the system, and not on the user.

A key component to any device that interacts with humans is consistency. Whilst this won't guarantee user acceptance, any lack of consistency makes IVR difficult to use and confuses callers. IVR scripts must be easy to understand and sound natural with words and statements phrased in a similar manner. The scripts should be written as one speaks, and not as one writes. It's always a good idea to read the scripts out to others to ensure that they sound natural and flow nicely. Use plain English at all times, and avoid anything that constitutes jargon, as some callers may not be familiar with such terminology.

Keypad presses should be consistent throughout the entire IVR with the action key always coming after the action. In addition, error handling including timeouts and invalid key presses should always be dealt with in the same way. The IVR should also be consistent with other customer contact mechanisms such as a web site. Finally, a single voice should be identified for use on all the system prompts. An important consideration when selecting the right person will be their availability in the future should the prompts need to be enhanced or updated.

It is important to remember that organisations implement IVRs to make customers help themselves and to reduce the number of calls / call durations to "expensive" agents. Careful thought must be given about giving customers an early option to speak to an agent unless it is the first phase of forcing callers through an IVR system i.e. not an optional service. There are a number of organisations that do not want any breakout calls handled by an agent because the transactions are so simple - this may be an optional service that is complementary to the main Customer Service Centre. The dangers of providing early break out from IVR to callers can best be illustrated by quoting the example of an organisation that found that implementing an IVR in this way resulted in higher costs as everyone used the breakout option because it was easier.

Monitoring & Evaluation
In order to prove the success of IVR and be able to refine and enhance, continuous monitoring and evaluation is essential. The criteria on which its performance is measured should firstly be defined prior to implementation, then measured before, during, and after implementation. Typical critical success factors include:

an improvement in customer service standards and customer satisfaction levels
reduction in hold/transfer time
release in multi-skilled agents for more complex calls
delivery of financial benefits through efficiency improvements

Before the IVR goes live, it should be piloted to ensure that it does actually result in increased uptake. After evaluating feedback from users, this information should be used to help fine tune it prior to a full implementation. It is possible to rent an IVR system at this pilot stage to limit risk and cost should it not be accepted within the community for some reason. Before rolling out the full implementation, callers should be advised of the planned changes so they know what to expect. Bill stuffers or special promotions can be used to advise change, provide information on how to use the system, and highlight benefits of the system to boost customer acceptance.

When the IVR system goes live, it is important that it is closely monitored to ensure user acceptance. High quality management information is vital to this process. The performance of the IVR should be monitored against the previously defined success factors and it should be refined where necessary.

Other Considerations
Additional benefits can be gained through the introduction of more advanced technology within the call centre environment. By informing agents of caller's needs, call durations can be dramatically reduced and callers overall perception of the service is enhanced. In addition, agents are immediately placed in control of the conversation if they can open up calls saying: "I understand you have a query regarding…" rather than "How may I help?"

Information can be communicated to agents either through the use of turret messages, or through the use of CTI if the technology is available. CTI enables agents to be empowered with information about callers through screen popping giving details such as the name of callers and their personal details to allow tailored greetings. It also enables agents to transfer calls complete with all relevant data to a colleague when necessary using voice and data transfer.

Caller identification is achieved either through CLI or entry of an account number using the telephone keypad. This use of CTI greatly improves efficiency, and again creates a better customer perception of the service provided. In addition, if callers have been positively identified, the level of service can be changed by dynamically changing the IVR structure. This can be particularly useful if the organisation provides differing levels of services to different types of callers.

Although use of IVR will naturally evolve over time, it is important not to change its structure too much or too often. Caller confusion and frustration will result, particularly if they have become familiar with its operation. The main menu should almost never be changed.

Conclusion
IVR is not an automatic panacea for all call centres and should be viewed a tool that can be used when appropriate to make operations more effective, and designed to meet the needs of the business. This can only be achieved by gaining a good understanding of the business processes relating to the different types of calls that are being handled by the call centre. Use the list of 'Do's & Don't's' below to help smooth your path to IVR.

IVR Do's


A maximum of four options on each menu with the most frequent options being first in the list.
Enable users to key ahead to quickly navigate through the IVR.
Make keypad presses consistent throughout the entire IVR with the action key always coming after the action.
Use a single voice for all the system prompts which must be natural sounding and easy to understand.
Determine success factors prior to implementation and then measure them before, during, and after implementation.
Pilot system before it goes live and fine tune prior to full implementation.
Advise customers of planned changes in advance.
Monitor the IVR closely to ensure user acceptance.
Load test your system - if you are as successful at implementing an IVR as you think, a high concurrent volume may bring your system down if it hasn't been tested.
Build in resilience and contingency. How will you handle incoming calls if your IVR has gone?

IVR Don't's


Don't offer breakout to an agent just because you have a call centre operation - If breakout is offered "too easily", then your costs could increase.
Don't forget the importance of managing your system - it would be better for you to know that that your system is unavailable or has a fault than for customers to ring you on another line and tell you.
Don't assume that the implementation of an IVR will solve all of your call centre volumes. A badly implemented IVR could actually increase your costs and call volumes into your call centre.
Don't be surprised to receive customer complaints about your "wonderful IVR" - there are a lot of people out there who don't like dealing with a machine.


Colin Hatfield is a partner with Catalyst IT Partners Ltd. He specialises in programme/project management and business strategy formulation and delivery.

<! End of Main Tech Library Page>



---

Contact DSC today. to learn more about our IVR services and IVR application development software.


---