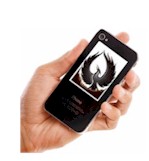 IVR Solutions
This section of our technical library presents information and documentation relating to IVR Development and custom IVR software and products. Business phone systems and toll free answering systems (generally 800 numbers and their equivalent) are very popular for service and sales organizations, allowing customers and prospects to call your organization anywhere in the country. The PACER and WIZARD IVR System is just one of many DSC call center phone system features..

What is IVR Software?. An Interactive Voice Response (Interactive Voice Response (IVR)IVR) processes inbound phone calls, plays recorded messages including information extracted from databases and the internet, and potentially routes calls to either inhouse service agents or transfers the caller to an outside extension.

Contact DSC today. to learn more about our IVR services and IVR application development software. <! Main Body of Tech Library Section>
Phone Etiquette
2003 Business Savv-E

Business savvy professionals know that telephone conversations remain one of the most common forms of business communication. Therefore, handling telephone conversation with class and savvy will benefit both you as a professional and your company. We have developed a summary of the current generally accepted practices and procedures to assure you will know how to handle this daily chore with confidence. We are going to break this section into three main categories: Answering Calls, Placing Calls, and Use of Your Voicemail.
Answering Calls
Answering incoming calls appropriately is a very important business skill. The generally accepted phone answering practices are comprised of three basic steps. The first step is to verify whether or not the company has a current procedure for answering incoming calls. If the company does not have a procedure in place the next step is to make sure you smile when you answer the phone. Answering the phone with a smile gives the caller a welcomed feeling, thus typically resulting in a smoother conversation. Next remember that answering calls should begin with a short but thorough statement. This statement consists of a greeting such as "Good Morning" or "Good Afternoon", company or department name (depending on whether the call is external or internal), and your first and last name. Following these three basic steps will improve your confidence and show your employer that you are business savvy.
Placing Calls
Placing effective phone calls for business purposes also require business savvy. Thus you must remember to free yourself of distractions before placing a call and smile as you will project a more exciting and welcomed feeling upon the recipient. Proper telephone etiquette requires that one fully identifies himself/herself when placing telephone calls. This means you should begin with a greeting, state your first and last name, state the company you work for, and finish by asking for who you are wishing to speak with. Freeing yourself from distractions, smiling, and fully identifying yourself in a brief and thorough manner will help make business calls more successful.
Use of Your Voicemail
Most callers are not fond of speaking to automated services or leaving voice messages; therefore, we are going to provide some tips to relieve some of these voicemail pressures. Recording your voicemail message is best completed when you have practiced or recited your message prior to recording. Another tip when recording your message is to ask only for minimal information to release pressure from the caller. Remember that if the caller has a specific purpose for calling, they will leave the needed information. Finally, one problem that has arisen from the use of voicemail can and should be avoided. This problem is that many businessmen/businesswomen are using their voicemail to screen calls. A business savvy professional knows to only use voicemail for what it was designed for and that is answering calls when one is unavailable.

<! End of Main Tech Library Page>



---

Contact DSC today. to learn more about our IVR services and IVR application development software.


---