Information
Message Broadcast
Voice Broadcast System
Voice Mail Broadcasting
Mass Phone Calls
Alert Reminders
Outbound Telemarketing Services
Phone Broadcast | Telephone Broadcasting
Phone Blast
IVR Server Platforms
Message Service and Systems
Telecommunications Service
Voice Broadcast Software
Voice Mail Service
Voice Mail System
Voice Mail Software
Phone Tree Messaging Service
Voice Messaging System
Opt Out Fax and Call Lists

<! Main Body of Tech Library Section>

Message Broadcasting Auto Dialers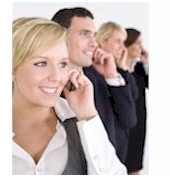 Using our PACER and WIZARD phone systems, we can broadcast voice messages and service announcements to your clients and community. Phone call messages can be automatically generated using our XML Push technology.

Our phone message service can place one call or millions of calls. Pre-recorded messages can be played to either individuals and answering machines or just to individuals. Different messages can be played to an answering machine versus an individual.

Contact DSC today. to learn more about our voice broadcasting service and auto dialer phone systems.



---


<! Start of Main Tech Library Page>
Leaving The Right Voice Mail Message
The following is an extract from the article entitled "The Right Voice-Mail Message Will Get You Through" From: SalesDoctors Magazine | January 1999 By: Edilson Attupattu.

When cold calling, leave a voice-mail message that encourages prospects to call back.

Today, nobody seems to be around to answer their phones. You spend time coldcalling, and all you get are voice-mail messages. You know people don't bothercalling back if they think it's a sales call.

Because I kept running into this situation, I decided I had to leave avoice-mail message that would encourage prospects to call back. I found the bestresults came when I called people who are members of identifiable groups likethe Chamber of Commerce. I could reference the group and gain some legitimacyfor my call. My message goes something like this:
"I was looking at the Chamber membership list and saw your company's listing, and I was wondering exactly what your company does. Please give me a call back."
Most prospects can't resist this opportunity to talk about their favoritething--their company--so they call me back. Now I've made contact, andmy next task is to build rapport. I ask several questions about their company,what they do and how they do it. I never start talking about my company'sproducts and services unless they ask. I keep the focus on the prospects. By theend of the conversation, one of three things has happened:
I've established enough rapport so I can call these prospects back and be reasonably certain they will take my call.
The prospects express interest in my products and services, and I may be able to sell them something right away.
The prospects give me a referral.
Any of these options is fine with me.

Copyright© 1999, SalesDoctors Magazine and the Author. All Rights Reserved. <! End of Main Tech Library Page>


---
---