Information
EasyIVR Sitemap


IVR Phone Systems
Welcome to EasyIVR, the IVR phone answering service and voice mail broadcasting center for Database Systems Corp. (DSC). IVR refers to Interactive Voice Response - we provide both turnkey IVR systems and complete outsourcing phone services using our award winning IVR technology and facilities. Our IVR software provides flexible results and minimal development. Using open technology, IVR solutions can access information anywhere on your network and over the web.

The following site map presents an organizational layout of the easyivr.com website. Also, Links to EasyIVR. website are maintained for transitioning between one site to the other.





Products Directory
Message and IVR Applications
Database Systems Corp. has developed IVR applications and voice broadcasting for businesses and organizations. The application of 800 toll free answering services seems to be limited only by one's imagination. In just a brief amount of time we've seen this technology applied to many industries and projects. DSC has created a library of customer applications that our site visitors can view and actively help build. As new and innovative applications are envisioned by our customers, we will include them in this directory.

Our professional staff of IVR programmers can analyse your phone application and develop it to your specification. Your phone campaign does not have to conform to a static IVR system. Instead our IVR system and services will answer your calls according to your business model.

The following directory contains sample ivr applications and voice broadcasting customer examples. We hope you find this directory informative and please come back often because we are constantly adding new applications!



<! ********************************* End Of Site Map *************************>
IVR Software and Business Phone Services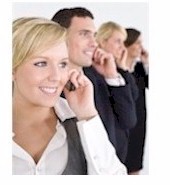 Database Systems Corp. (DSC) offers complete interactive voice response IVR systems and software for small to large organizations. Our IVR solutions support both digital and analog phone lines.

Business and Toll free phone numbers (generally 800 numbers and their equivalent) are very popular for service and sales organizations, allowing customers and prospects to call your organization anywhere in the country. Our IVR software and phone system adds another dimension to the PACER call center solutions.

An Interactive Voice Response (IVR) processes inbound phone calls, plays recorded messages including information extracted from databases and the internet, and potentially routes calls to either inhouse service agents or transfers the caller to an outside extension. It enhances our phone system's current robust features of predictive dialing, ACD, and digital call recording.

Contact DSC today. to learn more about our IVR services and IVR application development software.


---